Notifications
Page updated.
Teacher of the Year
Scott Stanley
This year's nominees for high school teacher of the year are Marissa Buelin and Rachel Pillen. Both of these teachers have shown dedication to teaching their students. Mrs. Pillen has been teaching for 11 years with three of those years being here at the NCLA. She has taught Math 1, Math 2, Math 3, Pre-Calculus, and AP Calculus. She has taught Pre-Calculus for the majority of her high school career. Mrs. Pillen worked at High Point Central before arriving at the NCLA. She was inspired to come here and teach because she wanted to work with the best of the best when it comes to teaching. Mrs. Pillen pointed out that there are so many good hard working teachers at the school that deserve recognition. This statement just shows the selflessness Mrs. Pillen demonstrates on a daily basis to her students. When I asked Mrs. Pillen what her favorite part of teaching was, she told me; "My favorite part of being a teacher is watching kids grow and enjoy the time we have in the classroom."
Mrs. Buelin is the second nominee for high school teacher of the year. She has been teaching at the NCLA for her entire teaching career which consists of five wonderful years. In this time Mrs. Buelin has taught Math 7, Pre-Algebra, Math 8, AFM, Math 4 honors, Math 3, and foundations of Math 1. Mrs. Buelin has always showed a passion for teaching math to others, during the time Mrs. Buelin was at college she would tutor students struggling in their math classes. Mrs. Buelin was brought to the NCLA from a recommendation from a fellow teacher here at the NCLA. Mrs. Buelin was also very grateful for her nomination and took time to speak on the hard work shown by her fellow teachers. I asked Mrs. Buelin the same question about her favorite part of teaching and she gave a similar answer; "My favorite part of being a teacher is that I am able to get to know and work with each of my students and it is so much fun for me to get to see the growth they make each year and throughout the years when I have them multiple times."
Mrs. Pillen means a lot to her students. I interviewed five of her Pre-Calculus students regarding her as a teacher as well as her as a person. Cade Shoemaker said,he was very grateful for Mrs. Pillen, and he had very kind words to say about her; "Mrs. Pillen is very patient and works with everyone in the class." Nick Hurst was also very grateful to have Mrs. Pillen has his math teacher, he said some very powerful words about her;  "[She] is a phenomenal teacher, I like how she gets everyone involved." Lindsey Allen was very sincere in regards to Mrs. Pillen, she really thought about what she wanted to say; "Mrs. Pillen is the best math teacher I have ever had." Lexi Antieau, a normally quiet student, was quick but concise with her words about her math teacher; "Mrs. Pillen makes math fun." Rebecca Avila ,the final student I interviewed, was also very sincere with her words; "Mrs. Pillen makes math understandable." All of these words really warmed my heart, Mrs. Pillen has truly made an impact on all of these students both in and out of the classroom. 
Mrs. Buelin dedicates her time and energy to all of her students. I interviewed three students from Mrs. Buelin's Math 3 class. Troy Shoemaker is a quiet student that has not liked math in the past but now after having Mrs. Buelin has found a new perspective about math. He described Mrs. Buelin as such; "She makes math fun and a lot easier to learn." Laken Locklear said "She is a very caring and helpful teacher and she always tries to help every student." The final student I interviewed was Jonathan Floyd who absolutely loved talking about the impact Mrs. Buelins has had on him; "She is a very engaging teacher that has made me have a different view on math in the two years I've had her." 
Both of these teachers are fantastic people and teachers, both are equally deserving of high school teacher of the year. Both of them inspire students to learn and will ultimately motivate the next generations of teachers. No matter who wins, both of these teachers are incredible at what they do.
Confederate Memorial, or Historical Reminder?
Monica Truhe
In Asheboro, North Carolina, there has been an ongoing debate about a Confederate monument located near the Randolph County Courthouse. In early March, the County Board of Commissioners voted to do nothing about the monument with a unanimous outcome. Just a few days ago, a large group of people renewed the call to move the monument. 
Eleven U.S states seceded from the union in 1860, feeling threatened by Abraham Lincoln's ideas on racial equality. On April 12, 1861, Southern Confederate forces fired on Fort Sumter and started the Civil War.
Some people of Randolph County believe that the monument is a reminder of where we have been, and should stay where it is. Others think that the location of the statue is another issue. It is a painful reminder of negative history, located in a place that should be about the future. Citizens call for it to be removed to a museum or memorial park. One student at the NCLA says, "I would personally remove it if I had the upper body strength."
The board of commissioners "had no basis to move it," according to Darrell Frye, who is chairman of the board. "The basis to remove it is racism, hatred, and discrimination based on the history that it symbolizes…It's not erasing history," says Carsyn Queen. 
Instead of moving the monument, the Board is discussing adding to the historical site in order to represent Randolph County and North Carolina's history better. Citizens of Randolph County are not giving up, continuing their efforts with a petition. 
Some NCLA students weighed in on the debate, "It symbolizes a part of history that is racist. The connotation of it is racist and the history of it is racist, but it's a statue…I think having it up can be a reminder," an anonymous student noted. Another student said, "I think that we need balance. We need to be reminded of bad things, but we also need to make sure that we are maintaining efforts to commemorate those who deserve to be remembered."
Update: Ukraine and Russia
London Carter
Russian forces invaded Ukraine on Feb. 24, 2022, and ever since then, our news stations have been flooded with information about the conflict. Since information is abundant almost everywhere you look, it can be difficult to navigate through and discern fact from reality. In this article, I will be giving you a simplified overview of any updates that have occurred in Ukraine and Russia, and provide you with links to help support the Ukrainian people.
People are currently fleeing from Ukraine in an attempt to escape the war, but are finding it difficult to find countries willing to take them in. The United States has allowed small numbers of Ukrainian families to cross the border legally (CNN) and other countries such as Poland, Romania, Hungary, Slovakia, and Moldova have also been accepting refugees. Other countries, such as the Czech Republic, have offered humanitarian aid to Ukraine to help them remain stable (Vox).
"I'm glad that other countries are helping the Ukrainian people," junior Eliana Cotten said. "It shows that we can all still work together for a common good when it comes down to it."
Countries such as Denmark, Spain, Italy, Sweden, and Estonia, have begun expelling Russian diplomats and Russian Intelligence Officers to preserve the safety of their own countries (CNN). 
Ukraine's President Volodymyr Zelenskyy has been praised on the internet recently for his quick response to the invasion, and his willingness to fight for his country alongside the Ukrainian people. Most recently, he has addressed the United Nations Security Council and is seeking help from other countries (New York Times). Zelenskyy is asking for "serious players who are ready to go all the way," to come to Ukraine's aid (CNN).
If you're interested in live updates, news outlets such as CNN, The New York Times, and AP News provide updates throughout the day to keep us informed. 
If you want to help out the Ukrainian people, here are some links to donate.
A Tale as Old as Time
McKenna Porto
Prom is one of the biggest events during the school year, especially for seniors. This huge dance is one where students dress up in their nicest outfits, take pictures with their date, eat a nice dinner, then dance the night away. Prom is an opportunity for students to socialize and let loose from the stress of the school year. It is a highly anticipated and romanticized event across the nation. 
Sophia Haley, junior at the NCLA said, "I attended prom this year because it has been something I've looked forward to since elementary school."
The NCLA just had their prom, this Saturday, April 2, 2022. The theme this year was "A Tale as Old as Time." The students formed groups to spend the day with and then started arriving at the Greensboro, NC Embassy Suites around 7pm. The students enjoyed candies, snacks, and appetizers. They danced and sang to music from the 2000's to today's hits. Everyone seemingly had a wonderful time. 
Senior Julianna Peters said, "My favorite part of the night was dancing with friends. Getting ready was so much fun! Dressing up is the best part about prom, sometimes it's stressful but at the end it is fun."
This slideshow requires JavaScript.
Prom gains an intense level of excitement and anticipation throughout the whole high school despite the fact that only half the highschool is permitted to go. Only juniors and seniors are able to attend the event freely. Sophomores are able to come if they have a date to the dance. Freshmen are not allowed to come at all. The upperclassmen are also allowed to bring guests as long as they put in a request that is approved by faculty. 
Nina Padilla, a sophomore at the NCLA, was unable to attend prom due to not being old enough. She expressed that prom is always something she has wanted to attend. 
Padilla said "I would go if I was able to for the experience and for the time to spend with friends and dance. I think the age limit is necessary, it's a special thing for juniors and seniors. I feel that if younger students were able to come it would not be so elegant. By junior and senior year we all know how to act right and be more respectful." 
Sophomore Caleb Foster also agreed with Padilla stating, "I would definitely go if I could (but) the night should be reserved for seniors."
Prom this year was a privilege. The past few years have been unpredictable and Class of 2020 and 2021 had to walk away from high school with only having one prom partial. All students were aware of how lucky they truly were and this made for an energetic and joyous night full of smiles, dancing, and bonding.
Can You Hear It…Can You Feel It… It's Spring Break
Nick Hurst
It's the spring season, the birds are chirping, the sun is shining, the bees are buzzing and the kids are smiling. Spring Break is upon us and that means you can bust out the spring clothing, no worries about school, go on family vacations, and lastly Easter Sunday! Some of our students have some awesome plans for spring break. 
An NCLA student Matthew Hronich said,  "I'm obviously looking forward to spring break for which I am intending on visiting relatives up north in New Jersey, as well as enjoying a well-earned vacation at the beach. Of course, on Sunday, it's traditional that I will be attending church for Easter with my family."
Another NCLA student, Karston Keomalaythong said, "I am very excited for Spring Break. I am going to Hilton Head Beach with my friends. I will also be going to church with my friends and family."
I did a poll and asked some students if they will take the time to rest during Spring Break and 10/10 said "yes."A lot of the students will take this time and organize their binders and do some spring cleaning to get ready for the rest of the year because there are six weeks left in this school year.
NCLA Book Club 
Kylie Jackson
On Thursday, March 24, the NCLA book club had its first meeting. The book club was started by Carsyn Queen and Savannah Carter. The club meets every other Thursday during second lunch in Mr. Heckstall's room. 
Queen came up with the idea to start the club seeing as many students like to read and there were few clubs at the school. She went to Carter knowing they have both enjoyed reading since a very young age. Carter gladly agreed to help with the start-up. 
To get the word out they created posters to put up around the school announcing the book club. 
 "Attendance is very flexible, so just because you come one week doesn't mean you have to come the next, or vice versa. Our first meeting had 20 attendants" states Queen. 
All students attending vote on what book they would like to read and then discuss it when they meet. At the moment the club is reading "The One," a mystery novel written by John Marrs. 
"My favorite genre of book would be either fantasy or mystery. I love the way a fantasy book can bring you into a new world, and how capturing mystery books can be," Carter said. 
The book clubs seems to have gotten off to a good start and it's great to see student-led clubs at NCLA. 
"If anyone has any questions about the dates and time they can email me or Carsyn." states Carter 
Savannah Carter – sz3148@thencla.org
Carsyn Queen –sz1802@thencla.org
Easter Traditions
Eliana Cotten
Easter is a holiday where people celebrate Jesus Christ's resurrection in the Christian religion. Many people still celebrate Easter even if they are not religious, just as they do for holidays like Christmas. Easter is celebrated on the Sunday after the Paschal Full Moon, which will fall on Sunday, April 17 this year. 
Some common traditions include eating a big meal, and hunting for eggs the Easter Bunny hides that are typically full of candy or prizes.
On an Instagram Poll on the NCLA Falcon News Instagram, 95% of interviewees said they do celebrate Easter, and 90% enjoy it. 
We also asked about followers' Easter traditions.
Caroline Linville said that she enjoys the meal portion of Easter. Responders such as Alyssa Pickle, Jaden Richardson, and Bridget Palmer responded with egg decorating and hunting.
"My favorite tradition is dying eggs and then not wanting to eat them because they are too pretty," one responder said. 
When asked what their favorite thing about Easter was, several responded with seeing family or the church services. Some people responded with going on vacation to places like the beach or mountains. 
One respondent said "questioning why it is an Easter bunny and not a chicken?" 
Overall, Easter seems to be a holiday open for anyone and everyone to celebrate and enjoy, in any way they prefer! Happy Easter!
Falcon Golf
Jackson Faenza
At the North Carolina Leadership Academy, the high school golf team is filled with positive and hardworking players. The golf season is well underway, with the team having played in four golf matches so far this season.
"We're off to a great start! Everyone is working hard and has a positive attitude even when weather conditions and course factors are not working in our favor," said head coach Mrs. Marrisa Buelin.
The team has played matches against Bishop McGuinness High School, Bethany Community School and in the Northwest Piedmont 1A Conference match. They still have scheduled matches against Cornerstone Charter Academy, Bishop McGuinness High School and Bethany Community School.
"I think this season is going great. The team is super excited and are great working together. This team has been so great and positive working and helping each other! The team has had a few challenges no doubt. Most physically would have to be the weather and time it takes to play golf. Golf itself is already a frustrating sport and when the weather impacts it, it only makes it that much harder, but everyone has done a great deal to work with what they are given," said junior player Celeste Paradis. 
The team is 0 and 0 on the season, with one of their matches ending in a tie with Bethany Community School. "One of the biggest obstacles this year has been the rain and being able to get to the course and/or the driving range when we needed to. The team has successfully competed and weathered high winds and an extremely difficult course for our first match," said Buelin. 
Head Coach Buelin has nominated sophomores Dain Crnojevic and Sophia Dolesh as captains for the season. She believes that their phenomenal leadership skills and positive attitudes every day has earned them their spot of Captains and can lead the season to greatness. 
"We are just looking to improve each and every match and be competitive with everyone in our conference, we are having a lot of fun," said Coach Buelin. 
National Championship and Final 4 Review
Jaden Richardson
The final four games were thrilling and showed the best and worst of each team. Kansas and Villanova battled it out in the Cesar's Superdome on April 2, 2022. The jump ball was won by Kansa which foreshadowed their win on Villanova 81-65. The main shot maker for Kansas was seniors, number 33, David McCormack with 25 points. The main shot maker for Villanova was senior, number two, Collin Gillespie with 17 points.
Duke and Carolina battled it out on April 2, 2022. The jump ball was made by Duke but no shot was made for the first minute and a half by Carolina. The main shot maker for Carolina was sophomore number two Caleb Love with 28 points. The main shot maker for Duke was freshman number five Paolo Banchero with 20 points.
"I was really happy with how the Tar Heels played during the game. We beat Duke in Coach K's last game ever and that will go down as one of the greatest things ever. Carolina played their hearts out and I am so proud of them," said senior Jackson Faenza. 
Carolina and Kansas played in the Caesar's Superdome. This game exceeded most expectations. It was filled with three pointer comebacks and shocked faces. Kansas City was down at halftime by 16 points which is the largest amount to be down by and come back to win the whole game. Chapel Hill's main shot makers were Bacot and Davis both coming in with 15 points. Kansas' main shot makers were Wilson and McCormack both coming in with 15 points as well. Virginia Tech fan Emily Viers said, "Even though my team didn't make it to the final four the two teams really worked hard and I am proud of both teams for going that far." All in all, anyone that watched the game rather than the side they were for were not disappointed with the amount of play, energy, and effort the teams put into the game.
Quarter Four Fun
Monica Truhe
The 2021-2022 school year at the NCLA has been packed with fun, student led events. From Powderpuff to Homecoming to spirit weeks, highschoolers have gotten the chance to participate in a variety of exciting activities. Quarter four will be the NCLA's chance to be the most "normal" we have been in years, as the mask requirement was lifted and other COVID-19 restrictions are being relaxed. 
Student body president Abigail Brannan says,  "The students said that Powderpuff was their favorite event from their first semester so we took that into consideration in planning another big event for all of highschool to kick off the remainder of the school year. We are bringing back Karaoke Fridays every friday…We think that's a good way to…give back to our lower classmen…and hopefully passing that on to be a tradition at the school…we want to boost morale more, and every week we will probably have something."
Lindsey Allen says, "Karaoke Friday was one of my favorite things the school has done this year. Between wearing our class shirts, the performance of Our Song, and Mrs. Wood singing Party in the USA, it will be a hard occasion to beat."
The first week of quarter four is a great example of what we may experience in the next few months. The student council has reinstated famous Karaoke Fridays, which returned on the first Friday back from quarter break. To celebrate Saint Patrick's Day, there was a schoolwide green. The following day, middle and high school students were encouraged to wear their new 2022 class shirts to show some spirit.
It seems like quarter four at the NCLA will be filled with exciting activities and school spirit!
International Women's Month
Kylie Jackson
This month is International Women's month. Since March of 1995, the month has been dedicated to celebrating women and everything they have done. While the month of March is International Women's Month, March 8 is International Women's Day. 
"I think it is a great holiday and I really appreciate it," NCLA senior Olivia Brown said.
Throughout the years, different events have occurred on International Women's Day. There are usually marches that take place around the world standing for women's equality and celebrating women in general. 
This year the hashtag "Break the Bias" was very popular. The hashtag is for females around the world wanting to end the stigmas around women. They want to break discrimination, stereotypes, and prejudice. 
During this month we focus a lot on history and on what many different women have done to help the world progress. Some of the women we learn about include Marie Curie, the first woman ever to win a Nobel Prize in 1903, Rosa Parks, a civil rights activist, Amelia Earhart, the first woman to fly solo across the Atlantic, and Ruth Bader Ginsburg, a politician standing up for equal rights. The list goes on. 
"It's great that during Women's month, we may focus more on women in history but it needs to be taught about more specifically year-round. We always hear about the great things men have done for the world and only learn a little about like three different women," NCLA senior Kayla Satterwhite said. 
It is very important to keep teaching their accomplishments outside of the month of March. When young girls are taught about empowering women it is incredibly inspiring. This month can be uplifting to many women worldwide.
Fundraiser for Ukrainian Refugees
Mrs. O
On Saturday, April 23rd, Mt. Tabor High School is holding a walk for refugees from 10:30am to 1pm at their stadium. Registration includes three different activities: a 2k walk for $15, a non-competitive 5k race for $20 and a competitive 5k race for $25. 
For the Competitive 5k race there are two categories: a youth race, and a race for 18 plus. Prizes will be awarded to the top runners in both categories. 
If you sign up by April 8th for the race, you will receive a T-shirt and a finisher medal once you complete the race. By registering for the race, you will be giving emergency aid to Ukraine refugees who have fled their country. The money will be donated to the USA for United Nations High Commissioner for Refugees who estimate that they will need at least one billion dollars to help all the Ukrainian refugees. More than three million ukrainians have fled due to the invasion of Russia. They have left most of their belongings behind and will need help to find shelter and necessities in Europe and elsewhere. 
According to NCLA junior Skylar Manass, "It is a really sad situation. After watching the maternity ward get bombed in Ukraine, the situation is really cruel. American should help and should be praying but it is also important that we do not get involved." 
Furthermore, Cade Shoemaker said, "Some stuff I don't know much about it. I care more about domestic problems and we have not talked about it much in class."
 When asked in what ways should Americans be helping Ukraine, junior Celeste Paradis responded, "I feel like we should be giving our best support that we can, resources and just without making things worse with Russia. We should avoid making conflict worse for Ukraine."
There are many other ways to help Ukrainian refugees in Europe. You could donate money to the Ukrainian Red Cross, Doctors without Borders, ProjectHope, UNICEF, and Save the Children. 
To help by walking for Ukrainian Refugees, register here or here.
NCLA Lottery
Lexi Antieau
To become enrolled as a student at the NCLA, you have to be chosen through the school's lottery. Our school requires a lottery because it is labeled as a "charter school," and charter schools cannot accept every single student that wants to go to their school. 
Because the NCLA is a charter school and not a public school, we require a lottery for students to be enrolled. To be more specific, charter schools are schools where parents get to choose the school their child attends, whereas public schools accept all students based on where they live. 
Also, charter schools are more responsible for academic results and have promises stated in their charter to uphold. For example, the charter is the reason why NCLA students have to recite the creed and honor code every morning before they begin classes. 
Charter schools are paid based on their academic performance as well as their enrollment levels. Because a student in a nearby county can attend a charter school in a different country, charter schools have to have a lottery so their waitlist and acceptance lists are fair. 
"During our open enrollment period, a family may submit one application per child. If they have twins, triplets etc., one application is complete for them all, which means they receive one number for the lottery. In return means they are all accepted for one spot," NCLA Admissions and Data Director Kimberly Stanley said.
If a student has siblings that have already made it through the lottery, the student is automatically admitted through the lottery. 
"For someone to receive sibling preference during the lottery, they must have a sibling that has attended The NCLA for at least a school year. At the time we run the lottery there is preference that is given to different groups; staff and sibling preference," Stanley said. 
The NCLA's lottery is not selective at all, in the sense that the school doesn't choose students based on credentials and past experience. Also, the lottery is completely random. To choose students, the numbers of each applicant are put into different bowls depending on grade level and chosen at random out of the bowls. However, since the school has grown these past couple of years, we use a random number generator to determine which students are enrolled and which ones are not.
"To enter the lottery, you must complete an application online during our open enrollment period(typically runs from 12/15-2/28) and it does not matter when you apply during this period, they are entered equally into the lottery. When they have completed an application, they will receive a confirmation email with their number that they will use during the lottery. If anyone applies outside of the enrollment period, they are added to the waitlist in the order in which the application was received," Stanley said.
Mask Off
Cade Shoemaker
Shortly before the 2 year anniversary of the COVID-19 Pandemic, the NCLA eased COVID restrictions, including making masks optional for students and staff. March 2nd marked the first time in over 405 consecutive school days that students were allowed to attend school without a mask.
For some students, the change has brought a spark of joy: "It's nice to see everyone's face again and school feels a lot more enjoyable when you can see others smile," said NCLA junior Lexi Antieau.
At the same time, many students found the drastic change to be a little out of the ordinary. After becoming used to wearing a mask to school everyday, the sudden change took some time to get used to.
"It made it easier because we had homecoming without masks, but it was still very weird because it hasn't been since my freshman year that I have seen people's full faces," said Antieau.
However, not all students feel the need to do away with masks as many are continuing to wear them in school by personal choice. Whether students do it for personal reasons, are in continued close contact with an elderly community, or feel that they need to continue to wear it as a precaution is understandable. Furthermore, the school has made it clear that regardless of a student's choice to wear a mask or not there will be a zero tolerance of bullying over the issue.
"Expect that students and staff may decide to wear masks some days and not others… however it will not be tolerated for students or staff to be ridiculed for their mask choice, and failure to comply may result in suspension," said Mrs. Renee Faenza via Remind.
The new COVID guidelines also eased the amount of quarantine days for students who have tested positive, while eradicating any period for those who are exposed. If a student tests positive, they only have to be quarantined for 5 days, before returning to school while wearing a mask until day 10. On the other hand, if a student is exposed, instead of quarantining, students must wear a tightly fitted mask for a period of 10 days.
"I agree with the COVID exposure rules, because I think that at this point in the pandemic we should be moving towards dealing with it like it is the flu, getting back to normal life," said Becca Avila.
For full Covid-19 policies read the following information:
 

Policy

Steps to take

EXPOSURE

 

Household member

(living in the home and

tests positive)

or,

Community

(student/staff exposed to

positive individual

outside of school, travel

ball, church, etc tests

positive)

Student/staff will NOT need to isolate at

home.

Students will need to wear a mask for

10 days after the household member's

positive test date.

Test if symptomatic. If student/staff has

opted into the testing program, the school

RN can administer the test.

Home tests are not accepted, but can be

brought in and administered by the

school RN. Rapid/PCR tests from a

a healthcare provider will also be accepted.

Parents:

● Notify school of positive

exposure (email:

covid@thencla.org)

● Ensure/remind student to

wear mask for 10 days

while in school.

● If a child refuses to wear a

mask or parent does not

want them to after an

exposure or positive case –

the ONLY option is for the

child to remain home for the

duration of the mask

requirement time. NO

exceptions will be made.

● ****SEE BELOW

COVID SYMPTOMS

Student/staff exhibit

symptoms consistent

with Covid.

ONLY the sick student/staff member has

to remain home until a negative test or

alternate diagnosis is obtained.

Siblings can remain in school unless they

become symptomatic.

Parents:

● Communicate with the

school RN

(covid@thencla.org)

regarding covid like

symptoms for advisement

● Monitor siblings for

symptoms

POSITIVE

Student/staff tests

positive for Covid

Student/staff will need to isolate for 5

days and can return to school on day 6, if

symptoms are resolved.

Student/staff must continue to wear a

mask through day 10. Day 0 is the test

date.

Parents:

● notify school of positive test

(email: covid@thencla.org)

● Ensure/remind student to

wear a mask through Day 10.
Two Weeks or Two Years; Covid-19 Pandemic
McKenna Porto
March 25- The announcement of Covid-19 and the pandemic as a whole was a turn around for the entire world. Many people, especially students, had a very hard time with their day to day lives. Their entire lives were affected and changed.
Last week, March 13th, marked two whole years since quarantine was first mandated. Many students were reminded by their photo galleries of what they were doing or saying when they first got the news.
"I was at my friend Halle's house when we got the remind message that we would be remote for the next two weeks. We were really excited because we thought that meant no school for about two weeks and we could just have fun. But little did we know that would end up being some of the last times I would be able to see my friends until at least the end of May which ended up being not fun at all," said senior Jackson Faenza.
Quarantine first began as a two week "break" from school. Most students were excited for the news. They spent their free time indulging in social media, catching up on rest, deep cleaning, finding new hobbies, and just ultimately taking a break and enjoying the spring. Everything was a little too carefree.
"I did not mind the quarantine in the very beginning. It was a little nerve racking considering all the unknown, but it was also fun to hang out with my sisters all day. I really enjoyed being able to just do what I wanted. I specifically remember social media like TikTok being fun because everyone was just in their homes messing around on the internet," said junior Jenna Clayton.
On social media, teens often still reference "quarantine vibes" which was the feeling of quarantine, before it turned for the worst. Many new trends like making whipped coffee or banana bread or learning a new language became more popular. There was also a surge in Facetime use. Many students, including myself, would spend entire days on group Facetime while members of their friend group cycled in and out of the call.
Senior Halle Jenkins said, "Quarantine as a whole was hard but at first it was exciting in a way. I remember I used to be on Facetime for the entire day from when I woke up until I slept. At first I would be on and off the phone with multiple people, but as this trend settled in I found myself on the phone everyday with my now two closest girlfriends. We would call each other early in the morning, and would only leave the call to go eat dinner. After dinner time we would join back on the call and talk til 4 and 5 am This lasted from March until July when we finally started to safely see each other."
Although everyone is glad to say goodbye to Covid, many students will miss the "early quarantine vibe." Senior Haley Frias refers to it as "our generations 9/11" due to how life changing it was and how we will never forget the feeling. As Covid begins to disappear, masks are dissolved, and life becomes normal again, let's not forget our unity. Times like 9/11 and the Pandemic we find ourselves more connected than ever. We should learn as a community to not wait for life threatening times to actually appreciate each other and the lives we live.
The BATMAN
Reviewed by: Scott Stanley
March 25- The Batman was released worldwide on March 4th earlier this month and people have been loving it. Its Rotten Tomatoes score was 85% and the audience score was 88% which is a very respectable score. One critic described it as a "A grim, gritty, and gripping super-noir, The Batman ranks among the Dark Knight's bleakest — and most thrillingly ambitious — live-action outings."
Even though "The Batman" has received many great reviews some critics have negatives about the new movie. Chris Barsanti said this about the new take on a beloved DC comics character, "Yes, self-parodic travesties like 'The Batman' could be more original. But even a creative Batman story is still just another Batman story. Isn't it time to give the man a rest?"
Anytime a movie is made about a character like Batman, Superman, it is bound to
offend someone because they may feel the new thing is taking away from something that they held dear. This movie is being compared to the "Dark Knight" which many see as the greatest comic book movie ever made. These comparisons can be unfair and in my opinion the Dark Knight is better but there are still many things I love about The Batman (spoilers below).
Robert Pattinson is the latest of a long list of actors who have taken on the role of Bruce Wayne and Batman. Despite previous opinions that some may have about Robert Pattinson's acting skills, I can honestly say that his acting performance was good and surprised me. His take on Bruce Wayne was different than any other I have really seen. It is a more realistic take on a person who literally watched his parents get murdered.
This leads me into my next positive comment about the film. I am very glad that they didn't waste time in showing how Bruce Wayne's parents died. Anyone who knows Batman, knows what happened to his parents. Leaving this out repects the movie goers and allows the audience to fill in the missing pieces. This is done numerous times throughout the film when previously known characters are introduced and instead of getting a backstory the director trusts the knowledge of the movie goer. Some of the characters this is done with are Selena Kyle, James Gordon, Alfred Pennyworth, and obviously Bruce Wayne.
Another major positive I have for the movie is how Gotham City is depicted, the cinematography is fantastic and most likely will be nominated for an Oscar. This is the darkest and most realistic depiction of Gotham that we have seen on the big screen. Furthermore, the depiction of the Batman suit is probably my favorite that I have seen in any movie involving Batman.
Some North Carolina Leadership Academy students had opinions on the new BATMAN movie;
"I liked Robert Pattinson as the Batman, as far as the movie goes I found it to be too long. The action and suspense was alright and was artsy. I would give it a solid eight out of ten," junior Rebecca Avilia said.
"Honestly it was really good but I found it a little long. Robert Pattinson did a pretty good job as Batman. I would give it a seven out of ten," junior Cade Shoemaker said.
Finally, the most important aspect of a Batman movie is the villain. In the Batman movie, the villain is the Riddler who is played by Paul Dano who is terrifying in the role. I would personally rank him second on a list for Batman villains with Heath Ledger as the Joker in the Dark Knight coming first.
Paul Dano portrays a psychotic serial killer who has inspirations from seven and zodiac. I love his portrayal of the character and it was written beautifully. This performance made the film for me.
I would have to give The Batman an A with a couple of things I didn't like. The runtime was a little long for me and I would have liked more characterization from Bruce Wayne, but overall it was a great movie that I enjoyed very much. Everyone should go and watch the film on the big screen.
St. Patrick's Day Oreo Truffles
Eliana Cotten
March 25- St. Patrick's day takes place on March 17 every year. According to
History.com, it is the anniversary of the day Saint Patrick died, and it is celebrated heavily in countries including America, the United Kingdom, Canada, and Australia.
On this holiday, families enjoy making tasty treats, featuring colors such as gold and green.
I decided to make Oreo Truffles, with a recipe I found from HoosierHomemade.com.
Ingredients:
– One package Mint Oreo cookies
– One package (8 oz) Cream Cheese, softened
– Melting Chocolate, white chocolate or milk chocolate
– Fun St. Patrick's day sprinkles if wanted!
Instructions:
– Using a food processor, crush Oreo cookies – centers included- into fine crumbs.
– If you do not own a food processor, you can put them in a large plastic bag (double wrapped to avoid holes) and wack it with a meat pounder or spoon!
– In a large bowl, place the softened cream cheese
– Add Oreo crumbs and combine well
– Roll this mixture into balls and place on a cooking sheet lined with parchment paper
– Place the rolled balls into the freezer for at least one hour (or however long you
are willing to wait)
– Melt an estimated amount of chocolate in the microwave, following the
instructions on the melting chocolates packaging
– I added green food coloring to the white chocolate to make it more festive!
– Coat each cooled truffle in the melted chocolate
– I used a small spoon to spread the melted chocolate over the entire surface of the truffle
– Add sprinkles if wanted, and place back into the freezer until chocolate is dried
– Enjoy!
Upcoming Games:
Varsity Baseball against Carver-3/29
Varsity Baseball against Thomasville – 3/30
Varsity Softball against North Stokes- 3/28
Varsity Softball against Triad Math and Science- 3/30
Varsity Girls Soccer @ Piedmont Classical- 3/29
Varsity Girls Soccer against Carver- 4/1
Sweetheart Saturday
McKenna Porto
On Saturday, Feb. 12, the NCLA highschool had their first dance since before the pandemic. From seven to ten highschoolers enjoyed dancing, laughing, and eating good Chick-fil-a with their friends.
Participants were Covid tested only days before, and considering everyone was negative, masks were able to be taken off. This dance was quite literally a breath of fresh air.
This slideshow requires JavaScript.
The rescheduled homecoming dance, the Sweetheart dance was deemed "NCLA"s best dance yet" by many members of the general student body. Festivities also lasted the whole day among friend groups.
Many students enjoyed taking nice pictures at scenic spots around town  or eating fancy dinners before finally arriving at the dance. Here are some pictures capturing the life of the evening!
Super Bowl LVI, Super Halftime, Super Commercials
Rebecca Avila
Sunday, Feb. 12 was one of the year's biggest sporting events in the nation, Super Bowl LVI. This year, the host stadium was the SoFi Stadium in Los Angeles, California. The teams playing were the Cincinnati Bengals and the Los Angeles Rams. This was one of the most anticipated games throughout the NFL season.
The game had an immense beginning with an introduction by Dwayne "The Rock" Johnson and the iconic coin toss done by Billie Jean King. 
The Rams led the first and second quarters. They soon began to trail during the third quarter with all the heat coming back in the final minutes of the game. Matthew Stafford, Cooper Kupp and Arron Donald were the top players on the Rams team that drove them to victory. 
With the drives and the amount of yardage Kupp and Stafford made up within the last minutes set Donald for the winning tackle. With 39 seconds left on the clock, Donald hit Joe Burrow, Bengals quarterback, making the Bengals pass incomplete, edging the Rams to the close 23-20 final. 
---
| | | | | |
| --- | --- | --- | --- | --- |
|   | Quarter 1:  | Quarter 2: | Quarter 3: | Quarter 4/Final: |
| Rams  | 7 | 13 | 16 | 23 |
| Bengals | 3 | 10 | 20 | 20 |
---
The halftime show, personally, stole the show. The headliners, Dr. DRE, Snoop Dogg, Eminem, Mary J. Blige and Kendrick Lamar created one of the most memorable halftime shows with the iconic hip hop songs of the late 90's and the early 2000's with the special appearance of 50 Cent.
With Super Bowl 56 being in Los Angeles, Compton had to be showcased to show the heart of LA and a tribute to the people of "The City of Angels." 
Super Bowl performers mainly do it for the popularity and the publicity. The performance included songs like The Next Episode, California Love, In Da Club, Lose Yourself and others that have hit the top of the charts when released. 
The commercials are also a crucial part of the Super Bowl as companies pay thousands/millions of dollars to have their ad played in one of the most viewed events in the nation. This year is not any different as companies had to pay at least $7 million compared to last years $5.6 million per ad. 
The commercials always capture the attention of millions with their peculiar ways to promote each product making them the most memorable for their weird uncommon nature. 
Some Commercials: 
The Greensboro Sit-Ins
Lindsey Allen
The Greensboro Sit Ins were a series of non-violent civil rights protests, in which African American students would sit at a segregated lunch counter in downtown Greensboro. 
These protests were started by the Greensboro Four, which consisted of Ezell Blair Jr., Franklin Mccain, Joseph McNeil, and David Richmond. 
The first sit-in took place on Feb. 1, 1960 at the Counter of Woolworth's. The business had a policy of denying service to any person of color, but the four men refused to leave their seats.
A local businessman, Ralph Johns, had sent local media services to cover the event and the police were called. The men were not removed, and stayed in their seats until the store closed. The next morning, the Greensboro Four returned, with even more students from local colleges with the same goal. 
The protests spread throughout the south and across the nation, and ultimately forced Woolworth's and other local businesses to change their policies on segregation. 
Today, the Greensboro Sit-Ins are remembered as a courageous act from local African American men and women, and can be seen as a turning point in Black History in the South. 
The building that Woolworths was in is now the home of Greensboro's International Civil Rights Center and Museum.
New Courses Coming to the NCLA!
London Carter
The upcoming 2022-2023 school year is almost upon us. With that comes new experiences, new memories, new friends and now new classes! The NCLA is offering a wide variety of new courses for all students, which may help you narrow down your choices for course registration.
One complaint I have heard amongst students is that there aren't many languages available for students to practice. Now, this will no longer be a problem! Students are now eligible to take Spanish along with French and American Sign Language.
"I've always wanted to take French," said rising freshman Alora Crayton. "So I am super excited that this will now be an option for me during high school."
Along with new language courses, students who wish to take AP classes now will have a broader range of options. AP Computer Science Principles, AP Comparative Government and Politics, AP Physics and AP Seminar are now all available for upperclassmen to take.
"I'm glad there are more courses being offered," said rising senior Sylvia Selmer. "It just sucks they're all coming in during my last year."
Electives are also being broadened this upcoming school year with a total of seven new classes being added to the rotation! Those include, but are not limited to, Honors Advanced Orchestra, Honors Creative Writing, Honors Zoology, and Music Production. 
With these new classes, there is sure to be something for everyone. Make sure to meet with Mrs. Tucker and register for your classes for the upcoming school year!
Complete List of New Course Offerings for 2022-2023 (Eligible grade levels included)
Honors Advanced Orchestra (9-12)

Music Production (10-11)

Digital Art (9-12)

Honors Creative Writing (9-12)

French I (9-11)

American Sign Language I (9-11)

Honors Zoology (10-12)

Study Skills (10-11)

Yoga and Weight Training for Athletes (9-12)

AP Computer Science Principles (10-12)

AP Comparative Government and Politics (10-12)

AP Physics (11-12)

AP Seminar (10-11)
Black History Month
Eliana Cotten 
February is National Black History Month. During this month we take time to appreciate the achievements and accomplishments African-Americans have made in the past, and we celebrate the black role-models of today's world. 
"I think Black History Month is really cool and important. I mean, we should be appreciating black culture all-year-round, but having a whole month for it is a step in the right direction," NCLA senior London Carter said. 
According to History.com, this month of recognition started in the United States, after African-Americans such as Carter G. Woodson designated their own week for it in 1915. The idea has now spread to other countries such as Canada and the United Kingdom. 
During this month, people are encouraged to buy from black businesses and to donate to organizations who are working towards a brighter future for African-Americans. There are parades thrown and many events held to further celebrate and recognize the society that African-Americans have helped to build. 
"I usually use this month to take time to learn about African-American history, and I always enjoy it when teachers do lessons about Black History during February," NCLA junior Sylvia Sellmer said.
Inventions created by African-Americans include, but are not limited to (according to reslife.edu): 
The Blood Bank

The Potato Chip

Mailbox

Steam Engine Lubricator

Traffic Signals

Masking Tape

An extreme amount of Makeup and Hair products

Home Security Systems
Is Go Guardian A Breach of Privacy?
Lexi Antieau
Students, staff, and parents at the NCLA feel that Go Guardian and other student tracking devices are a breach of privacy and confidentiality. 
"It's kinda weird because they can literally see EVERYTHING you do. I understand for tests and stuff but for everyday use it's a little bit odd and feels a bit like an invasion of privacy," NCLA senior Elissabeth Segers said. 
Go Guardian is a Chromebook extension that allows teachers to view their students' computer screens when students are taking tests, quizzes, or doing important assignments. The point of the extension is to keep students on task, but at what cost?
During the pandemic, and even after, students had to do their work from home. Cheating spiked when students took tests and quizzes at home without a teacher's presence physically in the room. Go Guardian aims to help prevent cheating when students have to learn remotely. However, many NCLA students feel Go Guardian limits a student's privacy and gives teachers too much power. 
"It's kind of creepy. I understand why they have it and it's sad at this point that so many people are cheating," NCLA senior Naudia McKoy said. 
When teachers open their classroom on Go Guardian, each student gets a notification that they've been connected to their class. While connected, teachers have the ability to chat with students through their screens, close tabs not related to the class, and monitor everything the student does while on their computer. 
"It can be invading when it doesn't shut off after the class ends/ when we are online," NCLA student Ella Lanier said. 
Go Guardian only sends notifications for when a student is connected to the class, so most students never know when their teacher can no longer see their screen. It can appear that a teacher is still monitoring computer screens even when the class has been long ended. 
However, most NCLA teachers turn off Go Guardian for all students once they have completed their tests or quizzes. 
"It doesn't bother me because from my experiences, Go Guardian has only been used for monitoring tests," NCLA senior Abigail Brannan said. 
Rumors have been circulating around the NCLA that teachers will have to begin using Go Guardian more now that the school has purchased a membership for the 2022-2023 school year. 
Amal Wood, the NCLA's assistant principal, confirmed that a membership has been purchased and said, "Yes, the expectation is that all teachers use the program."
College Scholarships
Scott Stanley
Scholarships are very important for thousands of students planning on attending college. The vast majority of families and students that are going to college can't simply write a check for their kid to go to college. The average cost for college tuition for a four year public college is 22,968 dollars. Also, student debt is a major issue in this country: 46 million Americans have student loan debt, adding up to 1.75 trillion dollars in total United States student loan debt. 
"I am very afraid of student debt because it will limit what I can do in my future." NCLA senior Gabriel West said. 
With the emphasis put on scholarships many big named scholarships such as the Parks scholarship for NC State or the Morehead for North Carolina college have become very competitive. For example, there are 40 recipients of the Park scholarship with nearly 20,000 Park applicants every year. 
Luckily, there are thousands of college scholarships that students have access to that are not as well known. Here some local scholarships that students may not have heard about:
16th District PTA Scholarship

A.B. Noel Endowed Scholarship

AAHA Lou Manzione Scholarship

AAUW Return to learning Scholarships

AAUW's Re-Entry Scholarship

AEF Scholarship
"It has been a very unique difficult experience that has taken many hours to just find the scholarships, I don't know where to look," NCLA senior James Garmon said. 
These are just a handful of scholarships that many aspiring students have the option to apply for. As a senior in high school there is a pressure to get many scholarships so student loan debt will not be an issue in the future
Scholarships are very important to many people and I think there should be easier ways to apply and find scholarships. I believe that this would allow more students to go to college and could cut down on the student loan debt in this country.
Sweetheart Saturday
McKenna Porto
On Saturday, Feb. 12, the NCLA highschool had their first dance since before the pandemic. From seven to ten highschoolers enjoyed dancing, laughing, and eating good Chick-fil-a with their friends.
Participants were Covid tested only days before, and considering everyone was negative, masks were able to be taken off. This dance was quite literally a breath of fresh air.
This slideshow requires JavaScript.
The rescheduled homecoming dance, the Sweetheart dance was deemed "NCLA"s best dance yet" by many members of the general student body. Festivities also lasted the whole day among friend groups.
Many students enjoyed taking nice pictures at scenic spots around town  or eating fancy dinners before finally arriving at the dance. Here are some pictures capturing the life of the evening!
Super Bowl LVI, Super Halftime, Super Commercials
Rebecca Avila
Sunday, Feb. 12 was one of the year's biggest sporting events in the nation, Super Bowl LVI. This year, the host stadium was the SoFi Stadium in Los Angeles, California. The teams playing were the Cincinnati Bengals and the Los Angeles Rams. This was one of the most anticipated games throughout the NFL season.
The game had an immense beginning with an introduction by Dwayne "The Rock" Johnson and the iconic coin toss done by Billie Jean King. 
The Rams led the first and second quarters. They soon began to trail during the third quarter with all the heat coming back in the final minutes of the game. Matthew Stafford, Cooper Kupp and Arron Donald were the top players on the Rams team that drove them to victory. 
With the drives and the amount of yardage Kupp and Stafford made up within the last minutes set Donald for the winning tackle. With 39 seconds left on the clock, Donald hit Joe Burrow, Bengals quarterback, making the Bengals pass incomplete, edging the Rams to the close 23-20 final. 
---
| | | | | |
| --- | --- | --- | --- | --- |
|   | Quarter 1:  | Quarter 2: | Quarter 3: | Quarter 4/Final: |
| Rams  | 7 | 13 | 16 | 23 |
| Bengals | 3 | 10 | 20 | 20 |
---
The halftime show, personally, stole the show. The headliners, Dr. DRE, Snoop Dogg, Eminem, Mary J. Blige and Kendrick Lamar created one of the most memorable halftime shows with the iconic hip hop songs of the late 90's and the early 2000's with the special appearance of 50 Cent.
With Super Bowl 56 being in Los Angeles, Compton had to be showcased to show the heart of LA and a tribute to the people of "The City of Angels." 
Super Bowl performers mainly do it for the popularity and the publicity. The performance included songs like The Next Episode, California Love, In Da Club, Lose Yourself and others that have hit the top of the charts when released. 
The commercials are also a crucial part of the Super Bowl as companies pay thousands/millions of dollars to have their ad played in one of the most viewed events in the nation. This year is not any different as companies had to pay at least $7 million compared to last years $5.6 million per ad. 
The commercials always capture the attention of millions with their peculiar ways to promote each product making them the most memorable for their weird uncommon nature. 
Some Commercials: 
The Greensboro Sit-Ins
Lindsey Allen
The Greensboro Sit Ins were a series of non-violent civil rights protests, in which African American students would sit at a segregated lunch counter in downtown Greensboro. 
These protests were started by the Greensboro Four, which consisted of Ezell Blair Jr., Franklin Mccain, Joseph McNeil, and David Richmond. 
The first sit-in took place on Feb. 1, 1960 at the Counter of Woolworth's. The business had a policy of denying service to any person of color, but the four men refused to leave their seats.
A local businessman, Ralph Johns, had sent local media services to cover the event and the police were called. The men were not removed, and stayed in their seats until the store closed. The next morning, the Greensboro Four returned, with even more students from local colleges with the same goal. 
The protests spread throughout the south and across the nation, and ultimately forced Woolworth's and other local businesses to change their policies on segregation. 
Today, the Greensboro Sit-Ins are remembered as a courageous act from local African American men and women, and can be seen as a turning point in Black History in the South. 
The building that Woolworths was in is now the home of Greensboro's International Civil Rights Center and Museum.
Here Comes The Bride
Kylie Jackson
February 28- The movie "Marry Me" starring Jennifer Lopez and Owen Wilson was released into select theaters on Feb. 11. "Marry me" can also be watched by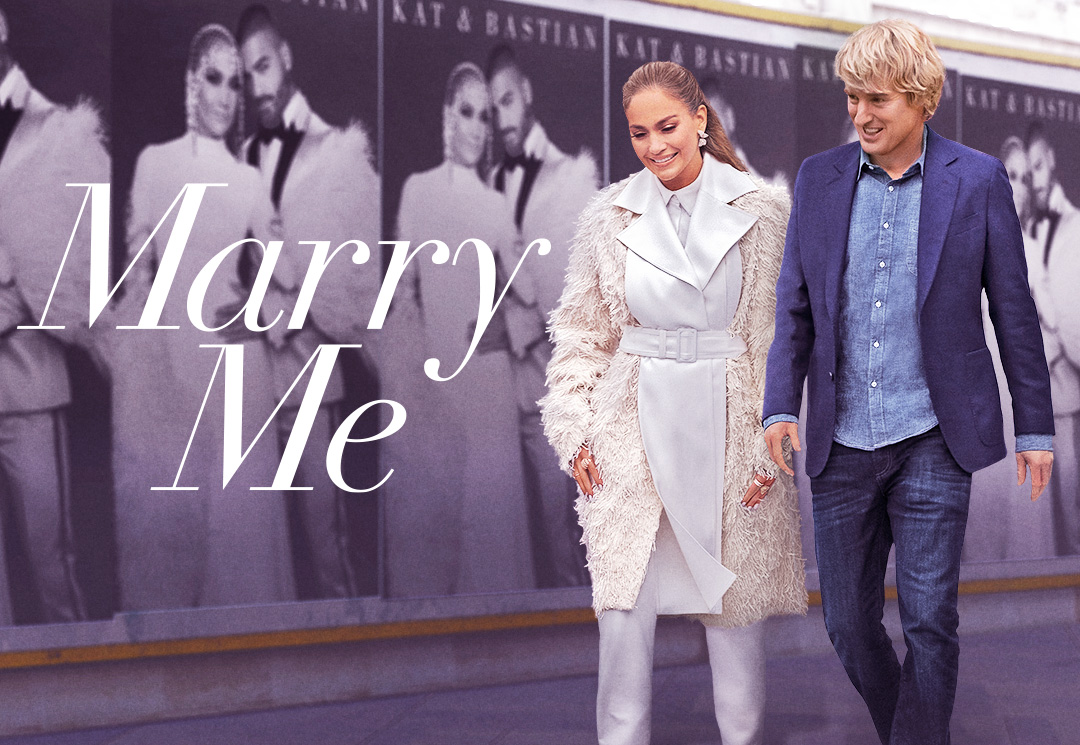 streaming it on Peacock with a premium subscription.
"Marry Me" is a rom-com and considering that Lopez and Wilson have starred in their fair share like "Midnight In Paris" or "The Wedding Planner," "Marry Me" had a lot to live up to.
"Marry Me" follows the story of a pop star Kat Valdez played by Lopez, and a Math teacher Charlie Gilbert played by Wilson.
Gilbert is a single father roped into going to a concert with his daughter. This happens to be the concert where Valdez is going to get married on live television to another singer Bastain.
During her performance, she finds out her fiance has cheated on her and decides to marry someone in the crowd. This random person ends up being Gilbert. The two are married and the movie follows their ups and downs as a couple ultimately ending with them happy and together.
"I thought the movie was cute. A little predictable but still good," states Linnea West.
Production for "Marry Me" was wrapped up in Nov. 2019 and the movie was originally supposed to be released in 2021. Due to the increasing risks of the pandemic the release was pushed back sometime in 2022.
Although the movie is characterized as a rom-com it also included some music. It was expected seeing as Lopez was playing what seemed to be a version of herself.
"The movie was sweet and J. Lo's performance scenes were great," says Amelia Maxey.
I personally think the music was good but also a little cheesy, making it perfect for a romantic comedy.
Black History Entertainment
Jaden Richardson
February 28- We are halfway through black history month and there are so many inspirational movies and tv shows that portray the struggle and success black people have had for centuries.
To inform the younger generation about their history, black influencers and celebrities have been involved more in the casting and production of important documentaries.
On Netflix, Kevin Hart has a movie highlighting the true story behind people who have done amazing things to free themselves of slaves like Henry "Box" Brown, who mailed himself to Philadelphia in a box.
Freshman Joseph Ramos-Valencia also watched a documentary called "I am MLK Jr,"' and said, "It was inspirational. It made me see how black people were treated badly".
A popular black history show that recently aired is called "Women Of The
Movement". Will Smith and Jay-Z were the executive producers. The show takes on the story of Mamie Till, Emmet Till's mother. Emmet Till was a 14-year-old boy who was brutally murdered for allegedly flirting with a white woman. The show highlights how Mamie Till took on the press and the court trial regarding her son's death.
Junior Emily Viers gave a review of the show saying, "I watched the Emmett Till documentary because I always heard about Emmett Till's death, but I never heard the aftermath regarding his mom or his family's experience with the public".
Barnyard Batting Cages
Cade Shoemaker
The arrival of batting cages has been long awaited by players and coaches at the NCLA. Between the construction of the new baseball field and other athletic complexes, the batting cages were one of the last to come into fruition. However, after a few makeshift cages for teams to use, a slightly more permanent location has been created.
Next to the NCLA branded athletic buses, is a storage barn. For a long time the barn has been used to store field equipment, classroom desks and even lockers. Now, it is home to a full size batting cage for softball and baseball teams.
Covered by a metal roof and siding, the barn is fully protected from rain, allowing teams to practice inside the cages even if they can't get on the fields.
"So far I really like the new cages. It's an easy way for the team to get work in without worrying about the weather," said junior baseball player Luke Gallimore.
In addition to a large batting cage net, the left side of the barn has been completely gutted to reveal a makeshift bullpen. The pen, complete with wooden horse feeding troughs, is only two and a half feet shorter than a regulation field. However it is fashioned with a turf mound that gives the strip all of the needed qualifications of an indoor bullpen.
This slideshow requires JavaScript.
"I like the bullpen a lot because it is the perfect space to use for pitching, and allows us to add more productivity to our indoor practices," said junior player Troy Shoemaker.
Under the recent weather conditions, the barn has seen a lot more traffic from baseball teams trying to workout indoors. As a result, issues seeing the ball after sundown have become apparent and are in the process of being fixed by adding more lights.
"Right now, the only issue we have is lighting. Today we added a few more spotlights which have really helped, but before there wasn't enough light to see the ball that was thrown at you," said junior player Colby Brown.
Although the idea of converting an old barn into batting cages seems strange, the functionality has been flawless. Not to mention, the dusty floor and aged wooden structure matches the dirty, hard working grit of a highschool baseball team.
Diamond Falcons
Jackson Faenza
The 2021-2022 Baseball season is fully underway with tryouts finished and practice in full swing. The team will have their first game on Tuesday, Feb. 28 against Thomasville High School.
"I am very excited about this season as I believe it is the best squad that we have put together in the program's six-year history. Not only is there experienced talent from our upperclassmen, but we also have a plethora of underclassmen that have lots of potential. I thoroughly believe that if we play like we can, we have the potential to be with the top teams in our conference with an above .500 record," said Head Coach Landphair.
The season has a full roster with many experienced upperclassmen and talented underclassmen. The team is led by senior Nick Hurst and Jonathan Floyd. They are veterans on this NCLA baseball team, they have both played since freshman year. While Jonathan even had the opportunity to play at the school since he was in middle school.
"I am really excited about getting out there with teammates and making new memories. I think we also have a shot at winning every game this season, which would be super fun and exciting. I am not worried about any game, I go in there with a winning attitude so we can play as hard as we can no matter who the opponent is," said senior Jonathan Floyd.
The team is scheduled to play in about 22 games then will go all the way into the end of Apr. Some of the teams include Cornerstone, Bishop McGuiness, Eno River, Carolina International, Carver High School and Walkertown High School.
"I think the challenge this year will come with the number of games that we have. Over the next two months (Feb. 28th-Apr. 29th) we will play in 22 games which means there is a bit of a grind. As long as the team can stay focused from start to finish though, we can really do something special this year. This year is going to be fun no matter what happens. I am already proud of the amount of work that they guys have put in over the off-season as it has shown already in our practices. With the high expectations that my assistant coaches and I have, I truly believe that this year can be great," said Landphair.
Along with Varsity Baseball, Varsity Softball is well underway with practices being held at the fields at NCLA. The team is being coached by Head Coach Gabby Oglesby or Coach G. They have so many things in store for the season and are ready to get started.
"I think we're all looking forward to seeing this group come together as a team and making a name for NCLA's softball program. We have a great group and we're confident that we can hit the ground running," said Head Coach Gabby.
The team will kick off their season on Feb. 28 against South Davidson High School. The team is then scheduled to play 20 games this year. Some of those opponents include Carver, Cornerstone, Union Grove Christian, Bishop McGuiness, Oak Ridge Military Academy and our school's rivals, and Wesleyan Christan Academy.
"The past couple of years have been difficult for the girls, and has obviously had an effect on school athletics. Because of this, that bond and cohesive unit hasn't been able to form as it normally would. My hope is that this season will be the fresh start that we all need and we can set the tone for years to come," said Coach Gabby.
She goes on to talk about how they already have a star pitcher on the team, freshman Ashlyn Koeber. Coach Gabby believes although she is young, she is very talented and has already shown to be a great leader for the team.
"Most of our goals are centered around confidence. We want the girls to be confident in themselves and our team. Of course our goal is to win, but more importantly for this season, our goal is to reshape the foundation of the NCLA softball program. In order to do that, we've asked the girls to have confidence in the coaches and themselves, and to trust the process," said Coach Gabby.
NCLA Wrestler: Cooper Wingate
Mrs.O
Cooper Wingate, a Freshman here at the NCLA, won fourth in the North Carolina State 1A competition in his weight class. Wingate wanted to give a shout out to his wrestling Coach, Coach Blake. "He's been super supportive this whole season and without him I wouldn't have even qualified for states. Also, massive shout out to Aidan Sumner, who won the Rookie state championship this past weekend. I can't wait to have him and all the other middle school wrestlers on the varsity team," Wingate stated.
Wingate works hard to improve as a wrestler. When asked how he felt after the competition he said, "It's a bittersweet feeling. Obviously, it felt good to be on the podium and have a medal placed around my neck, but I know that I could've wrestled better and there were definitely some things I could've done differently that would've changed the outcome of last weekend. But I can't change the past, so I'll just have to work harder next year and in the offseason to bring home the gold."
When asking around about Wingate, Will Swisher, a NCLA sophomore, said, "Pound for pound he is one of the best wrestlers on the team. I think his success comes from his attention to detail and his coachability."
Wingate says that he loves wrestling "because in wrestling, there are no excuses. If you lose, you can't blame it on anybody else- You screwed up. But if you win, it is the most rewarding feeling because you know that you outworked you."
In the future, Wingate would love to wrestle for NC State and then maybe become a lawyer. He says that his Dad is the most influential person in his life. "Whenever I get a big win, he always reminds me to stay humble. Whenever I suffer a loss, he tells me to keep my chin up," Wingate says.
Fellow classmate, Sedem Agbemabiese, said, "He's funny, quick-witted, and clever."
Wingate has two older sisters, one sister Peyton Wingate goes to NCLA, and his other sister Caylee just got her Master's degree from NC State. Cooper loves going to the lake and listening to music. His favorite band is Metallica and you could say "Nothing else matters." He loves drinking vanilla coke and if he could go anywhere in the world on vacation, he would go to Indonesia – home of the Orangutan.
When asked what his favorite class was at NCLA, he said, "without a doubt, [it] is photography. Mr G is the goat!"
We are so proud of Cooper Wingate's accomplishments on the wrestling team. Make sure to congratulate him if you see him around.
A Leg up on the Competition
Nick Hurst
With winter sports finally coming to an end, spring sports are up next. We kicked off the season with tryouts on Feb. 14. The spring sports that are offered at the NCLA are baseball, softball, track, golf and women's soccer .
Senior soccer player Julianna Peters said, "We're pretty confident, we have a lot of amazing players. I think we will play well! Probably better than last season I dare say. Our coach is nice, we respect him a lot and have a lot of fun under his coaching! We want to beat a team that we have never beaten so we hope that goes well. I would like to play my best and lead the team the best I can."
Women's soccer has been a very popular sport at the NCLA because the school is so small it allows anyone no matter how much experience they might have to play on a team. Also in the triad soccer is a very popular and competitive sport so there is a high interest in soccer. In previous years NCLA has been lucky to have senior leaders in the past to make women's soccer an amazing environment which draws in more girls every year.
A sport that is making its return is track and field for the first time in two years. Two years ago sadly the track coach became ill and the schools couldn't find anyone else to lead them to victory and last year there wasn't enough to participate to create a team. But this year is different. There are enough runners to compete and hopefully put NCLA on the board amongst other schools!
Junior Runner Rebecca Avilia said, "Hopefully it's good and fun but I'm nervous to see how I do. I'm not going to hold expectations high, right now I just hope I don't get last."
Coach Carrington was hired to be the track coach this year as well as the women's basketball team.
A Conclusion to Winter Sports at the NCLA
Monica Truhe
Friday, Feb. 25, the NCLA celebrated its winter sports athletes with an end-of-season awards ceremony. The sports honored were wrestling, girls and boys basketball, and cheerleading.
On the boys basketball team, senior Nick Hurst was awarded most improved. Trint Saunders received the coaches award, and the most valuable player was Cade Shoemaker.
On the wrestling team, Wesley Kauffman was chosen as their most improved player. The coaches award was given to Andrew Ellis, who says, "I wasn't really surprised, I always try to keep a good attitude because I know when others blend in the background after say, a loss, I'll be set apart because I'm always happy about it." Wrestling coach David Blake said as much in his speech to Andrew. The most valuable player on the wrestling team was Cooper Wingate.
Coach Lauren Guldberg gave the coaches award to Nick Swisher, and awarded captain Elle Gruer the MVP award of the year. Guldberg says, "It was extremely hard to pick my award recipients because everyone on the team was so deserving. I chose Elle for MVP because I felt like she was not only a constant encouragement for the team this year, but also for me. She was someone everyone on the team felt comfortable going to, and an amazing role model and co-captain. I chose Nick for coaches award because of his attitude throughout the season. He always set the tone for the team and the crowd, and his energy was contagious!"
For the girls basketball team, the coaches award went to Elissa Segers. Addy Guldberg was awarded most improved, and the most valuable player of the season was Emmy Guldberg.
To conclude the night, Coach Mac went over our all-conference winners. The wrestling team came in second in the conference. Cooper Wingate, Jonathan Dehart, and William Blake were individually recognized in the conference. On the girls basketball team, Ali Faenza, Emmy Guldberg, and Brooke Taylor were conference-recognized. Coach Al Carrington was the women's basketball coach of the year in the conference.
Overall, we had a pretty exciting winter season at the NCLA! Here's to an even better spring season!
Upcoming Games:
Varsity Baseball @ North Forsyth-3/2
Varsity Baseball vs North Forsyth – 3/4
Varsity Softball @ South Davidson- 2/28
Varsity Softball vs South Davidson- 3/2
Varsity Girls Soccer @ Clover Garden- 3/2
Varsity Girls Soccer against North Stokes- 3/4
Encanto Hits the Home Screens
Kylie Jackson
February 4- On Dec. 24, 2021, "Encanto" was released on Disney+. It is the first Latino Disney musical and the story takes place in Colombia. It is a musical that follows the main character, Mirabel Madrigal, on her journey to save her family and their magical home.
Madrigal explains her family is not like any other family because they have all been given special abilities. But, she is left as the only family member without a discernible power.
"I loved Encanto so much because of the message behind it and it allowed for
more Latina representation, especially positive Latina representation," said senior Bre Vann.
"Encanto" was originally released in theaters on Nov. 24, 2021. The movie did not do well and was only in the theaters for a month before moving to Disney+.
"Encanto" ended up doing so poorly due to the new variant of COVID-19. Not many wanted to risk seeing it in theaters. Once "Encanto" was able to be streamed it was widely watched in homes and grew in popularity.
Everyone was singing about Bruno and how we don't talk about him. The song "We Don't Talk About Bruno" recently surpassed "Let It Go" as the highest-charting song in a Disney musical.
Lin-Manuel Miranda, known for involvement in many musicals including "Tick Tick… Boom!" and "Hamilton" wrote all eight songs for the soundtrack of "Encanto." Miranda has won forty-four awards for his music and performances so it was inevitable that the soundtrack for "Encanto" was going to be fantastic.
Freshman Ella Lainer Stated, "I love it because of its great soundtrack and plot."
I personally think that "Encanto" was an excellent movie. It was different from a typical Disney movie.
Unlike the usual Disney movie there was no love interest for Mirabel. Instead she focused on the love she had for her family in order to rebuild her home. It is easy to see why "Encanto" has been such a hit.
The Power of Reminiscing; A Senior Tribute to Their Best Moments at The NCLA
McKenna Porto
February 4- It is the second semester and graduation is now approaching. Seniors have begun reviewing their transcripts, applying and even committing to colleges, but one thing the seniors are not ready to do is say goodbye to their high school experience.
This graduating class is interesting because not only have most of the students been in the same class for nine years, they also have had their high school experience completely spoiled by the Coronavirus Pandemic.
Due to their former sophomore, junior, and even partially their senior year being ruined or severely affected by the pandemic, the current seniors are having a hard time saying goodbye to their high school experience that was never quite whole.
We have reached out to seniors and encouraged them to openly reminisce on their glory days.
Jackson Faenza has been a Falcon for eight years. He expressed how he misses the abundance of overnight trips in his middle school years such as to Washington D.C in the eighth grade. When he took Mr. Walsh's seventh period civics class he loved so much it stuck out as one of his favorite high school memories. Faenza misses all of his fellow students since the fifth grade, as well as faculty member Mrs. Hoff, former middle school history teacher.
When asked about his funniest memory at the NCLA, Faenza stated, "The funniest thing that happened during my time here was in sixth grade when the whole grade was moved to The Summit Church because there was no room for us at the school. When we were able to come back they made us dance in front of the whole school to 'Happy' by Pharrell Williams."
Bridget Palmer, a falcon of nine years stated that the "flash mob" was also her funniest memory.
Falcon of seven years, Nora Wood, expressed that as she departs from NCLA she will miss the close-knit community the school successfully promotes between not only the student body but also the faculty. She expresses her growing love for all faculty members and deemed Mrs. Kerr, The Hartzells, and Mrs. BG "her honorable mentions" as she joked that her response obviously excludes her mother, Mrs. Wood, High School Vice Principal.
"One of my favorite memories from high school (there are many), is from Freshman year english with Mrs. Kerr when she put on 'Love Story' by Taylor Swift, and the whole class had a jam sesh. It was beautiful," Wood said.
James Garmon, who has been attending the NCLA for six years also stated his love for the faculty, expressing that they are the one thing about the school he will definitely miss most, especially high school history teacher Mrs. Orenstein. Garmon is a big fan of Mrs. O and titled his philosophy class with her his favorite highschool memory of all time. Gavin Carter is Garmons best friend and has stuck with him through it all.
Jaiden Truhe has been a falcon for her whole four years of Highschool. When asked about her favorite teacher she owed it all to Mrs. Kerr. "I loved her classes," she said. "She was so kind and encouraging and always maintained relationships even when I wasn't taking her classes. I have so many good memories."
Truhe has grown to love grabbing coffee on the way to school in the mornings and karaoke in her car on the way to lunch. She has found entertainment in Mr. Landphair, who in her opinion seems to burn something every time she takes his class and she thinks it's funny to watch his reaction. Her favorite highschool memory was getting ready on prom night. Truhe spent the night taking pictures, eating a nice dinner, dancing with her friends and going bowling. She expressed her gratitude to her best friend, Kathryn Meehan.
When asked about her best friend through her NCLA experience, Truhe said, "Kathryn! We have been bestfriends since freshman year, taking classes together and staying friends through all the craziness of highschool. She is hilarious, loyal, and incredibly talented."
Kathryn Meehan, falcon of four years, also shares a love for Mrs. Kerr, making her friendship with Jaiden very evident. Meehan also noted her appreciation of being able to see her friends everyday, and of the Powderpuff game this year. She said that her funniest memory was seeing former student Camille Leake drink a whole bottle of mustard at a soccer game due to cramping.
And of course when Meehan was asked about her closest friends she responded, "It's hard to find people who really understand you, but I feel like I've found that in Jaiden… I'm going to miss seeing her everyday but I know we will stick with each other after graduation."
Kylie Jackson has also been a Falcon for four years. When asked about her favorite highschool memory she said that during her sophomore year she went to the homecoming basketball game, to eat, and then to see Jumanji II all with her bestfriends. She also considers Mr. Heckstall her favorite teacher. Mr. Heckstall, the high school English teacher, is very popular this year.
Shaniya Myles, falcon of three years, also listed Mr. Heckstall as her favorite.
Giana Garzon is the only senior who has left NCLA and came back. She has been a falcon for a total of seven and a half years. She enjoys being able to leave for lunch, and being known as "the late girl." Mrs. Prouty, her fourth grade teacher from nine years ago, is her favorite teacher of all time. She says the thing she will miss when she leaves is Sarah Bryan Thiel.
"I met her this year and she has stuck with me through all of it. She is so sweet," said Garzon.
Elissa Segers has attended NCLA for five years. She says that her favorite middle school memory was being able to attend Mrs. Jackson's English class. She enjoyed senior year powderpuff and the closeness that everyone shares at NCLA.
When she was asked about her funniest memory at the NCLA she said, "Mr. Walsh accidentally threw a football at my head and hit me freshman year." Mr. Walsh was a popular teacher and was also loved by, falcon of seven years, Gabriel West.
Growing up and growing out of highschool can sometimes be a lot to take on. As friend groups disperse, and memories are left behind in the walls of the school, the seniors will never forget how amazing their years at the NCLA were.
The 101 Dalmatians Auditions
Mrs. Orenstein
February 4- Auditions for Disney's 101 Dalmatians will be on Friday, Mar. 25th and Saturday, Mar. 26th at 6:30pm. Auditions are open to all High School and Middle School Students. Due to Covid, there will be two people cast for each role.
Cast list will be posted on the afternoon of Monday, Mar. 31st. Rehearsals for the
play will take place a few times per week during the second half of lunch. After school rehearsals will take place a couple weeks before production.
According to Mrs. Shannon Maggard, "On Mar. 21-24th will be production week. There will be tech and dress rehearsals the entire week."
Also, be aware that you may have to pay $25 for your costume. Looking forward to seeing lots of students coming out to audition!
Senior Action Project:
Cade Shoemaker
In order to graduate at the NCLA, seniors are required to complete the Senior Action Project. A two part research proposal composed of a paper, and multimedia presentation that will be completed throughout the school year. Before students graduate, they are graded by committee members for both their presentation and papers.
The activity is orchestrated by administration, however Mr. Hartzell has led the project and makes sure students are doing the things that are required of them, on time and in the proper fashion.
Each senior is able to select and research a topic of their choice. Whether it is important to them and their life, a field they are interested in pursuing, or something they want to educate others on. With approval from Hartzell, seniors are essentially given creative freedom.
For example, a few topics students are exploring include: "Tribalism within American politics," "The foster care system and its effect on childhood development," "Social sexism and its effect on the mental health of women," and "The downfall of youth sports."
To aid seniors in creating flawless presentations, students are given the opportunity to choose a teacher of their choice to act as a mentor. By helping edit papers and giving suggestions on how to better their project, these mentors help take a lot of stress away from the whole process.
"I had a great mentor, because she was really interested in my topic and I think that is really important. If you don't pick a good mentor, or they can't relate to your topic, then you won't get as much out of them," Jonathan Floyd explained. "My advice, pick a mentor that cares about you and your topic."
However it isn't all sunshine and rainbows when talking to seniors about SAP. In fact, the most common complaint from the Class of 2022 is that it feels like extra work on top of multiple other classes.
"It feels like sometimes the assignments are just busy work instead of stuff that is helping us with our projects," said Scott Stanley.
Unlike this year, past graduating classes have had the luxury of a study hall period each day, strictly for their SAP.
"Since there is no class period devoted to our senior action project this year, it is somewhat hard to understand what we have to do on a weekly basis. I think bringing back a devoted study hall period for the project would take off a lot of stress for seniors," Scott Stanley said.
This far into the school year, a lot has already been completed by seniors. Final drafts for research papers were due at the end of 2nd Quarter, and students are now focused on their multimedia presentations.
The following timeline outlines the due dates for upcoming work, as well as when seniors will have their entire work put on display:
---
September 8th – Submitted Proposal
December 17th – Rough Draft Due
January 14th – Final Draft Due
January 28th – Multimedia Presentation Proposal Due
February 25th – Final Multimedia Presentation Due
March 15th – Committee Grading of Research papers
March 23rd – Senior Project Night Presentations
---
Caterina Ribero: From Italy to NC
Monica Truhe
This month, Falcon News recognizes Caterina Ribero, an exchange student from Italy, as our student of the month. Ribero, who often goes by Cata or Cate, is 17 and enters the junior class of the school. She joins us from Roccabruna, a northern city of Italy.
Ribero says she likes, "To do sports, go out with my friends, and listen to music…In Italy life is very different. I go out with my friends all day after school until my volleyball practice." On the weekends in Italy, Ribero enjoys going to parties, watching movies, or cooking. She has been playing volleyball since she was eight. Now, she plans to join the track team during its season.
Ribero has visited many different countries; "This is my first time out of Europe. I've traveled to a lot of different states in Europe: France, Spain, Ireland, UK, Belgium, Holland, Germany, Sweden, Greece, and Czech Republic."
As a child her family would travel to the Cannes seaside every year in France. Her favorite place she has been is Spain.
Ribero says, "I love traveling. This is also one of the reasons that I chose to be an exchange student."
Ribero started learning English when she was six years old. She began learning French in middle school.
Her trips to France have helped her along in her learning; "I speak Italian, French, English, and Spanish. All of these languages I learned at school."
Ribero decided to become an exchange student about a year ago; "In Italy there are a lot of agencies and different programs…Before Christmas I received an email where there was my destination and the school…my host-family and the local coordinator that chose the school."
Her transition to the U.S was difficult at first, as it began to settle in that she had left everything that was familiar. She says, "Everything is different, like food, school, free times, sports. So I start only now after one month to understand the life-style and adapt.
February's student of the month is unlike any before her. Make sure to give her a warm, NCLA welcome if you haven't already!
Homecoming=Sweethearts
Jayden Richardson
The rescheduled homecoming dance is Feb. 12, 2022 From 7pm to 10pm in the Elementary auditorium.
During the dance there will be a stuffed animal toy drive and a station for making cards for veterans. Along with the stuffed animals and toy drive, there will be the regular homecoming events.
Chick-fil-a is catering the food. Celeste Paradis was very excited saying, "I am super excited about our dance being catered by Chick-fil-a because it is the most healthy fast food."
Celeste also said she will be wearing a "black dress." Emily Viers said, "I am wearing a blue dress with daisies, the one I was going to wear to homecoming."
Emily also expressed her excitement about the dance. "I am really excited about the turn out because I know the student council worked so hard to put this together."
Hope to see everyone at the Homecoming/Sweetheart dance, Feb. 12.
Vaccine-or-Test Rule Shut Down
Lexi Antieau
The Supreme Court just withdrew the vaccine mandate put in place by the Occupational Safety and Health Administration, along with United States President Joe Biden.
"Previously, the Biden administration's Occupational Safety and Health Administration mandate required that businesses with 100 or more employees ensure that each worker is fully vaccinated or tests for Covid-19 on at least a weekly basis," journalists at CNN said. "Now, many companies, businesses, and employers are left to decide on their own whether to issue any Covid-19 vaccine or testing requirements for their workers."
Under the new ruling, Biden's rule requiring large companies to test weekly, mandate masks, and only offer employment to vaccinated people is said to be beyond his administration's authority.
If not ruled against, the rule would have applied to companies with 100 people or more and would have affected about 84 million employees. Also, it would have required employees to either be fully vaccinated or to get tested weekly.
The Supreme Court also ruled against schools having to implement vaccine mandates or masks with testing mandates.
In a separate case, the Supreme Court ruled that the Department of Health and Human Services is allowed to require healthcare workers to be vaccinated in order to work.
The NCLA's staff and students are still required to wear masks to school every day, and athletes will continue to be pool-tested once a week.
Sources:
https://www.bbc.com/news/world-us-canada-59989476
https://www.cnn.com/2022/01/15/health/supreme-court-vaccine-testing-decision/index.html
https://www.supremecourt.gov/opinions/21pdf/21a244_hgci.pdf
Recent Celebrity Deaths
London Carter
In recent weeks Hollywood has lost some of its most infamous actors, comedians, and beloved faces. Betty White, Bob Saget, and Sidney Poitier all died within two weeks of one another, causing everyone to look back on their careers and remember their legacies.
Betty White passed away on Dec. 31, 2021, at age 99; just 17 days away from her 100th birthday! Her acting and directing career spanned over eight decades, and she made a name for herself by being one of the first women to work in front of and behind the camera. In 1955 she was named "Honorary Mayor of Hollywood" and in 1987 she was named the '"Funniest Female."
"I mainly knew Betty White from the 'Golden Girls,' and I really liked her personality and how it shined through in her roles," NCLA senior Bridget Palmer said.
White won various awards over her career including multiple Primetime Emmys, Daytime Emmys, Los Angeles Emmys, and the American Comedy Awards. Aside from acting, she also spent lots of her time and resources, investing in various causes that she supported. Some of these included animal welfare, racial injustice, LGBTQ+ rights, and women's rights. She was an ambassador for the American Humane Foundation in her later years (a link to donate will be included at the bottom of this article).
"I just make it my business to get along with people so I can have fun. It's that simple." – Betty White
Sidney Poitier passed away on Jan. 6, 2022, at the age of 94. He put his name on the map by being the first Black and first Bahamian man to win the Academy Award for Best Actor. He also went on to win various other awards including the Golden Globes. His breakout role was in the 1955 film "Blackboard Jungle," but he was most known for his role as Homer Smith in the 1963 film "Lillies in the Field."
"As a child, I loved watching movies of Sidney Poitier since he brought such dignity to the roles he played," said NCLA history teacher Chelsie Orenstein. "He had to deal with segregation in the movie industry and making less pay than the other actors; however, he did it because acting was what he loved and he made it easier for those that would follow in his profession."
From 1995 to 2003 Poitier served as a member on the board of directors of the "Walt Disney Company" and in 2009 he was given the Presidential Medal of Freedom by President Barack Obama. He advocated for racial justice in his local community and was a board member of the African American Students Foundation which provided scholarships to hundreds of African American students across the country. Link to donate to the charity that adopted his foundation will be included at the bottom of this article.
"If I'm remembered for having done a few good things, and if my presence here has sparked some good energies, that's plenty." – Sidney Poitier
Most recently, Bob Saget passed away on Jan. 9, 2022, at the age of 65. He became America's favorite dad for his beloved role as Danny Tanner on the sitcom "Full House" and in the renewed sequel "Fuller House." He was an actor and stand-up comedian who won a myriad of awards throughout his career. In 1994, Saget's sister Gay Saget passed away after battling Scleroderma for a couple of years. He spent the rest of his life fighting to fund research of this disease in hopes of finding a cure by becoming a member of the Scleroderma Research Foundation Board.
"Growing up, I always watched Bob Saget on the show 'Full House,' NCLA junior Eliana Cotten said. "He was like my TV dad."
Bob Saget was interviewed by CBS weeks before his death, where he opened up about the struggles he watched his sister endure during her battle with Scleroderma and begged the public to donate funds towards this cause to help find a cure and prevent further deaths. Following his death, the Scleroderma Research Foundation Board was flooded with donations from the public. The link to donate will be included at the bottom of this article.
"I think things just happen to people. That's healthier, I feel than believing there's some grand scheme where your story is already inscribed in the Book of Life. Books get rewritten." – Bob Saget
Betty White's Charity of Choice: https://www.americanhumane.org/
Sidney Poitier's Charity of Choice: https://jackierobinson.org/donate/
Bob Saget's Charity of Choice: https://srfcure.org/support-us/ways-to-give/
Is Disney as Magical as We Think?
Eliana Cotten
Disney has been an iconic franchise that has controlled mainstream media for decades. The theme park "Disney World" is a dream destination for people of all ages.
Unfortunately, Disney's business side is not as glorious as their magical movies and theme parks. According to the "New York Times," there was a lawsuit against Disney from several female employees accusing Disney of paying them less than their male coworkers. There are 10 women who have joined the case so far.
Even with this scandal, the majority of Disney employees are underpaid as it is. According to "Benzinga," the Coalition of Resort Labor Unions has reported that a majority of "Disney World" employees are paid under $15 an hour. For standing outside in heavy, heated costumes and dealing with thousands of people a day, that number seems disappointingly low. Especially considering the amount of money Disney has and makes off of the theme park.
"Honestly, it's kind of ridiculous. I think there's a lot of sketchy things we don't see that go down behind the scenes of Disney. They still make good movies though," junior Sylvia Sellmer said.
The man himself, Walt Disney, was also involved in a few controversies in the 1900s.
He was reported attending multiple meetings from the pro-Nazi organization German American Bund in the 1930s. He even gave an infamous Nazi propagandist, Leni Riefenstahl, a tour of "Disney World" according to "Biography".
He was also accused of racist tendencies on multiple occasions in his early career. He often contributed to racial stereotypes in his classic movies, such as "The Jungle Book," "Aristocrats," and "Peter Pan".
"I had known about the racist undertones of Disney movies," senior London Carter said, "But I had no idea how deep Disney's scandals went."
MS Conference Champs
Jackson Faenza
The Middle School boys basketball team has had a pretty impressive season. On Jan. 26, the team became regular season conference champions. This is something that has not been achieved before by a team at the North Carolina Leadership Academy.
"We knew with the core of our team coming back we knew we would have a solid team, but all of the new players are doing extremely well and fit right in," said Head Coach Sellers.
This season, the boys were undefeated and became conference champions on Feb.3.
"I had many goals this season, one was win the conference, two average sixty points per game, three defend so the other team would only score forty or less points per game and goal number four was to become a tight knit team. We have achieved all of those this season," said Coach Sellers.
There have many people that have really stepped up this season, "Caden Ryker averaged 24 points per game, Will shut down defense every game, Graham all around exciting player to watch, Lucas averaged eleven rebounds per game, Walt and Hank shooting and rebounding, and all the bench players giving me 100% effort every time they get on the floor. Overall, the team and my coaches Tyler and Jamie, have exceeded all expectations," said Coach Seller
Eighth grader Caden Ryker is very pleased with how the season has gone, "I am very happy with how the season went. We worked hard as a team and that's what matters. I like sharing bonds with my teammates, we are like a family."
Celebrating our Senior Athletes
Nick Hurst
Every year a chapter closes for a lot of the senior student athletes because they will eventually play their last home game for their sport. It is very emotional watching a senior walk on and off the court or field for the last time knowing, sometimes, that they won't be able to continue their sport after high school. On Thursday, Feb. 3, we recognized our seniors from the Mens' and Womens' basketball team as well as the cheer team. Jaiden Truhe, Nicholas Hurst, Elle Gruer, Bridget Palmer, Jadyn Dewald, Mckenna Porto, Scott Stanley, and Elissa Seagers.
The Girls Basketball team played an amazing game beating Carver 54-11! The crowd that showed up to support our girls was great. They really brought their school spirit also thanks to the cheerleading squad for leading them in chants. They also had an amazing halftime performance during the women's basketball game. The Men's basketball team fought hard to the very end but lost 23-48 to Carver.
This slideshow requires JavaScript.
After the games are over this is the time where seniors reflect on their high school sports career. Senior Mckenna Porto from the cheerleading team said, "Cheer has taught me how to do what makes me happy. That is a common response between all athletes, that their sport makes them happy, but I say that for different reasons. Cheer has taught me how to differ from the crowd, how to not be embarrassed about putting myself out there, and how to be happy and just enjoy. Most importantly cheer has taught me how to work with a team. Every sport emphasizes teamwork, but in cheer lack of teamwork could cause serious things like injury or honestly complete embarrassment. Cheer has taught me how to bond with others, and set differences aside for the greater good."
Senior Cheerleader Elle Gruer said, "I would say that my most memorable cheer moment would be my first cheer camp in the summer of 2019 that was held at UNCW. This was my favorite memory because the hard work, laughs, and memories that came from that weekend is what made me love being a cheerleader."
Gruer went on to say, "What I will miss most about cheer is the people. This year has been very difficult for the cheer team but it is something that we as a squad had to work through together. This team has become family and we are bonded for life with the memories that we have made on and off the court. Cheer has been such a blessing in my life and I'm going to miss its presence dearly."
Super Bowl LVI
Scott Stanely
The date was Jan. 15, 1967 Green Bay won the first world championship Super Bowl 35-10 over the Kansas City Chiefs. Since then we have had 55 super bowls and many great games. The Pittsburgh Steelers have won six super bowl championships and Tom Brady himself, he won six with the New England Patriots and one with the Tampa Bay Buccaneers.
The Super Bowl is one of the most unique games in sports history, it is known worldwide and brought 96.4 million viewers last year. Even those who do not like to watch football tune in for the commercials. In fact last year on Fox's coverage 23.3 million viewers watched the super bowl just for the commercials. Everyone can find something they want to see in the super bowl.
This year's Super Bowl will feature the Cincinnati Bengals led by sophomore quarterback Joe Burrow and the Los Angeles Rams led by veteran quarterback Matthew Stafford. Cincinnati finished the regular season 10-7 and were awarded the sixth seed in the playoffs in the AFC conference. They won their wild card matchup against the Las Vegas Raiders 26-19, then they moved on to the divisional round and beat the Tennessee Titans 19-16. The Bangles then had a dramatic 27-24 overtime win over the Kansas City Chiefs after overcoming an 18 point deficit.
The Rams had a difficult road as well in going to the Super Bowl. They finished the year 12-5 and were awarded the three seed in the NFC conference. In their wild card matchup they beat the Arizona Cardinals 34-11, then in their divisional round they beat the Tampa Bay Buccaneers 30-27 and finally beat the San Francisco 49ers 20-17 in the NFC championship. This is a very exciting matchup between two staggering different teams, the Bengals high flying offense versus the Rams balanced team.
Troy Shoemaker, a fan of the NFL, had this to say about the Super Bowl matchup, "My excitement level for this game is 20 out of 10 and I am very excited for the halftime show, it will be fire."
Troy believes that the Bengals will win 31-24 and Joe Burrow will be awarded the MVP of the Super Bowl.
My pick for the Super Bowl is the Bengals will win 24-21 with Joe Mixon being the MVP of the Super Bowl.
The Winter Games 2022
Rebecca Avila
The Summer Olympics recently passed and it's the time of the year that the Winter Olympics are about to begin. The Winter Olympics rotate every four years like the summer games. Each year they are held in a new city of the world, this year being Beijing, China. The Covid protocols set for the summer games are going to be instituted during these winter games as well.
The games are set to begin on Friday, Feb. 4 and are set to end on Sunday, Feb. 20. The opening ceremony will begin at 8pm ET on NBC and Peacock. This year the Olympics will hold 109 events for athletes to compete in. The new events entering this year will be:
Women's Monobob

Men's and Women's Big Air Skiing

Mixed Team Relay in Short Track Speed Skating

Mixed Team Ski Jumping

Mixed Team Snowboard Cross

Freestyle Skiing Mixed Team Aerials
222 athletes will be participating in the Beijing Olympics for the United States. A total of around 3000 athletes from around the world will be competing in the games.
According to Bleacher Report, the top countries that seem in contention to have the highest medal count by the end of the games are Germany, the Russian Olympic Committee and Norway.
According to YardBarker, the top athletes of the games to look out for, competing for the United States are:
Alpine Skier, Mikaela Shiffrin

Bobsledder, Elana Meyers Taylor

Bobsledders, Kaillie Humpries and Lolo Jones

Cross Country Skier, Jessie Diggins

Curler, John Shuster

Figure Skater, Nathen Chen

Ice Hockey Player, Kendall Coyne Schofield

Snowboarder, Chole Kim

Snowboarder, Shaun White

Speedskater, Britney Bowe
The winter games are harder to sell to the American people because of the favoritism to the summer games. Yet the Winter Olympics have an overall higher world viewing with a slightly higher viewership of 26.88 million viewers compared to the Summer Olympics 25.75 million average viewers, states Morning Consult.
According to our school instagram poll, 73% of students are ready for the Olympics and 27% are not.
"Watching hockey is fire," said junior Cade Shoemaker.
"Halfpipe is my favorite to watch," said senior Nick Hurst.
Homecoming Canceled
Scott Stanley
The Homecoming Game was canceled last month due to the Coronavirus and the amount of cases in the school.
In the original game in December, NCLA was scheduled to play against Triad Math and Science. This game has since, has been rescheduled for Jan. 19 but it will not be deemed the "Homecoming Game."
After interviewing the NCLA's Athletic Director, Stephanie McCormick, it was determined that the Homecoming Game will not be rescheduled. Some players feel frustrated about the cancellation because of the dedication that many of our senior players have shown and now their hard work will not be recognized with a Homecoming ceremony.
Even though this cancellation may be frustrating, players must be able to consider other factors that are in play. One of the factors might be that Covid cases are very high in our school right now and administration would like to limit outside exposure from loved ones, including grandparents and other relatives coming into the school and watching the Homecoming Ceremony.
Stephanie McCormick, commonly referred to as Coach Mac, has been the Athletic Director at the NCLA for two years now. It has been tough to navigate through Covid; last year during the pandemic the basketball season, the Senior Night game was canceled. This not only saddened the team but also saddened Coach Mac.
You could see the commitment that Coach Mac had for both the Womens and Mens basketball team last year when she scheduled and ran a makeshift Senior Night that celebrated the teams and their seniors. This meant a lot to the players last year.
Cade Shoemaker, the starting Point Guard last year said, "I appreciated the effort they gave in such a difficult situation."
Coach Mac was very passionate about this because of her past experiences with Covid. Before Coach Mac came to the NCLA, she was an assistant coach at Western Carolina. In her final year there, they were ranked number two in their conference and were expected to win the conference championship and advance to the NCAA tournament. Unfortunately two hours before they were to tip off in the Quarter-finals of the Conference tournament, all post season activities were canceled.
Coach Mac expressed to me that she was heartbroken to have to tell many of those girls that they could not play for a championship. This pain has carried over to her decision making regarding NCLA sports. Coach Mac takes the decision to cancel games and events seriously because she knows how much these events mean to students.
When I asked Coach Mac what she thought of athletics she answered, "Athletics are one of the most unique things in life, no matter what bad happens in the world you can come together and unite to achieve one common goal."
This sentiment is true and is something that the student body of the NCLA can unite behind. We can all recognize that there are negatives about the NCLA but we are all on the same team. We all – administration, coaches, and players want what is best for the student body. In a world that is so set on tearing itself apart, I don't think that it is a bad idea to put a little of it back together.
Semester 1: An Overview
Monica Truhe
Though it may seem as if the year just started, the North Carolina Leadership Academy is already halfway through the 2021-2022 school year. Semester one was full of fun activities and memorable moments. Student council assembled, our boys soccer team led us to conference victory for the first time ever, the battle of the classes favored the upperclassmen in powderpuff football, and so much more.
During the first weeks of school, the 2021-2022 student council ran for office. The council, by popular vote, became: Abigail Brannan as student body president and Etornam Agbemabiese as vice president. Will Swisher became secretary, Nora Wood parliamentarian, and Nick Swisher filled the role of treasurer. Katie Carpenter, Skylar Maness, myself, and Linnea West became our respective class presidents.
Senior representative Katie Carpenter said, "I thought that the election this year was super strong with many students wanting to get involved and participate! The run for vice president was super entertaining and heated which I thought was amazing, to see students get passionate about their student body and school!"

During fall, powder puff is a favorite activity of the NCLA's high school students. This football game is one where traditional gender roles are switched- the boys cheer as the girls throw the football. The upperclassmen took the win for the game, and the underclassmen cheer team was crowned victorious.
Sophomore Dallin Tucker says, "Powderpuff was really fun. I got to learn some new tricks and stunts with friends and then show them off in support of my other friends."
Carsyn Queen remarks, "The cheerleaders were the highlight of the game. The amount of effort they put in was evident in their routine." This event was voted as the student body's favorite.
In the week leading up to the big game, high schoolers could participate in spirit week. Some of the days included dressing up as the first letter of your name, pajama day, and dress as your top spotify artist.
Kaitlyn Parker said, "Powderpuff day was super fun because it united us with freshmen and people that we don't normally talk to. Dress as your name day was fun too because we got to see everyone's creativity."
The boys soccer team had a record breaking season. Team captains David Truhe, Cade Shoemaker, Scott Stanley, and their fellow team members led the NCLA to conference victory. One specific soccer game remains a positive memory for high schoolers at the NCLA. The boys soccer team, on its way to winning their conference, had to beat its rival in order to claim the title: Bishop McGuinness.
David Truhe said, "It was an intense game that we needed to win to win the conference that day. Furthermore, the pressure of an undefeated record rested on the result of that game. With the encouragement of the crowd, coach, and players around us, the team was able to pull through and win the game in double overtime against one of our greatest rivals."
Will Swisher describes the game as, "So much fun and such an intense game." Students were encouraged to come decked out in their neon attire."
NCLA celebrated the veterans of the United States military by its annual Drive of Honor, held on Veterans Day every year.
Linnea West says the day is, "Important because it honors our veterans." As a leadership academy, this is a top priority.
Leading up to the homecoming game and dance, an all-high school pep rally raised spirits on Friday, December 10. The rally was full of fun games and school spirit.
Nora Wood, who helped plan the event, said, "One of my favorite parts of the pep rally was right at the beginning when lights went out and the basketball introduction videos were played. Whenever a new person popped up onto the screen, different sections of the bleachers would cheer loudly for their fellow classmates. It was so refreshing to see lots of school spirit even when most basketball players weren't there to witness it."
In order to minimize the spread of COVID-19, mandatory athletics weekly testing began for the winter seasons of sports. There was a sudden rise in cases less than two weeks before winter break, leading to a school-wide online midterm week and a canceled homecoming game and dance.
Abigail Brannan said, "It's always hard to stay motivated…It all happened so quickly and I felt pretty stressed."
This semester has been a memorable one. High schoolers were able to receive their first taste of semi-normality since the pandemic first hit in 2020. Throughout its ups and downs, students of the NCLA made memories and created meaningful experiences. Here's to an even better second semester!
New Year, New Goals
Rebecca Avila
The new year has rolled in and peoples resolutions have been put into effect. 2020 and 2021 were not the hottest years and it has had its fill of major lows and incredible highs. 2022 is many peoples hope to erase the past two years and make this year the best it can be.
People's resolutions tend to revolve around the concept of being overall healthier, hitting the gym, focusing on true priorities, etc. People then give up after a couple months and the cycle starts over the next year.
In an instagram response, James Garmon said he wants to "drink more water." Abigail Brannan said to "go outside more. Go hiking lots."
Another main focus for many peoples New Year's resolutions is focusing on their education and to better their knowledge.
This coming year, sophomore Alyssa Pickle said she wants to "read more. I want to read at least 20 books this year."
The new year also is a great opportunity to get in tune with one's religious beliefs again.
Skylar Maness said to "spend quality time with the lord daily!" Cade Shoemaker said he wants to "read the whole bible in a year."
Getting a good income is also on many people's New Years Resolutions lists to be able to ball out and make the year the best it can with money in the bank.
Abigail Brannan said wants to "save ten thousand dollars by the end of the year."
Music Rewind of 2021
Eliana Cotten
January 14- Music has been a key contributor to maintaining sanity during these past couple of years of craziness. Luckily, 2021 brought in a lot of new music from some of the world's best artists. Here are the highlights:
For Pop, there were quite a few albums dropped. Olivia Rodrigo is the first one that comes to mind, seeing as her music practically broke the internet. Her debut album, "SOUR," broke records all over the world.
"My top album of the year was definitely Olivia Rodrigo's. There were absolutely no skips on the whole album," eighth-grader Alora Crayton said.
Another Pop artist who released an album was Billie Eilish. Her album was titled "Happier Than Ever," and the opinions on the album were widely debated. Her song "Happier Than Ever," specifically the last half of the song, took the world by storm staying at the number one spot on the Billboard's Top 100 Song Chart for three weeks straight.
Another honorable mention is Taylor Swift's, "Red (Taylors Version)". This was a
long awaited album for both the fans and Swift. The top song by far on the album was "All Too Well (10 Minute Version) (Taylors Version)". In addition to this 10 Minute Version, she released a short film for the song starring Sadie Sink and Dylan O'brien.
"I was so in love with 'Red (Taylors Version)'. I listened to it so much that my Spotify Wrapped said I was in the top 0.5% of Taylor Swift listeners this year," senior Haley Frias said.
Taylor Swift also released "Fearless (Taylors Version)" a few months before "Red (Taylors Version)".
"Honestly I think 'Red (Taylors Version)' was better than 'Fearless (Taylors Version)'. I just feel like the songs were more well done," senior London Carter said.
Adele released her album "30" on Nov. 19, 2021. Seeing as Adele is a global treasure, her album was automatically on the number one spot on the Billboard Top 200 Albums Chart.
"I think I listened to Adele's album like thirty times the week it came out. Which is funny because the album name is 30," freshman Aleena Rios said.
Moving on from Pop music, Kanye West released an album titled "Donda" on Aug. 29, 2021. After the release of this album, Kanye West moved from number 67 on the Billboard Top 100 Artist Chart to number one in a matter of days. The songs "Jail" and "Hurricane" made it to the top 10 on the Billboard's Hot 100 Song List.
In competition with "Donda" was Drake's "Certified Lover Boy". It was released a month later on Sep. 3, 2021. Many people argued that "Donda" had more emotional meaning which made it a step above "Certified Lover Boy." Regardless of this argument, Drake's songs from the album were number one on Billboard's Top 100 Song Chart multiple times.
Lil Nas X released his album "MONTERO" on Sep. 17, 2021. Saying that his music video for "MONTERO (Call Me By Your Name)" was controversial would be an understatement. Some people saw it as offensive towards religious beliefs. Some saw it as an iconic moment for Lil Nas X where he was openly expressing himself. This controversy once again allowed for the song to reach the number one spot of Billboard's Top 100 Song Chart in a matter of days.
Tyler, the Creator released his album "Call Me If You Get Lost" on June 25, 2021. The album debuted at the top spot of the Billboard Top 200 Album Chart. According to PitchFork, the album gave Tyler the chance to play with his tone and the raspier part of his voice for more texture in the songs.
"The music from 2021 honestly is what got me through," junior Sylvia Sellmer said. "I just feel like everyone was on their game last year, and I am really thankful for it."
HS Chorus Concert at NCLA
Jackson Faenza
January 14- On Wednesday, the North Carolina Leadership Academy hosted its rescheduled High School Chorus Concert which was run by chorus teacher, Ms. Kristen Gobetz.
"I love chorus so much and I think Ms. Gobetz did a great job of getting us ready
for the concert," said senior Elissa Segers.
The concert was originally supposed to be scheduled for the week of Dec. 13. Unfortunately, the NCLA had to swiftly move to remote learning due to the outbreak of cases the previous week. Due to kids not being able to come to school, the chorus concert had to be rescheduled for another date.
"It was canceled because we went remote the week before the break when the concert was scheduled. Both the students and I were disappointed and frustrated as we were so ready to perform. We all knew that it was OK and that we would reschedule, however. We all need to be understanding and flexible during this time. We are all very thankful we will get the chance to do it this week on the 12," said chorus director, Ms. Gobetz.
The High School concert will consist of eight songs in total. The songs include, "Be Like the Bird" by Abbie Betinis, "In Flanders Fields" by Dr. John McCrae, "Let There Be Peace on Earth" by Sy Miller and Jill Jackson, "Come in from the Firefly Darkness" by Amy Feldman Bermon, "I Believe" by Mark A. Miller, "December Rose" by Tom Fettke and Thomas Grassi, "Various Themes on Fa-La-La" by Chuck Bidwell, and lastly "The Lord Bless You and Keep You" by Peter C. Lutkin.
"I believe that performance is the culminating experience for an ensemble. Just as core classes take finals or give presentations, music classes celebrate their 'final product' by performing. Music is essential to our world and to our community, including the school community. Having a public performance gives the choral students a chance to showcase their work, their families, and the school community a chance to support and appreciate them, and it helps recruit new members for the choral program as well. It is a celebration of hard work and a chance to hear something beautiful," replied Ms. Gobetz.
With this concert, Ms. Gobetz is hoping that everyone can experience the hard work her students put in during the first semester, "Their program is beautiful and well-rehearsed and I am just so excited to share it, especially after a year with no concerts," said Ms. Gobetz.
Listening to "After Hours" on 103.5 Dawn FM
Rebecca Avila
January 14- The Weeknd recently released his newest album on January 7 and it's been two years since his last release. Dawn FM is following one of his greatest albums, "After Hours" and this wait has been dawning on everyone.
There are 16 tracks:
"Dawn FM"
"Gasoline"
"How Do I Make You Love Me?"
"Take My Breath"
"Sacrifice (E)"
"A Tale by Quincy (E)"
"Out Of Time"
"Here We Go… Again (feat. Tyler, The Creator) (E)"
"Best Friends"
"Is There Someone Else?"
"Starry Eyes"
"Every Angel is Terrifying"
"Don't Break My Heart"
"I Heard You're Married (feat. Lil Wayne) (E)"
"Less Than Zero"
"Phantom Regret by Jim"
Dawn FM follows the structure of a radio station giving an interesting take to how music albums contemporarily are.
Maria Fleak stated, "The Weeknd's album is different from anything else in the music industry and is unique in the sense that it feels like you're actually listening to the radio."
His previous album, "After Hours" was released at the peak of the world turning to chaos due to the pandemic. "After Hours" is a completion of material that reflected his feelings and depression at the time. Dawn FM is essentially a rebuttal to "After Hours".
Etornam Agbemabiese said, "I think this was one of his weaker albums but I still thoroughly enjoyed this project. Nothing can beat 'After Hours', that was an instant classic."
His new album shows the creative path of searching and getting out of the "claustrophobic reality" of the past two years. The first half of the album hits you with some "euphoric" beats with the help of Swedish House Mafia from tracks one through nine. On the tracks 10 through 16 it gives you a more calming end to the album.
The album cover is unique compared to some of his past covers but it depicts the "endless purgatory" of how he has viewed life throughout the pandemic but is hopeful to come out of the heavy fog of the past two years.
In my personal opinion, it's a different and unique taste to some of his past albums. The radio station takes on a new perspective on how artists can create their narrative within an album.
The songs themselves have a repetitive beat but there are some songs that are good and different. Overall, the album was alright but it wasn't one of his best releases or comparable to his past greats like "Starboy" and "Beauty Behind The Madness".
Fleak stated, "The Weeknd's album is different from anything else in the music industry and is unique in the sense that it feels like you're actually listening to the radio."
Falcon Winter Sports Update
Jackson Faenza
The North Carolina Leadership Academy is full of very talented winter sports teams. Wrestling, girls basketball, and boys basketball are fully underway. The first semester brought a bumpy road for some of the winter sports teams due to covid. It seems that now, everything should be smooth sailing from here.
First off, the wrestling team is coached by David Blake, who is very passionate about wrestling and coaching. The team has been competing against schools that are much bigger than NCLA but has found some success.
"The team is doing well above my expectations given that the entire team consists of Freshman and Sophomores and we have not had a team in a few years. They have competed on a varsity level against, more often than not 3A and 4A schools and have found moments of success along with lots of learning opportunities," said Head Coach David Blake.
Blake is very happy with how the season is going and is especially interested in a particular wrestler, freshman Cooper Wingate. "All of the Varsity wrestlers have truly impressed me this year but if I had to pick the one at the top I would say Cooper Wingate. Cooper is always at practice and works hard from the beginning to end. He is always trying to learn and always willing to help his teammates learn. He keeps a positive attitude and acts as a leader," said Head Coach David Blake.
A goal that Coach Blake has set halfway through the season is to win the conference. He believes they have the talent and the work ethic to achieve it. He also hopes his individual wrestlers can achieve their own goals as wrestlers.
"I think the season is going by fast and the team is improving. However, with the low number of wrestlers it is difficult in matches and for practice, although we pull through just fine. Near the beginning of the season, I had a goal of building up stamina so that I would be able to practice longer. As the season progresses, I now focus more on knowledge and movements rather than simply just strength and endurance," said sophomore wrestler Andrew Ellis.
You can catch the team back in action on Tuesday, Jan. 18. "My goal was simply to get a varsity level wrestling program back up and running at NCLA and to make the young men who decided to be a part of it better wrestlers. I think we have gotten all of our wrestlers into the weight classes where they will be most successful. They continue to get better every practice and I am looking forward to the rest of the season," said Coach Blake.
The Boys HS basketball team is again head coached by Mr. Craig Shoemaker. Shoemaker has been head coach since the 2018-2019 season. This season, the boys are 6-5 heading into conference play.
This is the team's first season playing in the 1A conferences, which holds many different opponents. They include Bishop McGuiness, Carver, Cornerstone, etc.
"The Basketball Team is 6-4. Started the season 5-1. Covid has caused us to not have all our players the last 4 games so we are starting to get everyone back," said Head Coach Shoemaker.
The team is full of talented players; junior Laken Locklear who averages 12 points per game, and four rebounds, junior Troy Shoemaker who averages 11 points per game and three rebounds a game, junior Cade Shoemaker who has nine points per game, 10 rebounds, seven assists, and three steals per game.
One main goal Coach Shoemaker has set is to win games this season. The team has never won more than nine games. Their goal as a team is to win 12 games this season. They are also striving to be in the top four in the conference by the end of the season.
When asked about something that the team has struggled with, Coach Shoemaker replied, "We need to get better from the foul line and get tougher scoring around the basket."
Last, but not least is the Falcon Girls Basketball Team. They are having a great season, which is coached by Head Coach Carrington. The season was kicked off with an amazing win against 4A school High Point Central High School
"I am really happy with how the season is going and with how much the team is improving and growing together. One personal goal that I have set for myself this season is to be able to encourage my team both on and off the court. One thing that I am loving about this season so far is how supportive and uplifting the team is no matter if we win or lose," said junior player Ava Gonzalez.
Sophomore Brooke Taylor is leading the team in points per game with about six points a game. Addy Gulberg is leading in the team's rebounds with about seven rebounds a game.
"I think our team is very young, there are not many upperclassmen on the team. I think our team does a really great job working together and encouraging or uplifting others," said senior player Elissa Segers.
There is still a lot of games to catch your NCLA Girl's Basketball Team play. They still have homes games against Bishop McGuiness, Carver, and Winston Salem Prep, and Oak Ridge Military Academy.
Four Separate Coaches in One Season
Kenna Porto
The cheer program once was a roaring sport at the NCLA. Twenty plus high school girls, most of whom were best friends, would meet every day to learn new skills and on game days would showcase all they learned. After the pandemic this strong-willed sport took a big hit. A big struggle of finding a new coach and new players arose. The 2021-2022 cheer team currently has six participants and has had four different coaches since August.
Elle Gruer, a senior and Co-Captain, has participated in cheer for three years. When asked about the attendance and commit issues the squad is facing, Gruer responded with a positive attitude by saying, "This year has been very difficult for the cheerleading program, not only do we not have many participants but we are also now on our fourth coach of the season. The inconveniences have limited our team severely but I am still grateful for some of the amazing people on the team and that I am able to go through this unideal situation with a few of my closest friends."
The previously introduced coach quit due to complications joining two other women who have quit or backed out at some point throughout the season. Principal Mrs. Faenza stepped in to allow a season for the cheerleaders. She also helped the cheer program find their newest and hopefully permanent coach Lauren Guldberg, daughter to our beloved elementary assistant principal Mrs. Guldberg.
"Although she is our fourth coach she is the best by far," joked sophomore Caitlyn Hanna.
Coach Lauren Guldberg is a previous student of the NCLA. She explained that she attended the school during two of her middle school years which also were the first two years the school was open. She stayed in touch with the school since her mother is an administrator and her two sisters attend the high school as sophomores. Lauren graduated from University of North Carolina Greensboro with a bachelors in Communication Sciences.
"Although I never cheered before, I danced for fifteen years. I was unable to continue teaching at my studio when I moved away for school and I've really missed it. I thought it would be a great opportunity to get back into the industry and to give back to the NCLA," said Coach Guldberg.
Guldberg stepped in when the squad needed her most. Between the trouble with coaches, participation numbers, mandatory athletic testing and COVID, the cheerleaders have only been able to successfully participate in their sport for one game night so far. There has been a lot up in the air and without a permanent coach the team faced lack of direction and consistent uncertainty. Guldbergs arrival has given the cheerleaders some hope as she provided insight, assistance and overall leadership.
"I was a little nervous about becoming the coach in the middle of the season, but I hit it off with everyone and enjoyed my time with them. I just wish I could've been here since the start of the season! I'm most looking forward to the opportunities to grow and make memories. Coming in late in the game, I knew I was going to be the odd man out on the team, but everyone's been so inclusive and taken me in like I've been there the whole season. I hope this experience helps me and the rest of the team grow, and hopefully gives us a great foundation for next year," said Guldberg.
In the presence of a new coach, athletes can be restrictive or unsure, but the cheer team has had open arms and Guldberg seemingly reciprocated those same feelings. The presence of Guldberg has made the cheer team very appreciative as they have noted her sacrifice of free time and energy for their sake.
Monica Truhe, a sophomore on the team said, "Lauren is really great. She stepped in when we really needed her and I'm so grateful for her. Cheer has become really enjoyable for me now that she's our coach."
Guldberg has been a much needed gate-way for a successful and fun end of cheer season. The cheer program can only benefit from her arrival. Let's all thank her for stepping out of her way to provide for not only our cheer program in distress, but also the NCLA as a whole.
Say It Ain't So (Joe)
Cade Shoemaker
The field is set. Eighteen weeks of professional football has sorted out the best 14 teams to compete in the NFL Playoffs. However this year, a new team will be lifting the Lombardi Trophy for the first time in franchise history.
NFC: In the NFC the Green Bay Packers are clear favorites to capitalize on an impressive regular season record of 13-4, the best in football. However, there are some appealing teams in the division that may shake up the playoff picture more than people will imagine.
Buccaneers: The "Tampa Bay" Bucs have yet again put up an impressive record behind potential MVP quarterback Tom Brady. Even despite the absence of Antonio Brown, I think the Buccaneers will get an easy home win in the wild card and give the Packers a run for their money in the NFC Divisional round. If they can get the job done on the road at Green Bay, don't be surprised if Tom Brady leads the Buc's to back to back Super Bowl appearances.
"My hope is that the Buccaneers will win in light of Antonio Brown's recent actions, and almost use it as fuel for their playoff run," said senior Cam Warren.
Rams: The Los Angeles Rams are also a very intriguing playoff caliber team who could be a sleeper in this year's picture. With the addition of Odell Beckham Jr. to an already potent offense, it may not be too outlandish for the Rams to be playing in their own stadium when the big game kicks off.
"I really believe in Mathew Stafford because I think he can take them to the next level. OBJ is also a pretty good replacement for Robert Woods, so I could see them winning it all," Gavin Wild explained.
AFC: With a closer playoff chase between teams in the AFC, more drama may happen on this side of the bracket. Teams like the Cincinnati Bengals, Buffalo Bills, and Kansas City Chiefs are all closing out the regular season red hot.
Chiefs: Missing the top seed in the AFC by one game, the Chief's have the potential for another Super Bowl run. Keeping virtually the same offense throughout the off and regular seasons, the Chiefs have the experience to produce when February rolls around. However, do not be surprised if they are an early exit too. Mahomes and the offense have had rough patches this year, and little production from their explosive offense could be costly. Despite those assumptions some still believe Patrick Mahomes is the answer:
"Patrick Mahomes is the greatest quarterback of all time, and will beat the Packers to win his second Superbowl," said Pierce Lewis.
Bengals: By far the biggest sleeper pick in the NFL are the Cincinnati Bengals. Set your alarms because you won't want to miss this bandwagon when they make a historic playoff run. The Bengals have an explosive and fun to watch offense with a lot of young talent, including the potential ROY, Ja'marr Chase. With a really deep receiving core and an above average defense, the Bengals may be able to win their first Super Bowl in franchise history.
Steelers: By far a favorite team amongst many students, the Steelers snuck their way into a playoff spot with a miracle on Sunday Night Football. With what could be Ben Roethlisberger's final season, the Pittsburgh Steelers will have one last shot at lifting the Lombardi Trophy led by a future hall of famer.

"I want the steelers to win the superbowl for Big Ben's final season, even though they may not be a clear favorite, or deserve to be in the playoffs in the first place," said David Truhe.
Predictions:
Wild Card Games – AFC
Chiefs vs. Steelers
Bills vs Patriots
Bengals vs Raiders
Wild Card Games – NFC
Bucs vs Eagles
Cowboys vs 49'rs
Cardinals vs Rams
Divisional Round – AFC
Chiefs vs Titans
Patriots vs Bengals
Divisional Round – NFC
Bucs vs Packers
Cowboys vs Rams
AFC Championship
Bucs vs Rams
NFC Championship
Bengals vs Chiefs
Super Bowl:
Bengals vs Buccaneers
The Dawgs Vs The Tide
Nick Hurst
It is finally the New Year and that means the College National Football Championship Game is right around the corner. This year the Georgia Bulldogs and the Alabama Crimson Tide have both worked extremely hard to get into this game. Both teams are going in with a 12-1 record. In the regular season Alabama had beaten Georgia so expectations for Alabama to do it again are high. However, Georgia statistically had the advantage because it's hard to beat a team two times in a row and Georgia was looking for revenge and wanting to dethrone the National Champions from the previous year.
"My favorite college football team is the UNC Tar Heels because they are good at basketball and that's why I like them for football although they aren't that good I still root for them. But my prediction is 35-31 Alabama because they both have a strong offense but Alabama will be able to perform to exceed expectations and conquer Georgia's defense." Trint Saunders, a junior at the NCLA said in response to who would win the championship game.
For some people they would prefer to watch professional sports such as the NFL than College football. "Depending on the teams playing, watching college football can be more entertaining than watching the NFL because afterwhile the games in the NFL can be predictable making them boring to watch. I predict Alabama will win because of their coach. My thoughts on Nick Saban is that it doesn't matter what he does off the field, if he can win on the field, he's a good head coach," said Adam Small, another junior at NCLA.
The championship game was played on Jan. 10 at Lucas Oil Stadium in Indianapolis. Georgia beat Alabama 33-18 dethroning the 2021 champions. It was a hard fought game up until late second half when Georgia put up a touchdown over Alabama. Then everything started rolling for Georgia in the fourth quarter scoring 20 points with a pick six to seal the game.
Arts:
Thanksgiving Traditions
London Carter
November 15- The month of November is finally here, which means it's time we transition out of the Halloween season and into Thanksgiving. As the holiday starts to come closer, it's time we start to think about our family traditions and how we prepare for the 25th.
Most Americans celebrate this holiday by giving to charities, giving thanks,
attending parades, keeping tabs on their favorite sports and cooking lots of foods that make them feel nostalgic.
How a family celebrates Thanksgiving depends on how they view the holiday entirely. Some families focus on upholding their family traditions while others use it as a time to reflect on what they are thankful for.
Junior Celeste Paradis' family holds an annual family dart competition with her dad's side of the family whenever Thanksgiving rolls around. All her family members compete for a cash prize and then sit down to have a delicious southern family dinner.
"No one knows how to cook like her so I try to get as much of it as possible while she's still around," Paradis said, "She is the only one who knows how to cook food even close to how my Great Grandma Etheline did. It's crazy how a small town like Fuquay- Varina (which ain't so small anymore) can provide such big memories and comfort."
Ella Lanier spends this holiday season by having dinner with her family and reflecting on what she is thankful for. "I have God to thank for all those things that I am thankful for," Lanier said.
Linnea West usually spends Thanksgiving playing family games of football, eating lots of food and watching the Macy's Thanksgiving Parade. But this year, she has found herself traveling to Little Rock, Arkansas to see her second Harry Styles concert of the year.
"I heard that he had another concert that he added to the tour in Arkansas, and after the show in Raleigh I couldn't wait to go again," West said. "Me and my friend asked to go almost as a joke, it seemed unrealistic, but my mom said yes if we could get the tickets."
No matter how (or if) you celebrate Thanksgiving, make sure to spend this holiday break by spending quality time with your family and friends!
Adele and Taylor Swift Album Preview
Lexi Antieau
November 15- Adele and Taylor Swift fans are in luck this month. Adele is planning on releasing her album "30" on November 19 and Taylor Swift will release her next album "Red (Taylor's Version)" on November 12.
Adele kicked off the tease of her next album when she released the song "Easy on Me" back in October. Her last album, called "25," was a huge hit back in 2015 when it was released. "25" included hit songs, such as "Hello," "When We Were Young," and "All I Ask."
So what can fans expect from this new album? After hearing "Easy on Me," fans can expect the album to be predominantly about her recent divorce. Many fans expected her new album to be more upbeat and have less tearjerkers, but recent news suggests that fans should expect heartbreak.
"Adele shows a lot of passion with her music I feel and this is shown in her new song Easy on Me. In this song, she is speaking to her son about her life and hoping for him to realize just how much she loves him. I look forward to seeing more of this throughout her album, everything coming from the heart with all this passion that was seen in a song such as Easy on Me," NCLA junior Anakin Leister said.
Taylor Swift's new album "Red (Taylor's Version)" is also a long-awaited album. Swift is re-releasing her hit album "Red," only this time the songs were recorded in the way that Swift wanted.
"I think that I'll like the original 'Red' album more because with all of Taylor's older music, I always think of my childhood. It brings me back to those good times. However, I think Taylor's version will still be great too," NCLA junior Maria Fleak said.
Previous to Swift's now independent contract, she was signed with a producer who liked to take her songs and change them to his liking. Now that Swift is no longer signed by that producer, she can record her most well-known songs in a way that she sees fit. In other words, Swift is working to now "own her work."
"'Taylor's Version' to me is like watching Taylor take the beginning of her career back, and do everything the way she would have if she had complete control the first time around," NCLA junior Jenna Clayton said.
Swift also has some tracks on this album "From the Vault " that many fans are looking forward to. "From the Vault" songs are previously unreleased songs by Swift that she didn't release with the original album.
"I'm definitely most excited for the vault tracks and being able to talk with other fans about them. I think it is so cool that we will be able to get even more insight into Taylor's life at that time through those songs," NCLA senior Kathryn Meehan said.
Cooking with Cade… and Chef Don
Cade Shoemaker
November 15- As the holiday season slowly approaches, families begin to create seasonal dishes and Christmas themed desserts. At the NCLA, the highschool Intro to Cooking class has begun making common Thanksgiving foods, while also looking ahead to Christmas desserts that they will begin to bake in December.
This past week, students in both cooking classes were led by Chef Don Mcmillon
Culinary arts students making pies
in making multiple different pies from scratch. On Monday morning, the chefs in training were instructed how to make and prepare pie doughs by hand, which they used to create multiple different flavored pies that week.
"Though the dough didn't have as many ingredients as other doughs we have made, it was a little more difficult to get right. In the end, the pies were really good and that is all that matters," said Dylan Coltrane.
Since the dough had already been created, students were able to focus on the filling for each of the desserts the following days, as they created apple pies, fruit tarts, and a pumpkin pie to finish out the week.
"The pies were really tasty because they had plenty of flavor and a balance of spices and sugar," Caroline Champe said.
Tarts made by culinary art students last week
The weeks leading up to Thanksgiving, students will begin creating delicious side dishes that are often included with every Thanksgiving feast.
"I am hoping we will be able to make stuffing, a green bean casserole, and cranberry relish which is my personal favorite." Chef McMillon said.
His goal is to allow students to understand the basics of cooking and to be able to apply these techniques at home. He hopes that students will take what they learn during class time, and use it to help cook these same dishes with their parents or relatives on Thanksgiving.
"Another reason I have really enjoyed cooking class is because of all the new techniques and skills we have learned so far." Champe said.
There is more to look forward to however, as the lineup of Christmas desserts are seemingly quite special. Chef McMillion mentioned to students earlier in the year that in December, each class will be making their own gingerbread houses. Creating gingerbread from scratch, students will be able to work together to construct and decorate the famous holiday houses.
"I think making gingerbread houses will be a really fun way for Chef to see our creative sides. When we created tarts this past week it was interesting to see how each person made theirs unique." Nina Padilla said.
The two major items that are still on the menu before the end of the quarter are a pork roast, and "Buche de Noel" in French it means Christmas log or what we know as a yule log. Chef is hoping the roast will be a quicker substitute to prepare and cook during class time then a normal beef roast. On the other hand, a Buche De Noel is a type of Christmas cake, however Chef is hoping to keep students wondering what it truly is until they learn to bake it.
"I have heard of a Buche De Noel before, and I think it may be a German dessert that is like a cake, but it's in the shape of an actual log. If I had to guess there is probably buttercream, fondant, and a lot of icing." Troy Shoemaker said.
Looking into 2022, there will be weeks worth of cooking with chicken, and a lot of different ethnic dishes that Chef McMillon is hoping to recreate.
News:
Cool Kid Karston Keo
McKenna Porto
It is time for November's Student of the Month! Introducing Karston Keomalaythong. Keomalaythong is a senior at the NCLA. He has attended this school since his freshman year.
"I attend this school because my middle school, Phoenix Academy, did not have a high school and I had friends that went to this school that told me the education was high quality," Keomalaythong said.
Keomalaythong is a well rounded student. He is a part of the soccer team that won conference this year and has been a part of the soccer program since ninth grade. He plays left mid fielder alongside some of his closest friends.
"I loved playing soccer here," Keomalaythong said. "It made me form great bonds and the sport itself was fun as well. I liked being able to improve my skills while also playing my sport alongside my best friends."
He is not only the star player you all know him to be. He also attends Fellowship of Christian Athletes (FCA) weekly and he is in Spanish Four! Keomalaythong spends his free time playing FIFA, skateboarding, and working for his mom's store.
"My favorite class in highschool is my spanish class throughout the years. I continued taking that class because I love having Mrs. Maggard as my teacher, she is my favorite teacher," Keomalaythong said.
Feminism, as Described by the NCLA
Monica Truhe
Students at the NCLA have the unique privilege of growing up in a society where the conversation in support of change is continuous. Our generation is one that invites and incites new ideas.
One subject that has completely shifted in recent history is that of gender equality. From the first woman's rights convention in 1848 to the signing of the 19th Amendment in 1920, and many times thereafter, women have fought for an equal voice in politics and social affairs.
Feminism has taken on many different roles and meanings, and has become a pivotal factor in social media.
According to Merriam-Webster, feminism is the "belief in and advocacy of the political, economic, and social equality of the sexes expressed especially through organized activity on behalf of women's rights and interests."
Although this definition seems innocent, the narrative around feminism tends to be conflicted with both negative and positive responses. So, what is feminism? I turned to the NCLA student body in order to define it.
According to senior Haley Frías, feminism is, "Progress. Power. Defiance of the odds that have been set against you, and strength."
NCLA student London Carter added that feminism is about, "Making sure that all women are included, not just the women that society feels is worthy of being helped."
"I believe that in the massive mainstream social movement of feminism in America, right now, they believe that women do not have the same level of rights as men do and are unequally treated… As statistics say… women hold more degrees than men, showing that they are more educated than them. They currently have more jobs than men do… Most doctorates awarded in this country are awarded to women and not men. These statistics show that women obviously have the opportunity and take it," NCLA sophomore Andrew Ellis said. "It's just sometimes it can be overshadowed by people's traditional beliefs and prior opinions, and prior historical facts over current facts…I think legally, objectively, in the system, women have the same opportunity as men. It's all about how they personally take that opportunity."
Ellis has an interesting take on the topic. Is feminism simply an echo of what women wanted in the past, or is there still a fight for equal rights? It's possible that feminism has become more of a social fight, rather than a fight for women in the workplace.
"I'm a feminist because I'm not over here judging other women for living their lives how they want…If a certain woman wants to… stay at home and be an at-home-mom, then good for her…If she wants to go to work and be in a corporate office then also good for her," Nora Wood, parliamentarian in the NCLA's student council, said. "It's not my place to judge what anyone else wants to do…we are all equal in the sense that no one should be judged for what they choose to do."
"I think feminism is about having the option and the opportunity to do anything we want and not be discriminated because of our gender. Complete equality, like having no differences, is not the point," NCLA sophomore Sophia Franks said. "The point is to recognize and celebrate our differences and to have everyone be able to do what they want despite those differences."
Another NCLA student, Kaitlyn Parker, describes what feminism means to her; "To me, when you say feminism… I don't think about the movement. I think about my pride in the women and girls in my life… and knowing that we are capable of many things and that in God's eyes… we are all equal…I think that we should be given the same choices, but I think that we shouldn't be judged if we don't want to take those routes."
"I think feminism, to me, is reaching an equality between men and women…reaching a place where women feel that they are equal to men and have an equal opportunity in anything they do," NCLA junior Cade Shoemaker said.
Scott Stanley offers a counter argument to Shoemaker's opinion; "I think at the root of feminism, it's good, because you want to reach equality between men and women, and I think equality's good. I do think… in the current climate, people have abused feminism…They're just abusing their platform."
Another NCLA student adds on to this; "Sometimes when people take things to the extreme the entire point… gets misconstrued behind the extreme…actions…the core is good, even though it has some flaws."
"Feminism to me, by the.. definition that has been developed over the past years with the negative connotation that it has, is not a fight for equal rights… It's become radical… and politically motivated… Yes, women and men should be treated equally in society… Because of the connotation that feminism has developed over the previous years and its relation to politics and radicalism, I think that feminism is not a good thing. And I think that the fight for equality is not feminism. They're different things," another NCLA student said.
One anonymous student brought up another element; "The core idea of feminism is right, but I feel like many people in today's society have blown it out of proportion and taken it too far… In trying to get to equal rights, they're making it unequal…men aren't allowed to have opinions on a lot of stuff anymore."
This seemed to be a common topic among those interviewed: equality is great, but feminism is a touchy subject. What separates the two? What has made feminism different from the fight for equality? Is it simply the radical tone that feminism has taken?
Nick Swisher mentioned the radicalization of feminism and how that has affected people's opinions of it; "I think people try to radicalize feminism when really it is the simple idea that men and women are equal in all aspects…I just think that feminism shouldn't really be such… a bad word to say… It's just the equality of men and women in all aspects of society. I don't think it should be up for any sort of debate."
Elle Gruer continues this idea; "I feel like it's very misinterpreted… the actual meaning of it is just supporting women's rights- and not… what people make it out to be as… women overpowering men. That's… what people are turning it into.'"
"All feminism is- is equal rights, that's all it is!" NCLA Spanish teacher Mrs. Shannon Maggard said.
According to these NCLA students and teachers, the school has a pretty solid concept of feminism. While these ideas do not represent the whole of our generation or the movement, it's safe to say that equality between men and women is the goal in the hearts and minds of students and staff at the North Carolina Leadership Academy.
Addressing Mental Illness
Scott Stanley
As we all know, the past couple of years of school have been very difficult. COVID-19 has not only kept students home for an extended period of time, but has also affected students' mental health.
Depression and anxiety have been at an all time high throughout these past two years, due to the fact that students were forced to stay at home and not able to interact with their friends. Even now, students starting to return to school are still dealing with the effects from the isolation period.
"Covid gave me stress and anxiety. I was really stressed with online school and life in general and I developed anxiety in that time stuck in my house. I still have anxiety now," an anonymous student said.
Due to the increase in mental illness cases, suicide rates have also increased amongst teens. A recent study by the American Health Rankings found that 18.8% of high school students have seriously considered committing suicide and 8.9% of high school students have attempted suicide.
Another major issue that arose during this pandemic has been the limited resources for in patient care due to all the focus on people suffering from the Coronavirus. Many students here at the NCLA have suffered throughout the pandemic.
"After online school had been implemented and people I knew were getting seriously affected I started to get worried. It affected my anxiety severly and I started to not want to leave my house. I also missed my friends but never had the energy to reach out to them. I was conflicted with myself and had a hard time with it," an anonymous student said.
Mental health issues have been an issue for a long time. Sometimes, the resources needed to combat it have not been easily accessible, due to the stigma placed on those suffering from mental illness.
"Not only in schools, but general public places, posters and clubs could be provided that can have safe space info and awareness would be amazing," an anonymous student said.
I have personally experienced hardships during the pandemic, and I was diagnosed with depression, anxiety, and severe obsessive compulsive disorder. These illnesses do not define me but they are a part of who I am. Just because I suffer from these mental issues does not make me a "dangerous" person or a "weak" person.
The advice I can give to those that are suffering is not to be afraid of asking for help. Face your issues. Wear it like armor. You can become a better person, and a better student. We need to listen to those who have and are suffering to find solutions.
AUTHOR'S NOTE: I appreciate everyone who shared their stories. You are all extremely brave.
Mask Meetings
Rebecca Avila
The pandemic has forced everyone into the habit of wearing a mask. With the new vaccines now available from children as young as five into much older years, masks are slowly receding in everyday life. In school, masks are still a mandate, vaccinated or not.
Every month, the school holds meetings to discuss the mask situation and whether or not students are still gonna be required to wear them. The Board of Trustees and parents are welcome to attend and voice their opinion.
"It's an open public meeting, all are welcome! I like to see how the process works! The meeting opens up with a public comment forum, which allows people from the community to address the board directly," Lance Antieau, junior Lexi Antieau's dad said. "I like to attend the monthly meetings and I find it beneficial. The meetings I've attended have all been held with decorum. There are also discussions about future growth of the campus and student body. Overall, I find the meetings to be very informative. I feel that as a parent of the NCLA community and family, it's important to have a rapport with members of the faculty, staff and BOT(Board of Trustees)."
Here are some student opinions on masks today:
"I think that they are not that big of a deal," junior Ethan Baker said.
"I don't want to wear them because they're annoying. I'm vaccinated, I shouldn't have to wear a mask," Zach Donath said.
"I think that it's important that students continue to wear masks. There are students that can't get vaccinated or that have compromised immune systems. We can have more dances and events if we can continue to wear masks and our COVID cases are declining," NCLA junior Lindsey Allen said.
"I think that it's very important that that we all wear masks until this pandemic is eradicated. It's important that we protect the parents and grandparents of the NCLA," Etornam Agbemabiese said.
Living:
The Drive of Honor
Nic Hurst
Veterans Day is a national holiday celebrated every year to recognize all who have laid down their lives for our country for our freedoms. Veterans Day, better known as Armistice Day, started back on November 11, 1918 when it became a national holiday honored by the ending of World War l. In 1954, the name was changed to Veterans Day to recognize all those who have served to defend our country.
Every year, the NCLA celebrates Veterans Day in a pretty big way with a Drive of Honor. It began when veterans were asked to drive by the school and all the students would stand and honor the veterans.
As years passed, the NCLA wanted to make the event more extravagant. Now, every year we invite veterans to our school and serve them breakfast. As they're eating, they are given letters from the elementary students giving thanks for everything they have done.
The veterans are then asked to go to the gym where they are greeted by our Civil Air Patrol and seated. While this takes place the band plays "God Bless America." Once the veterans are seated the whole school will say the pledge of allegiance, as well as the creed and honor code.
The choir makes an appearance by singing to the veterans about how we haven't forgotten what sacrifices they've made for us. We then recognize all the branches of service by announcing each one with a round of applause.
Once everything is settled down traditionally, the NCLA invites a guest speaker. This year we had Retired Sergeant Major Frank J. Simonetti who served 26 years in the United States Army Medical Department and US Army Forces Command.
He has served in an array of assignments in the United States and foreign countries including Korea, Italy, Kuwait and Iraq. His final assignment was the health center sergeant major Munson Army Health Center in Fort Leavenworth, Kansas.
During his tenure he served during multiple conflicts including Desert Shield / Desert Storm, Operation Iraqi Freedom, and Operations Enduring Freedom. His awards include the Legion of Merit, Bronze Star Medal, Meritorious Service Medal, Army Commendation Medal, The Good Conduct Medal, The National Defense Service Medal, The Global War on Terrorism Expeditionary Medal, The Korean Defense Service Medal and he was inducted into The Order of Military Medical Merit in 2007.
In his speech he honored every veteran and their families, as the families take part in the heavy sacrifice as well. He highlighted what the definition of a hero meant to him. He said heroes came in all shapes and sizes and that they are willing to face any hard challenge no matter the sacrifice.
He also talked about how the NCLA's Civil Air Patrol program is setting up the future leaders of tomorrow and believes this school is sending students down the right path with the right tools and skills to become successful.
A student from the NCLA, Jonathan Floyd, gave his definition of what Veterans Day means to him. "Veterans Day to me is the day to celebrate the ones that fought for our freedom. I had two great uncles that fought for our freedom in Vietnam. The Bravery it takes to fight for our freedom is spectacular. Thank you to all the men and women that fought for our freedom."
The NCLA impacts a lot of lives on this day, from students to veterans. Veterans are honored. Meanwhile, students start to appreciate and learn about what many brave men and women did for our country. The reason this country is still standing today is because of them.
The NCLA wants their students to learn and show their gratitude through this wonderful event. This Assembly is so impactful that hopefully it will carry on into the future, for many years to come.
What's Happening Over Break?
Kylie Jackson
Thanksgiving break is coming fast and NCLA students are ready. Nov. 24-26 is when Thanksgiving break is taking place, giving students a full three days off of school.
Cooper Wingate, an NCLA freshman said, "I am so excited for Thanksgiving break! I can't wait to be with my family and feast."
That is what's so special about Thanksgiving break. Although it may not be as long as some of the other breaks taken throughout the year, it seems to be more meaningful.
Some students are traveling this season and are visiting some pretty exciting places. Freshman Linnea West has decided to spend her break visiting Little Rock, Arkansas to see Harry Styles at one of his last shows.
"His show is on the twenty-fourth and I'm coming home on the twenty-fifth so it looks like I'll be eating turkey on the road.".
Thanksgiving break gives students three days off of school but because of the weekend adding an extra two days they are able to make the most of it.
During her break freshman Alexa Bray Is traveling across the country. "I'm going to Arizona to see my family."
Students are going to just be taking in the break, no matter if they stay home or travel.
"This break I am going to be working and spending time with my family," said Callie Foust.
Hanukkah Celebrations
Eliana Cotten
During the months of giving thanks and celebrating Christmas, Jewish families are celebrating their personal holiday, Hanukkah.
This year, Hanukkah will be celebrated at the end of November. The timing of the holiday, along with all other Jewish holidays, is dependent on the placement of the moon.
High school teacher Mrs. Orenstein, celebrates Hanukkah each year with her husband, Joe Orenstein.
According to Mrs. Orenstein, the story behind Hanukkah is a miracle. A man named Judas Maccabeus was fighting against the Greeks who were trying to take over Israel. The Israelites were fighting in the temple for eight long nights. The lamp stand kept burning every night even though there was only one night's ration of oil. The miracle was that the lamps continued to beam light regardless of their lack of oil.
Typically, the celebration is called the Festival of Light, which is why families celebrate by lighting a candle of the menorah for each night they fought, to celebrate the miracle.
"Most of the time, we try to get as many of our relatives together to celebrate, however that doesn't always happen. Sometimes it's just Joe and I lighting the menorah and saying the prayers," Orenstein said.
For food traditions, families will prepare a couple dishes. In contrast to the Thanksgiving turkey, some meals may include a lamb.
A beef brisket can also be prepared, along with "potato pancakes" called Latkes and other side dishes. Orenstein says she enjoys eating Latkes with ketchup or even applesauce.
"I celebrate Thanksgiving, Hanukkah, and Christmas," Orenstein said. "Typically your traditional Jewish families in America celebrate only Thanksgiving and Hanukkah."
Varsity Wrestling Startup
Jaden Richardson
The start of the winter season also begins the wrestling season. This year's wrestling coach is David Blake. Coach Blake wrestled in his high school and college years. He has many plans to make this year's wrestling team great. There are three different positions in wrestling which are top, neutral and bottom.
Coach Blake's favorite thing about wrestling is "It is both a team sport and an individual sport."
For those of you that are not sure how wrestling works there are three periods and each period is two minutes long.The first period is a neutral position, the second is top then finally bottom. The point of all the matches is to get as many points as possible. Although if the opponent pins the other person down for three seconds, then the match is over and that person has won all three matches by default.
WIll Swisher has been involved in wrestling since was about eight years old whether participating in a camp or team. His first coach that helped shape him in wrestling basics was "Coach Steve".
Will's weight class is 165 and to maintain this weight, he drinks a lot of water he also said "It's extremely demanding on your body to stay healthy. Wrestling isn't meant to be easy but it will be rewarding," Swisher said.
Chris Hungerford started wrestling in the ninth grade. His first mentor in wrestling was Coach Tuttle. Coach Tuttle in his practices taught moves. Chris's weight class is 136 and similar to Will he drinks water the majority of the time.
Chris learned quickly that "Strength doesn't matter, it's all technique."
Coach Blake wants everyone to know that there are more positions available and you are more than welcome to come.
Highlights from HS Powderpuff game
This slideshow requires JavaScript.
Boys Basketball Kick Off
Jackson Faenza
The North Carolina Leadership Academy's Boys High School basketball team is in full swing with the team's first scrimmage on Tuesday, Nov. 9 against High Point Central High School.
When asking Head Coach Shoemaker about some goals for the season he replied, "to have a winning record for the first time ever."
Last season was very different from most seasons. The season got cut short due to the COVID-19 pandemic. In the previous season, the team averaged about 42 points a game and 28 rebounds per year. The team lost their leading scorer, Noah Richardson, since he was a senior.
"We have seven different players that can shoot three pointers, we have some height and we have most of our key players in the junior/senior classes. I think we are going to be able to bring a much more exciting brand of basketball to the NCLA this year than we have seen in the past," said Shoemaker.
The team is hoping to have a successful season despite a difficult schedule. This will be the first season where NCLA basketball will compete in the 1A conference. They have games scheduled against Bishop McGuiness, Carver, Triad Math and Science, Cornerstone Charter, and Winston Salem Prep.
"With this being my first year playing basketball for the NCLA, I am very nervous because it's a new sport that I'm trying to learn how to play," exclaims senior Nick Hurst.
The Falcons lost their scrimmage against 4A school High Point Central High School 58-20.
Catch the Falcons in their first home game on Monday, Nov.15 against Clover Garden.
"I am very excited to start playing because it's a new sport and it gives me a break from baseball. I also have incredible coaches and teammates that help me each and every day, which makes sports a lot easier," said Hurst.
Living 9/25
Sparks. Man, Myth, Legend
Lindsey Allen
Andrew Sparks, a high school teacher at the NCLA, is in his twenty-fifth year teaching, and his seventh year at the school. He began his journey in teaching with fifth and sixth grade ancient history, and now teaches high school World History, Speech & Debate and Philosophy.
"I really like World History, just because I'm a history buff and I've taught all the histories," Sparks said.
Sparks has created a reputation of being kind, funny, and upbeat, as he often spends class time telling stories and jokes while finding ways to apply them to academics. He often says that it was his dream to be a stand up comedian.
"I didn't really know what I wanted to do, I was just taking college transfer classes. I ended up having a teacher, a history teacher, that influenced me to make me want to teach," Sparks commented.
It is often speculated that he has become an influential teacher for many students he has taught, however we were not able to interview students that have already graduated.
Along with World History, Sparks has recently been trying out new electives. Last year, he started the Philosophy class, which had one of the best turnouts of any elective this year. This year, he started a Speech and Debate elective.
"This is my first year teaching Speech and Debate. I enjoy public speaking, and letting people pick topics and hearing people give speeches on topics that are important to them," Sparks said.
Outside of the classroom, Sparks loves announcing sports games, camping, taking his puppy, Cash, to the dog park, and traveling on student field trips. He even had plans for a week-long student trip to Los Angeles, CA for rising junior and seniors this coming summer.
"I've been everywhere in Europe. I've been to Japan, Australia, New Zealand, England, France, Italy, and Greece."
Fall Break Fun
Monica Truhe
Unlike many public schools, the NCLA is able to cherish a mid-October week off of school. This year, students enjoyed fall break from Oct. 11-15.
Etornam Agbemabiese, who visited Williamsburg for a regatta.
Agbemabiese describes a regatta as, "Basically a rowing race. A bunch of boats line up… my first race I got in a boat of eight people. We rode a 5k down. We actually won that one…It was a really fun experience. I love my team." The teams raced down the Chickahominy river in Williamsburg, VA.
Although Agbemabiese had an exciting fall break, he was, "Getting bored to be honest. I just wanted something to do." He was ready to return to school.
Another student who traveled over fall break was Elissa Segers, who went to Atlanta, GA. Initially visiting for a football game, Segers ended up travelling around town to see the city; "It was fun… Atlanta is really cultured. Diversity is really nice. It was just cool to see that."
"We did eat at a fun little restaurant. It was like soul food- like Louisiana style. I had gumbo and I've never had it before and it was so good!"
For those looking to travel to Atlanta, Segers recommends the Busy Bee Cafe.
Segers was only able to stay in Georgia for the weekend, and she wishes she could have stayed longer.
Fall Foods
Nic Hurst
Fall has approached and you know what that means… all your favorite fall recipes are coming back! Coffee franchises are putting their twists on their pumpkin spice foods and drinks such as pumpkin spice lattes, cookies and bread and many more treats.
Scott Stanley, a NCLA senior, goes to these coffee shops pretty frequently and loves pumpkin spice lattes because, "They remind me of my youth because when I was little my mom and I would go on adventures to Starbucks and we would get pumpkin spice lattes."
People also like to make their own pumpkin spice lattes at home because buying them can become expensive very fast. It's a fairly very easy drink to make.
---
All you need is milk, pumpkin puree, sugar, vanilla and pumpkin pie spice, whipped cream, coffee, vanilla extract and you can decide whether you want it hot or cold. Mix the ingredients except the whipped cream into a pot and heat it up over the stove and stir. As your ingredients are in the pot, brew your coffee. Finally, pour the coffee and your pumpkin spice milk into a glass and add whip cream for a tasty drink.
---
One of the more famous fall recipes is the Pumpkin Spice Bread. People love this recipe, especially, a student who is an aspiring culinary artist.
"I love pumpkin bread because I like the texture and the pumpkin spice reminds me of the fall season," Cade Shoemaker said.
---
In a large bowl, mix together pumpkin puree, eggs, oil, water and sugar until well blended. In a separate bowl, whisk together the flour, baking soda, salt, cinnamon, nutmeg, cloves and ginger. Stir the dry ingredients into the pumpkin mixture until just blended. Pour into the prepared pans. Bake for about 50 minutes in the preheated oven. Once done take them out to cool and enjoy.
---
Another tasty treat is the traditional apple strudel recipe is made with a simple dough that bakes up into a flaky, buttery crust and a juicy, spiced apple filling studded with rum-soaked raisins and finely chopped almonds.
---
Preheat your oven to 400°F. Line a baking sheet with parchment paper and set aside.In a large bowl, combine the apples, lemon juice, vanilla, sugar, cinnamon, flour and raisins. Stir evenly. Then place the pastry onto the baking sheet and roll it out slightly, using a rolling pin to make it even. Spread the apple mixture evenly down the center of the pastry, lengthwise. To close the pastry, fold the sides of the dough around the apples. Seal the dough together by lightly wetting the pastry and pressing it together. Next, brush with an egg wash by whisking together the egg and the milk. Lightly brush the top of the pastry with the egg wash. Lastly, sprinkle with coarse sugar if desired. Bake your strudel for 35 to 40 minutes, until golden brown and eat away.
---
Rebecca Avila, the managing editor for the NCLA falcon, says, "I love apple strudels because the gooeyness and the crisp outside paired with ice cream is very heavenly for me and I eat it weekly."
But turning away from your "basic" recipes, the fall season includes Thanksgiving. Which consist of turkey, stuffing, rolls, cream bean casserole, cranberry sauce and mash potatoes.
Bridget Palmer, a NCLA senior, said, "I vibe with green bean casserole, Mac and Cheese, asian salad, stuffing and rolls."
Haunted Trails Are Overrated
Cade Shoemaker
As we get closer to Halloween, teenagers across the country begin to flock to popular scare theme attractions. At the top of the list in NC, students often go to Woods of Terror or Spooky Woods for their fair share of frightening excitement.
Senior Nick Hurst was among a group of senior students that ventured out to SpookyWoods this year. It was his first time going to SpookyWoods instead of the usual and more popular, Woods of Terror.
"I was not a big fan of SpookyWoods", Hurst explained. "I basically spent $40 for an attraction that lasted maybe 30 minutes, while waiting an hour and a half beforehand."
Hurst explained that there were only four attractions. A different haunted house with jump scares from frightening characters.
"Personally I was not scared by any of the people trying to scare our group, but their costumes were really good and there was a lot of attention to detail in the different abandoned houses," Hurst said.
The main complaints from students about haunted trails are often the same. The lines are insanely too long while the attractions are barely long enough. Hurst mentioned that while waiting in line there was a DJ booth to make time move a little faster, however the wait is still extremely long.
"I would never recommend anyone to go to SpookyWoods, simply because it is a waste of time and money. Instead I would say go to Woods of Terror because it is cheaper, lasts longer, and the waiting area is a lot more fun," Hurst said.
There is also another popular Halloween attraction in North Carolina that is another fear inducing option. Converting Carowinds to Scarowinds, the roller coaster theme park is a better option for those looking for a thrill and a fright.
"I like Scarowinds because it has all the good attributes of Carowinds but with additions like haunted houses," Rebecca Avila said.
Whether students are looking for a true scare from a haunted trail, or just a fun outing with friends, there are plenty of options for teens to enjoy themselves with thrill seeking attractions all season long.
Celebrating our Senior 1A Champs
Jackson Faenza
If you ask anyone associated with The North Carolina Leadership Academy, they will tell you about the NCLA boys soccer team winning their first championship. The NCLA players are 20-0 and this is the first season where the team is undefeated.
"It has been a fun year and we had a lot of success. We have had some fun, but I am ready to move on and will miss the experiences I have had the past four years. This has probably been the best season the school has had, soccer wise," said senior Scott Stanley.
Senior night was on Tuesday, Oct. 26. Seniors this year are Karston Keomalaythong, Scott Stanley, William Lee, Gabriel West, and David Truhe. They have all been playing since freshman year, which has created a sense of family among them.

This season, senior David Truhe leads the team with 35 goals on the season and with junior Anakin Leister right behind him with 32 goals. Truhe is also second on the team with assists during the season with Leister having 17.
"I am super happy with the season. I am sad that it is my last season, but I am excited for college," exclaimed Truhe.
The Falcons have scored 122 goals this season and about six goals per match. The team has had 310 points this season, with about three assists in a match. They team has taken 372 shots and about 18 shots in a match. This season, the team has had 19 game winning goals.
"This was our best season as a team yet. I love everyone on the team and I feel as if we all play really well together. We connect well outside of school and soccer and I feel as if that benefits our play in games," said senior Karston Keomalaythong.
The theme for the students was red, white, and blue, which attracted students to come out to the game. In the 1A conference championship game, the NCLA faithful came out to support our Falcons in big numbers.
The Falcons trample Cornerstone on senior night, winning the game 5-0. Junior Anakin Leister led the falcons with three goals. Senior David Truhe and junior Brandon Mendoza both had one goal for the night.
"I feel the season went much better than I initially expected and I am proud of what the team has done this year. I am kind of sad to be done, but at least I can continue playing outside school with friends and groups," said senior Gabe West.
Senior Night was absolutely electric this year with students and fans filling the bleachers to support our seniors. Coming up for the team is the state playoffs. The NCHSAA has not announced who the Falcons will be playing.
"The game was a solid victory, I could feel confidence from the team going into the game. It's kind of surprising to find myself in my last high school season. Although it's already been four years and many things have changed, the feeling of playing soccer at NCLA is the same year after year, and I've gotten so used to it that I expect to be playing again next year, even though I won't. I'm glad that soccer at NCLA has progressed and become one of the most successful sports at our school. It's been an honor to play with such a strong team this year and I'm satisfied with such a successful final year," replied senior William Lee.
Falcons are 1A Champs
Becca Avila
The NCLA Boys varsity soccer team are Conference Champs. The team had a whirlwind season with a 20-0-1 win streak. They played against Bishop Mcguinness, beating them 4-3.
Before the game, there was some anxiousness in the atmosphere. "I was nervous about my own personal performance. I did not want to let the team down by making a mistake because we had all worked very hard to get to that position," senior Karston Keomalaythong said.
"Before the game, I was excited but didn't try to get my hopes up too much because I knew that Bishop was a dangerous team and it wasn't going to be an easy win," junior Troy Shoemaker said.
Troy Shoemaker and David Truhe each scored one goal and Anakin Leister scored two goals. Goalkeeper Scott Stanley had 12 saves throughout the game.
"I scored the goal, I was happy that I was able to give us an early lead but we still had to finish off the rest of the game strong," Shoemaker said. "After we beat them, I was very relieved that we finished the team off and were able to win our conference championship. I was also happy that our team was able to pull out a great win and accomplish something that our school has never done before."
"Scoring two goals and then having two assists is always nice especially in a conference game," junior Anakin Leister said. "My aim is to score in every game and I'm glad I could accomplish that. Especially with the last goal in, straight off a corner which was amazing. The win was great as it was the first conference win in school history."
NCLA's varsity soccer has been better than ever this year with a 98% win rate and landing first in the Northwest Piedmont 1A Conference with Carver High School and Bishop McGuinness following behind. In the NC Class 1A West, the NCLA is in second place with Mount Airy in first and Christ the King Catholic High School in third.
"After we won, there was a weight off of all our shoulders and we couldn't do anything but celebrate. I was happy for all of us because we deserved it," Keomalaythong said.
Girls Basketball Kickoff
Jaden Richardson
The 2021- 2022 winter basketball season has officially started. Girls started Monday, Oct. 29.

Basketball workouts for girls have been held periodically though from the summer time till now. Workouts were mainly for conditioning, shooting baskets, and learning a few drills that will be used during the season.
Coach Carrington, a new head coach for the girls team this year, is excited to start his first basketball season at NCLA. He has used drills such as the blazer and simple drills such as the ladders. Carrington didn't have many preseason thoughts, but he did mention that he was looking at all aspects of a player, whether they are on the bench cheering or in the game, their character and sportsmanship is very important.
Jadyn Dewald, a current senior who has been playing here since her sophomore year, is excited to play with essentially a young group of teammates and to hopefully get more playing time. Dewald is also hopeful to take up some leadership roles on the team.
News 11/01
College Applications and The Future
Scott Stanley
Filling out college applications is a very stressful aspect of many seniors' lives. With college applications deadlines coming up, many students have completed the strenuous process of applying to colleges. With 55 students graduating this year, over 250 applications have been filled out. This has been a very stressful time for many seniors because this is their future and this is the first step for many in a successful career.
Some students have had great things to say about the application process as a whole.
"It was a fun experience because it made me excited for college but it was a long tedious process," NCLA senior Mckenna Porto said.
However, other students think that the application process is the opposite of fun.
"It was super boring and dreaded doing it but the closer I got to finishing it, I got more excited," NCLA senior Jackson Faenza said.
Common App is the place where a majority of students turn in and fill out their applications. Common App has every college application and allows students to write their essay directly on the interface for easy turn-ins.
"It was very organized and allowed me to keep caught up on deadlines and was easy to submit and it gave me confetti when I submitted it," Faenza said.
Recommendations are a huge part of the applications. Many teachers everywhere write numerous applications for students. This can be a very stressful process for the teacher because they have to write a recommendation by a certain time (normally Nov. 1).
"I love writing recommendations but I had many I had to write, which was very intense. I think it would be better if colleges staggered their due dates. As far as the common app goes, I really like it because it allows me to submit recommendations to just one place," NCLA history teacher, Mrs. Chelsie Orenstein said.
College applications may be a very stressful and time consuming process but without it, you cannot go to college. Once you get through it, you can enjoy the freedoms of college.
Celebrating Italian Heritage Month
McKenna Porto
Throughout the nation, October is viewed as Italian Heritage Month.
Italians celebrate this month with passion due to the many discriminations against Italians, especially from Sicilians in America during the late nineteenth century. During this period, Italians, especially Sicilians, were seen as inferior due to their darker complexions. Many were harmed through beatings and lynchings. Italian boroughs called "Little Italies" began to pop up over the East Coast as a safe haven for working families. This point in history allowed Italians in the country to become closer to each other and the love of culture has been passed down generations.
Sophomore Sophia Dolesh is half Italian. Her maternal side is from Sicily and Molfetta.
"I have heard of the past discriminations of Italians and it makes me very sad that people were treated badly because of their skin tones. I love how diverse we are in different regions," Dolesh said.
Italian culture celebrates self-love, love for the community, and most importantly love for your family. Close knit families are common in Italian culture. It's also common for America-based Italian families to have family members who try to preserve their beloved culture, which is the structure of some families here at The NCLA.
Elaina Pascavage, who has family from Benevento and Sicily says that she owes it to her dad.
"I feel in tune with my culture because my dad keeps our heritage alive by sometimes speaking Italian to my brother and I," Pascavage said. "We have also visited our ancestors' castles and we have our family crest painted. I went to Italy in seventh grade and I am going back after graduation."
The month of October is used to celebrate a beautiful culture that was once challenged.
Living 10/1
Pumpkin Spice and Everything Nice
Lexi Antieau
The leaves are beginning to fall, the trees are changing colors, and there's a new chill in the air. Hello, fall!
With the first day of fall being on Sept. 22, NCLA students have entered full fall mode. Common fall fashion trends include layering clothes, wearing cable knit sweaters, cozying up with a cardigan, and rocking some warm corduroy pants.
"I love layering clothes," NCLA senior Abby Brannan. "Fall outfits are the best and the comfiest."
But fall fashion means different things to everyone. Some enjoy dressing up a bit fancy, while others enjoy taking advantage of the cold weather and dressing for comfort.
"My go-to outfit for fall is anything that contains leggings/sweats, a t-shirt, sneakers, and a flannel," NCLA senior Katie Carpenter said.
Fall weather trends typically include colder weather (55-75 degrees) with a slight breeze and low to moderate sun exposure. For many, the weather means cuddling up inside with some warm blankets and spending all day in bed, besides going to school five days a week.
"I look forward to bonfires, star watching, and movies," Brannan said. "And above all, I love when my room is freezing and sleeping with soft blankets, quilts, and heating blankies."
Overall, NCLA students are the most excited about the weather that fall brings. Some enjoy taking advantage of the weather and being outside.
"I look forward to camping when fall comes around and it is my favorite season because of the environment and joy it brings," NCLA junior Colby Brown said.
Others prefer fall weather just because it offers a change to the hot and humid summers in N.C.
"I'm most excited for fall weather. The summer felt too hot. The humidity also does not do my hair justice," NCLA senior Nora Wood said.
Pumpkin spice flavoring is arguably the most popular fall trend. Pumpkin spice is a spice put on anything that signifies that fall is in full swing. Whether it's put in coffee or on toast, pumpkin spice is everywhere this fall season.
"My favorite fall trend is pumpkin spice! I love pumpkin spice lattes (hot or cold), honestly any kind of pumpkin-spiced coffee. Any kind of pumpkin spice food is very delicious as well," Carpenter said.
Though fall is not every NCLA student's favorite season, most students find something to enjoy during fall. Whether it's camping outside or layering clothes, fall has a little something for everyone.
Kernersville Fall Folly Fun
Mckenna Porto
The Spring Folly is normally held in May in Kernersville, N.C. and its an event highly anticipated and celebrated by all Kernersville residents. Because of the COVID-19 pandemic, this event has been cancelled consecutively for two years. The town decided to bring it back as soon as they possibly could which resulted in the new Fall Folly which took place last weekend, Sept. 24 through the 26.
Senior Karston Keomalaythong said, "I enjoyed being in the atmosphere of the majority of the community. It brings me peace knowing that we are still able to enjoy events like we used to do. Kernersville is a huge change of pace from High Point where I live."
This beloved town event includes fair rides such as an adapted ferris wheel, games, face painting, fair food, vendors, live music, historical buildings, shops, a petting zoo, a car and tractor show and more. The event has something for everyone to enjoy.
Senior Giana Garzon said, "I went because my mom had a tent and I worked for a little bit. Walking around the other vendors was really cool and seeing all the types of businesses."
This event takes up two blocks of the Downtown Historic District of Kernersville. Many vendors line the streets selling handmade items that range from apparel such as clothes and jewelry to foods such as homemade pickles and hot sauce. Businesses also show up to promote their services.
There were business vendors that were rooted from our school. Mrs. Jones of the elementary school, formerly known as Mrs. Garzon had a booth promoting her business, The Study Station, where she tutors kids outside of school.
"I decided to host a booth at the Folly to promote my small tutoring business I opened last year. I want to let families know what The Study Station offers. With covid, students are really falling behind and I want to help fill in the gaps so students are successful learners. I do feel the booth was helpful and effective for bringing awareness to my business," Mrs. Jones said. "I met many amazing families that were very interested in The Study Station and what we offer. Everything at my booth was free. I had games set up for the children with prizes. I also gave out Study Station wristbands. Even if they don't currently need Study Station services, they will hopefully remember me in the future."
Spirit day for the NCLA Falcons
Kylie Jackson
Friday, Sept. 24 was spirit day for the NCLA falcons. Spirit day is a great opportunity for students to show the pride they have in their school and it only happens once a month.
Instead of wearing the normal uniform students are able to wear t-shirts deemed as spirit wear. Spirit wear includes all NCLA sports shirts, class shirts, and any other items bought from NCLA spirit.
If a student's family has met a $25 threshold on SCRIP they are also able to wear dress-down bottoms.
"It's a good way to express yourself by getting to wear a different and cute outfit," Freshman Lauren Day said.
Students are able to show their individuality with clothes while still incorporating the school.
The second part of spirit day is Kona Ice. During lunch, the Kona Ice truck is parked outside and high school students have the ability to go purchase shaved ice at 1:15 P.M.
Unlike other franchises, Kona Ice is mobile. They have a multitude of flavors on the side of their truck where students have the ability to make their own shaved ice. They are able to combine a variety of syrups to create their ideal flavor, or just stick with one.
¨I like to mix cotton candy and cherry," Freshman Ella Lainer stated.
Spirit day was filled with excitement and really showed how much pride the students of NCLA have in their school.
Starbucks vs Dunkin Fall Drinks
Eliana Cotten
Along with the fall season, seasonal drinks have returned. I tried two fall drinks from Dunkin Donuts and Starbucks, and here's what I thought:
First, I went to Dunkin and got a Pumpkin Cream Cold Brew. It was very fall-like with cinnamon sprinkled over top of the pumpkin cream. In my opinion, it had just the right amount of coffee to cream ratio. The coffee taste was relatively strong for a Dunkin drink, which I enjoyed, but if you like more cream than coffee, this might not be the drink for you.
I also got the Pumpkin Cream Cold Brew from Starbucks, and I was not impressed. While the drink itself was okay, it did not seem very seasonal or fall-like. The coffee taste was so much stronger than I expected, but I think it is because there was less pumpkin cream than I was hoping for. I would suggest this drink to anyone who enjoys a stronger coffee, and who isn't looking for something too crazy.
My second drink from Dunkin was the signature Pumpkin Spice Latte. The Pumpkin Spice Latte has been a fall season staple for as long as I can remember, but I have not gotten around to trying it until now. In my opinion, I thought it was good, but it was not as good as I expected considering the hype it has. I could definitely taste the pumpkin spice, but I was hoping for a bit more coffee. It was pretty sweet, but not unbearable. I would recommend this coffee to anyone looking for a classic seasonal drink!
"I thought it was really good. It's such a classic it's hard to not love," senior London Carter said.
The final drink I tried was the Starbucks Iced Apple Crisp Macchiato. It was very pretty, and it had nice fall colors that were layered in a satisfying way. The drink itself was very sweet, to the point it gave me a bit of a headache. The apple flavor was very noticeable, which gave it a different fall vibe than the classic pumpkin.
Overall, both places did a great job at bringing the fall vibe to their drinks, but I think that Dunkin did a better job at making drinks that were not only fall-like, but tasty!
Arts 10/1
Fall Decorations in Local Stores
London Carter
October 1- Fall is finally among us, which means that Halloween and general fall decorations are beginning to pop up in every store in the area.
Some stores go above and beyond to stir up the holiday spirit, while others fall short. I went to a couple of local stores to look at their fall designs and here were my thoughts.
The first store I went to was the Target on Main Street. They did not have their Halloween costumes out on display yet, and the only real decorations they had up were located in the dollar section. They had the Target mascot posed three different ways inside of a Halloween box on display. On top of this, they also had seasonal greeting cards that were fall/Halloween themed located in the card section. Overall I thought that their decorations were a little underwhelming, considering how on top of it they usually are.
The next store I went to was Reconsidered Goods on Spring Garden Street. This is a
thrift store full of knick knacks, art work, records and more. They had a very strong Halloween theme that they achieved by setting up decorations throughout the store. The entrance had the best set up in my opinion, and that area of the store is what's pictured in the photograph.
The final place I went to look at decorations was the farmers market. Different vendors have already started selling pumpkins and other fall treats which sets the stage for the feeling of fall. I highly recommend checking out stores and locations near you and taking in all the fall decor!
NCLA, Inked!
Lindsey Allen
October 1- The 2021-2022 school year brought many new rules in the student handbook, but there is one that is causing slight controversy.
This year, NCLA students that are 18 years old or older, can now have visible tattoos.
Before the 2021-2022 school year, the Student Handbook stated that for male students, "earrings, visible body piercings and tattoos are not permitted." For female students the rule was, "earrings are permitted. Visible body piercing and tattoos are not permitted."
Many students such as Jacob Allen, a NCLA senior, have taken advantage of this rule change.
"I probably still would have gotten a tattoo if the rule hadn't changed," Allen said.
When asked why administration chose to make this change, Principal Renee Faenza said "Because it's legal at age 18."
"I think it's cool, because it allows students to express themselves and have cool art on their bodies," junior Camryn Earnhardt said.
Along with students, teachers such as Megan Weikert were also happy with this rule change. Megan Weikert, NCLA Art teacher, has an Iron Man tattoo on her arm that she is now allowed to show off.
Keeping Up With Senior Projects
Nicholas Hurst
October 1-
Every year, the senior class at the NCLA is assigned a project called the Senior Project.
The purpose of this project is to bring together all the academic and personal skills the students have learned throughout their education.
Also, the project offers the students an opportunity to expand their learning through creativity, confronting problems that impact their communities, and sharing their practical solutions.
The project includes writing a paper about an issue the students are passionate about, and it can be tied to the school community, the student's community, or the greater world community.
Dylan Coltrane, one of the students at the NCLA, is writing about the effects of social media on young adult brains and why it's so addicting.
"I'm passionate about this subject because the effects are prevalent in everything and everyone around us and I want to gain a better understanding of this topic," Coltrane said.
Another student at the NCLA, Jonathan Floyd, has chosen to write about the energy efficiency of electric cars and if electric cars are better for the environment than gas cars.
"I am looking into many of the different energy resources right here in the community. Also looking into another scenario. If everyone owns an electric car, would we be able to put out the amount of energy to support it," Floyd says.
These students will research their selected issue throughout the year and talk with their mentors every month to help guide them through the process of writing the paper.
Lastly, the students will create a multimedia presentation that highlights and reflects their research and proposed solutions for creating a better world.
News 10/4
Big Body Benz: Troy Shoemaker
Scott Stanley
Troy Shoemaker is 17 years old and has been attending the NCLA since he was in sixth grade. He has been involved in sports since middle school and has played soccer, basketball, and track. He has always enjoyed being active and has continued to play soccer and basketball throughout high school. He is also a star center fielder for the NCLA baseball team. Shoemaker's fellow teammates even believe he is one of the best.
"He really filled the shoes of former NCLA greats," NCLA athlete Nicholas Hurst said.
Shoemaker not only dominates the sports realm of NCLA but he also challenges himself in the classroom. He has taken multiple AP classes while participating in other school activities. His favorite teacher at the NCLA is Mrs. Chelsie Orenstien.
"He is a hard worker and he laughs at my horrible jokes," Orenstien said.
Shoemaker has two brothers and a sister. Shoemaker's younger twin brother, Cade Shoemaker, says he looks up to him. Troy Shoemaker has been not only an inspiration to his twin brother but also to many of his friends.
"Troy is very outgoing and fun to be around," NCLA senior Kartson Keomalaythong said.
Troy Shoemaker's favorite song is "Apparently" by Jermain Cole and his favorite album is "Astroworld" by Travis Scott. Troy Shoemaker enjoys listening to music with his twin brother, they are able to bond over their music tastes. He also enjoyed watching "The Office" with his brother on Netflix and his favorite movie is "Avengers: Infinity War."
Troy Shoemaker hopes to continue his successful school career and go to North Carolina University to study business. His dream is to start his own shoe business and continue to help his friends and family. Shoemaker has a bright future ahead of him and the NCLA is happy to have him walking their halls. Shoemaker stays true to himself and believes that being yourself is one of the most important things in order to be successful.
"Be yourself everyone else is taken."
Let's Keep NCLA Beautiful
Monica Truhe
In an effort to keep our campus clean and beautiful, monthly campus cleanups have been a priority since last year. Amanda Anderson, the planner of the cleanups and the mother of a third grader at the NCLA, says that these are scheduled so students can earn community service hours and serve their school.
"The goal of the cleanup is to continue to keep our campus looking beautiful and getting students involved in beautification!" Anderson said.
Partnering with the Keep America Beautiful national campaign, the school has created the Keep NCLA Beautiful Initiative.
These monthly gatherings are planned to be consistent until the end of the 2021-2022 school year. Anderson wants students to participate "So that they can earn volunteer hours as well as take pride in their school and keeping it clean. It helps give a sense of pride when the job is done!"
"We started off by walking around the baseball field and picking up trash, and then I transitioned into… the middle school gymnasium to help Ms. Richardson organize a storage closet," NCLA sophomore Kimberly Mead, a student who attended the last cleanup, said.
Mead believes students should join in on the cleanups "Because service hours for school, but also because it's helpful to keep our campus tidy." Mead said she would definitely volunteer at a campus cleanup in the future.
The next cleanup is scheduled for October 23 from 9 a.m to noon. Come join your fellow students to help keep NCLA beautiful!
Bomb Threat Protocol
Rebecca Avila
Due to recent events, schools have been on high alert and parents want to be sure that their kids are safe and that there is a plan for dangerous situations. A bomb threat is far from common, but because people have access to the internet they can make anything homemade. It's just a good idea to know what to do in the case of a bomb threat.
Bomb attacks are not new to the school system. In January 1999, there was an explosion in a locker in a Kansas City school that resulted in 11 hospitalizations. In another instance, there were 10 bombs and fireworks connected to arsenal cans in an elementary school in California. Also eight boys confessed to making three homemade bombs in which they put two in an elementary school in Minnesota.
But not to worry! Schools have plans when it comes to the safety of their students. According to federal law experts focused on explosives, schools should assess the situation before making the decision to evacuate and devise a plan to make it safe for everyone.
At the NCLA, if a bomb threat were to occur, the situation would be assessed, evacuations may be put in place, and students and staff would either head to the closest fire department or towards Union Cross Elementary School.
"Our plan mainly is to don't touch it, contact law enforcement," the NCLA's SRO Officer Stacey stated. "First of all we would evacuate everybody to make sure everybody is safe. I would immediately start investigating it and I would notify my chain in command which is my sergeant. If we needed extra law enforcement, that extra law enforcement would come. If we don't and my sargent feels like we can investigate it ourselves, and we do that, we wouldn't evacuate. In a suspicious package situation, we would probably call in extra law enforcement to handle that package but we would get the students off campus, everyone would get evacuated."
Senior Night is a Hit
Jackson Faenza
Senior night for volleyball signals the near end of the Varsity season as our Lady Falcon seniors are recognized. Seniors Nora Wood, Juliana Peters, and Emma Ware, have played volleyball all four years of high school.
"I'm honestly super sad about playing my last season and I am really gonna miss the people I've grown close to playing volleyball here at the school," said senior veteran Emma Ware.
This season, the team has 120 kills with about four kills a game. Their kill percentage is about 29.6 for the season. The team has 171 serving aces and averaging about six aces per game. The team has about 17 blocks and 209 digs. The team currently has a 6-7 record which brings them to fourth in the Northwest Piedmont 1A conference.
"The season was great, I loved the girls and felt really good about how I played. It's been a blast getting to know all of the girls," exclaimed senior Julianna Peters.
The season has been different than usual, but the team has been able to make the most of it. "I'm very pleased with how the season went. We fought and played hard against some pretty tough teams. We also grew close as a team and I am very thankful for each and every one of my girls," replied senior Nora Wood.
The senior night game was a big night for the seniors, their families, and the team. This was a night to celebrate the seniors for all the hard work they have put in for the team through the years. The theme of the student section, which attracted many students to want to attend the game and cheer on the seniors. This created an eccentric environment for one the senior's last home game.
"One of the things I think I'll miss most about playing volleyball is the friendships I made over the years and I'll miss how well we all worked together on the court," said Ware.
The Lady Falcons ran away with the win on senior night as they won the first three sets against Millennium Charter Academy.
"I've had such a great time playing with and getting to know my fellow teammates. I'm going to miss going to practice every day to work some of my emotions out. Volleyball is stress relief for me," said Wood.
Hopes for Faculty Volleyball Game
Cade Shoemaker
During the 2019-2020 school year, the Falcon staff played against teams of high schoolers in the first ever faculty vs. students volleyball tournament. Three teams of students competed in a round robin to decide who gets the honor of playing against the teachers in the championship game.
"I really enjoyed the student vs staff volleyball game a lot actually. It was one of my last memories before covid hit. It was a great time to get to know people I've never talked to before, while also learning the game of volleyball," said senior Jonathan Floyd.
The idea and desire to "run it back," has grown amongst students. Players and staff are looking for a rematch, and hope that the faculty game will become an annual event at the NCLA.
"If we were to do another teacher/student game, I would like to play just to make sure the teachers won't win," said junior Zach Donath.
At this time, the student council has heard the demands from students and are trying to work it into this year's events.
"The more interest from the student body for these types of activities, the more likely it is that the administration would approve for us to host these types of events," student body president Abby Brannan stated.
"As far as the student council goes, there are some guidelines we must follow in order to plan events. However, we hear from the student body, and are in the process of planning a student vs. volleyball game towards the middle to later part of the year."
Falcon Soccer is Soaring
Jaden Richardson
Since Covid happened many things for schools especially have been changed up a bit. Sports couldn't really meet to practice and have normal games.
Although some schools managed to have a few games, not like years past though. This year the Covid numbers are down which means soccer season is a go. Even with Covid, players have tried to improve on their own.
Sophomore Oliver Lee said, "I think I have improved over the years just by working with my team and working really hard on my own."
This year NCLA is participating in a different conference with a lot more games. Despite Covid, the NCLA soccer team has managed to be first in their conference and third in the state this year.
A few players that were on the team last year have moved positions like junior Zach Donath. Donath was on offense being a leading scorer last year and this year he has been moved to defense.
Their record is currently 13-0-1. In the McMichael game, where they tied. Lee said. "tying up the game was amazing and celebrating with my team."
The Return of FCA
Skylar Maness
The Fellowship of Christian Athletes is finally making a comeback. Because of covid precautions, it's been well over a year since FCA has been able to meet up, however, students and staff are thrilled about getting this club running again.
FCA is a club that allows high schoolers to encourage one another through activities such as bible studies, missions, and prayer.
Elementary school art teacher, Mrs. Saunders, and high school leadership teacher, Mr. Shoemaker will once again oversee FCA, however, they are expecting the club to look a lot different this year than it has in the past.
The first official FCA meeting will take place on Wednesday, Oct. 20 in Mr. Shoemaker's room.
One big change that is being applied to FCA is the new classroom structure that it will follow.
"In past years, either I or Mr. Shoemaker would take responsibility for leading FCA meetings, whereas this year, we will be taking student leader sign-ups. Our goal is to make FCA more of a student-led ministry," Mrs. Saunders said.
There will be an interest meeting held for anyone interested in becoming a student leader next Wednesday 10/6 in Mr. Shoemakers' room (HS #710).
Students who wish to be classroom leaders will be able to lead bible studies and partake in a deeper level of involvement with FCA.
"Those who want to be student leaders will meet with the district FCA leader, Jeff Barnes. Barnes will be able to provide student leaders with a lot of great advice for ministering to a class of fellow classmates," Saunders said.
Mrs. Saunders and Mr. Shoemaker will also be available to guide students through lesson making if any kind of help is needed.
In addition to student leaders, FCA is hoping to incorporate small missions this year. Some examples of these could include:
-Supply water/Gatorade at sporting events

-host a coaches breakfast

-Donate to a charity in need
Jaiden Truhe, a senior at the NCLA recalls attending FCA her sophomore year.
"I loved how it felt like a community. It was a very encouraging and supportive atmosphere. I can't wait for it to start back up again" Truhe said.
FCA invites anyone who is interested in the club to attend a meeting.
"Many people feel as if FCA is only open to school athletes, but being a small school we encourage anyone to join if they would like to," Saunders said.
Sports 09/17
Covid Slams NCLA Sports
Nick Hurst
Roughly three weeks ago the North Carolina Leadership Academy Volleyball team took a devastating hit from Covid-19 sending home most of the Varsity players but luckily they were able to recuperate and pull up some of the JV players and build a new team with them.
"We went from having both a JV team and varsity team to only having one varsity team with eight players and only one substitute per game. If any of us got injured we had to teach someone a new position and play with no substitutes. Luckily the new team we had played together really well and we won all of the games we played," Emma Ware said.

Eventually everyone who had to quarantine came back and the Varsity team is back together playing well. The Volleyball team has their Senior Night on Thursday, Sept. 30, with a student section theme of white out.
Another team that was hit hard from Covid-19 was the NCLA fall baseball team who just started playing together two weeks ago. Since they had limited players due to other sports going on they had to pull up some middle schoolers to make up a team which was hard trying to build a team with players that haven't played with one another at all.
"I think it's mainly hurting the development of the younger players since they are losing practice time and losing reps on the field. Also it's hard to build team chemistry when you all have to quarantine so this was a major hit," Jonathan Floyd said. But the team will be able to return after everyone tests negative and start playing again soon.
A New Year for College Football
Scott Stanley
A hundred and seventy football games full of fans have been played thus far in college football. Last year many college teams had to play in empty stadiums with no atmosphere. The roaring of the crowds in the past two weeks has been not only a blessing to players and coaches but also to fans. Fans such as Cade Shoemaker and Jackson Faenza said this:
"I'm blessed that fans are back, it's a new type of game," Shoemaker said.
"Exciting to watch the games because there are actually fans now, it's no longer quiet and boring," Faenza said.
The first week of the season was very exciting and was considered the best week one in college football history. There were five ranked matches and one top ranked matchup between Clemson and Georgia. College Gameday was in Charlotte NC, to cover the exciting matchup. Georgia would eventually go on to beat Clemson in a tough defensive battle. Many fans were excited to finally go back to college gameday. I was one of those people.
I went to college gameday and was able to feel the excitement of the new college football season. I had to get up early and wait in a long line just to get into the packed group of fans in Charlotte. I got a great view of not only the gameday set but also got to the famous Lee Corso headgear selection which was an amazing experience. It reminded me of what college football is all about.
There have been plenty of exciting storylines in the early weeks of this season. Already through two weeks 13 teams that were ranked in the preseason top 25 have losts, this is most in the history of college football. There has already been a coach fired; Clay Hilton got the boot at the University of Southern California. This was a shocking decision given the fact that the season is so young. Many upsets have occurred whether it was; Jacksonville State defeating Florida State, or Pennsylvania State defeating Wisconsin, college football fans love upsets. Whatever happens this season in college football it should be exciting, and with fans in the stands anything is possible.
Predictions for college football season:
Big five conference winners:
Big Ten Champion: Ohio State
SEC Champion: Alabama
Big 12 Champion: Oklahoma
Pac 12 Champion: Oregon
ACC Champion: Virginia Tech
Heisman Trophy winner: Matt Coral (Ole' Miss Quarterback)
College Football Playoff Teams:
Alabama

Oregon

Oklahoma

Texas A&M
National Champion: Alabama
Powderpuff: A Battle of the Classes
Monica Truhe
Anticipation builds at the North Carolina Leadership Academy as students wait to hear about one of the biggest events of the school year, the powderpuff football game. This year the game is scheduled for Oct. 29.
At this spirited event, traditional "gender roles" that are commonplace in sports switch, the girls throw the football, and the boys wield the pompoms. Student body president Abby Brannan describes the game, "It is lower classmen versus upperclassmen, the boys will be the cheerleaders, girls will be playing on the team."
Teams will have the opportunity to choose a mascot. Brannan explains that, "The upperclassmen were the bears, they're always the bears. It's safe to assume that there may be special appearances from four-legged visitors, as there's typically animals involved," Brannan said.
According to Brannan, this flag-football competition requires judges; "They're typically admin or teachers." NCLA history says that juniors and seniors have the upper hand, according to senior Jaiden Truhe, "Upperclassmen always win.The last time the lowerclassmen won was the year of 2018, when the class of 2022 were freshmen."
Instead of expecting tackles and injuries, this competition implements the rules of flag football in favor of the traditional game, "We don't condone violence at the NCLA. It's not in accordance with the Honor Code" Truhe says.
News 09/17
Safety at NCLA
Jackson Faenza
Following the deadly school shooting at Mount Tabor High School that occured on Sept. 1, schools in the Triad area are now talking more about what safety precautions are put in place in their school.
"All doors are locked at all times, everyone has to come though the front office to gain access to the building," said Principal Mrs. Renee Faenza.
The North Carolina Leadership Academy has always been doing things to keep the students and staff safe. Our school resource officer, Officer Stacey, has been at the school for quite some time now and her main priority is the safety of students and staff.
"I have started periodically riding around the campus versus just walking to ensure no person or vehicle is on the campus that doesn't belong here," Officer Stacy said. "I also check the exterior doors to ensure they are locked throughout the day. However the staff and students are asked to report anything that looks suspicious or to report anything they hear that may be a threat to school safety. The safety of the school has to be a team effort between Law Enforcement, Teachers, and Students in order to work efficiently for the school as a whole."
Officer Stacy goes on to explain that the school will be practicing a lockdown drill once a month to ensure that everyone knows the procedures of what to do incase of a situation. There is one thing that may be a little harder about our school. The NCLA has three buildings, which may cause some difficulties in keeping kids safe.
"The hardest thing about having three schools is the evacuation procedures or lock down procedures are going to be different for each building," said Officer Stacy. "Due to the layouts/structures of each building and the locations of each building on the campus the evacuation procedures have to be looked at from the standpoint of each building. It's also a lot more area to cover when I'm checking doors or just checking on each building for security purposes."
To Officer Stacy, it is important for schools to have an SRO because it can keep safety in dire situations. "Number one is safety for students and staff. If a threat does present itself it can be stopped immediately. It could take 5 to 10 minutes for Patrol Officers to arrive if they receive a call of a threat. There's a lot that could take place during that 5 to 10 minute wait time. The presence of the Officer can deter a threat as well just by being present and being seen."
20 Years After 9/11
Lexi Antieau
Last Saturday, the world grieved together as the 20th anniversary of Sept. 11, 2001, passed by.
Twenty years ago, a terrorist group called Al Qaeda hit the World Trade Center in New York City with two Boeing 767 aircrafts. Members of Al Qaeda hijacked four planes, two heading to the twin towers in New York, one heading to the Pentagon, and one that crashed in Pennsylvania after the passengers took control of the plane. Even after 20 years, Americans everywhere reflected on the events that changed the nation forever.
Many people gathered all over the nation to remember the September 11 attacks. Crowds gathered at the September 11 Memorial and Museum in lower Manhattan to remember and commemorate those who lost their lives. Current President Joe Biden, and well as former Presidents Barack Obama and Bill Clinton attended the memorial with their wives. A procession marched flags through the memorial and those affected by the attacks read off the names and favorite memories of the attack victims.
Every year, the state of New York remembers the attacks by lighting up Ground Zero in a way that makes the towers look as if they were still there. They also have an annual moment of silence at 8:46 a.m., when the first hijacked airline hit the north tower 20 years ago. Another moment of silence occurs at 9:03 a.m. when the second plane hit the south tower, at 9:59 a.m. when the south tower collapsed, and at 10:28 a.m. when the north tower collapsed.
A moment of silence was also observed at the Pentagon at 9:37 a.m., which was the time when American Airlines Flight 77 hit the west side of the Pentagon. The Biden family attended both ceremonies, as well as another in Shanksville, P.A.
There was a remembrance ceremony in Pennsylvania where former President George W. Bush gave a speech remembering the day that "the world was loud with carnage and sirens."
Current vice president Kamala Harris was also in Shanksville where United Flight 93 (a hijacked plane) was overrun by passengers and crashed in a field before it could do any more damage.
United Flight 93 taught us "about the courage of those on board, who gave everything," she said. "About the resolve of the first responders, who risked everything. About the resilience of the American people."
The September 11 attacks will always be remembered as a time of great despair and tragedy, but also as a time of unity and togetherness in a nation usually separated. Whether people are coming together to remember fallen victims or tell the stories of those who survived, the nation is united as one.
On Sept. 10, 2001, nobody could've ever imagined what would happen the next day. On September 12, everyone would find it hard to forget.
NCLA Virtual Days
Eliana Cotten
Last school year was anything but predictable, and the North Carolina Leadership Academy is doing anything they can to make this year as normal as possible.
To attempt to prevent another shut down, the NCLA has planned six virtual days this year.
"Last year, the state of NC required us to build some into our days," assistant principal Mrs. Amal Wood said. "We thought they worked well and have kept them. I'm not positive that's still a state requirement."
The virtual days will occur on September 15, October 8, November 1, January 26, February 9, and March 9. They are marked on the school calendar with an "R."
During these virtual days, students will be required to do school from home. They will access assignments through Canvas.
"It will vary by teacher, some may have asynchronous assignments for students to complete, but it's up to each individual teacher as to what they are going to expect," Wood said.
While students are at home, teachers will still be in the building. The teachers will be available for questions, and some teachers may be willing to hop on a Zoom or Google Meet with students who are struggling.
"All the teachers will be here in the building, this is an opportunity for them to work with students who need extra attention and help, they may even meet with families," Wood said.
Living 9/17
Eating out for Education
Lindsey Allen
Eating out for Education is a fundraiser hosted by restaurants in Kernersville who give a percentage of their proceeds from a night to local schools.
"The restaurant will donate to the Kernersville Chamber of Commerce and the Chamber gives donations, through grants, to schools," NCLA teacher, Chelsie Orenstein said.
Teachers can apply for these grants and ask for equipment, field trips, classroom supplies, or even direct money.
"Since the program was established in 2004, more than $236,056 has been awarded through 552 grants to teachers at schools in the Kernersville area," a WSFCS article stated.
"I think it's a really important program. I am really glad it's one of the things our county does. Because for a teacher, a lot of times, you spend your own money trying to get things for your students, and it's nice that people are willing to donate money to the Chamber and support teachers," Orenstein said.
This past year, neither the Town of Kernersville, nor The NCLA has promoted the latest event, held on September 8, and it seemed to have an effect on the turnout.
After being a host for Eating for Education at Giadas Trattoria, Orenstein said, "It was good, a little slow. I think I greeted for two hours, and maybe greeted a total of seven people. It was a Wednesday night, so it was a little slower than usual."
New Fire Apple Products
Mckenna Porto
Apple is a popular technology brand that is favored among teens and young adults. Apple uses their business to cater to this large age demographic which has allowed them to be objectively one of the most favored cell phone and personal device brands.
Many people around the school use Apple products for many different reasons including quality, fame, and its user friendly features.
Nora Wood, a senior, said "For the most part I've been pretty happy with the Apple products. I have an iPhone XR right now and I really like how much faster it runs than my old iPhone 6s."
Throughout the rest of this year Apple will be releasing a total of seven new products. Apple expects to drop the iPhone Thirteen, the Apple Watch Series Seven and Airpods Three throughout the rest of this month.
Sophomore Nick Swisher said "I've heard about the new releases that apple is launching this month. I am fairly excited about them, I like to see what new features they put in their products."
Apple is also releasing new products into October and November as well. These drops include the Macbook Pro, Mac Mini, iPad Mini Six, and the Low-Cost iPad. Apple is a very popular company and many people are anticipating these products.
"I am really looking forward to the new Macbook. I recently got a Macbook so I am interested in seeing what features are different and how they are similar. I also am really looking forward to the new make of the Airpod Three's because the Airpod Two's were so different as well," said senior Jackson Faenza, when questioned on his interest in the new products.
Apple is constantly dropping new products big or small. They always have many different features and qualities added to their products from the previous model.
The iPhone Thirteen is causing a stir for its new unique features. Most importantly the model is changing. Although it will mimic the iPhone Twelve in shape and size, it will come in different colors. Apple is bringing back pink which they have not had on an iPhone since the rose gold iPhone Seven. Apple is also updating the battery life and adding significantly more storage.
There is a lot of hope for this phone in the student body.
"The iPhone Thirteen does speak to my interest. I think with the new technology included in this phone is something very interesting. The iPhone is the one I see myself getting out of all the products. The phone is something that always makes me excited and I think this one will be even better," said Swisher.
2021 or 2022: According to Students
Jackson Faenza
The 2021-2022 school year is very different from every other school year in history.
Last school year was anything but normal. Half the school year, students would go to school two days a week and even go remote for a long period of time due to Covid-19 exposures.
"Last year was very strange, and it was weird not going to school for long periods of time," senior Tyler Hanes said.
This school year, we are back to five days a week. The North Carolina Leadership Academy has not been back to five days a week since March 2020.
"Kids have been doing pretty well with masks so far. The only big problem we have come across this school year is tracking the kids with Covid and making sure they are not coming to school and staying home if they are showing symptoms or have come into contact with Covid," Principal Renee Faenza said.
Students are required to wear masks at all times during the school day, besides eating lunch in the cafeteria. When students are not eating or drinking, their mask should be above their mouth and nose.
Another difference from the previous school year is that there is no social distancing between students in the classroom. The school hallway is also not one-way like before, so it can cause some unlikeable traffic jams.
Some students think this new change of coming back to school five days a week has come to be really sudden.
"The first week was stressful because it was a lot at once. After adjusting, it's been good," senior Nora Wood said.
With all this change comes some really great things. Students will get to see their teachers and friends every day this school year. Students may also get back on track with their work while being face-to-face with their teachers.
"I think going to school full of people has helped me become more motivated and seeing my teachers everyday has also helped me get back on track with my school work," senior Lauren Maness said.
Arts 09/17
Shang Chi and the Legend of the Ten Rings
Rebecca Avila
September 17- The newest Marvel movie, "Shang Chi and the Legend of the Ten Rings", was released on Sept. 3. Shang Chi is the newest MCU character. According to Rotten Tomatoes, it has a 92% rating with an audience score of 98%.
Shang Chi is played by Simu Liu who is known for his role in the TV show, "Kim's
Convenience". Liu landed the spot as the first asian superhero in the Marvel movies. Meng'er Zhang plays Chi's sister, Xialang, in her first major big screen dayview. Awkwafina plays Katy, Shang's best friend and love interest. Tony Leung plays Zheng Zu, the father of Shang Chi and the villain of the movie.
The movie is a broad scene into the future of the Marvel universe, when "Black Widow" was a look into the past of the Marvel universe. There are guest stars in "Shang Chi " connecting the other characters into what is happening.
In my opinion, "Shang Chi and the Legend of the Ten Rings" is an outstanding movie with amazing action scenes and the perfect amount of comic relief.
Awkwafina, Simu Liu, Meng'er Zhang and Zheng Zu really carry the movie. The movie is different for Marvel and I'm excited to see what becomes of it.
Fashion's Biggest Night: Covid Style
Jaden Richardson
September 17- This year's Met Gala red carpet was held on Monday, Sept. 13 and was hosted by actress and TV personality Keke Palmer along with director IIana Glazer.
The guest list for this A-list event included Jennifer Lopez, Lil Nas X and Kim Kardashian. The theme for The Met according, to Vogue.com's Insider Andrew Bolton, is In America: A Lexicon of Fashion.
Bolton referred to the theme as, "a new vocabulary that's more relevant and more reflective of the times in which we're living."
Rihanna (left) and A$AP Rocky (right) at the Met Gala (Getty Images)
Rhianna and her boyfriend ASAP Rocky came fashionably late with Balenciaga Couture and ERL. They were dressed in what seemed to be fancy blankets, inspired by what everyone was doing during Covid, but billionaire style.
Jennifer Lopez arrived with Ralph Lauren in a western themed look, with a long ragged ponytail that completed the fabulous look.
Lil Nas X at the Met Gala (Getty Images)
The shiniest look goes to Lil Nas X, who was wearing a long cape with a gold Iron Man underneath. To top it off he had another gold ensemble underneath the Iron Man suit.
The Kardashian family showed up and showed out in their very unique outfits.
Kim Kardashian had an all black look that covered her entire face, legs and arms.
Kim Kardashian at the Met Gala (Getty Images)
Kendall Kardashian arrived in a see through diamond dress that really made her the star of the Met. Kris Jenner went for a detailed black suit.
The night ended with various after parties held by celebrities like Rihanna, and the The Standard Hotel club, the Boom Boom Room.
CLB Album Review
Cade Shoemaker
September 17- Following the anticipated release of Kanye West's Donda, Drake finally dropped his promised summer album, Certified Lover Boy. Also known as CLB for short, the album is Drake's sixth studio album release, and features 17 different artists over 21 tracks.
"I enjoyed all the features and new music in general is always exciting," Karston Keomalaythong said. "However, a project with plenty of popular artists is always better."
CLB felt like another Drake classic, as production was top tier, and the samples he chose fit nicely with the Drake aesthetic that most people know him for. The
Mandatory Credit: Photo by Rob Latour/Shutterstock
Toronto rapper used classic samples from songs by The Notorious B.I.G., Nicki Minaj, Jay Z, and other famous artists.
With this new age of Tik Tok culture, it was inevitable for the album to become trendy on the app, one of which popularized "For You" pages. The song, "Way 2 Sexy" featuring Young Thug and Future, has been popularized by the song's outlandish youtube video and trendy dance.
"That music video was probably the most stupid, hilariously, funny thing I have ever seen. It was just full of dumb creativity," Scott Stanley said.
Of course the biggest critics of Drake's album are fueled by debates about which release was better: Donda or CLB.
"Personally, I enjoy music with deep meanings and for me, it wasn't there in CLB," Maria Fleak explained. "In Donda, the whole album was dedicated to his mother's death, and the music had much more meaning."
"Drake is mid and his hype is dead. Kanye on the other hand brought out some absolute ragers in his recent album," said David Truhe.
All 21 songs from the album made it on the billboard top 100 the week of its release. Drake also debuted at the #1 spot with, "Way 2 Sexy" being his tenth #1 track. The album also did phenomenally in the market, accounting for over 600k copies sold in just the first week.
Personally I think this album will only get better over time, and the songs will continue to grow on the public much like his previous albums have done. I would still rank this album below Drake's other better albums such as Views and Scorpion, but it should sit comfortably in his top three.
My personal favorite songs from the album:
– Way 2 Sexy ft. Young Thug & Future
– Fair Trade ft. Travis Scott
– TSU
– No Friends in the Industry
– Girls Want Girls ft. Lil Baby
– Knife Talk ft. 21 Savage & Project Pat
– Yebba's Heartbreak
living 09/03
New Falcons Learn to Soar
Scott Stanley
Sophia Haley is a 16-year-old junior at the North Carolina Leadership Academy. This is her first year attending the NCLA after being at Southwest last year.
Haley is one of 10 siblings. She loves the outdoors but is also a homebody. She's also addicted to Netflix and watches many TV shows. Yet her time is limited because she works at a golf course in River Landing being their star employee.
Being new at the NCLA, she enjoys the inviting environment.
"The atmosphere is welcoming and is better than Southwest," Haley said
She expressed how the people at the NCLA are more open to new ideas and to new people like herself. Haley is taking very challenging classes such as AP United States History, AP Language, AP Calculus, AP Environmental Science, Art , and Teacher Cadet. Haley hopes these classes can prepare her for Wake Forest's Medical School.
"Even though the classes are difficult, I believe they will prepare me for the future," Haley said.
Haley has made many friends and has already left a good impression on the NCLA. She hopes to continue to grow and soar here at the NCLA.

Summer in a Nutshell
Lexi Antieau
As summer comes to a close, NCLA students reflect on what they did this summer.
A majority of high school students occupied their summers with new jobs. NCLA junior Rebecca Avila spent her summer working at Hollister in Hanes Mall.
"It was fun because it gave me a new change of pace and I got to meet a lot of new people," Avila said.
NCLA junior Maria Fleak also got a job over the summer at Chicken Salad Chick in High Point.
"I also got a job and learned how to make a mean sandwich," Fleak said.
Senior Abby Brannan said, "I worked nearly every night this past summer and the days that I didn't, I volunteered at my Church, so it was pretty busy but I wouldn't change it for the world."
NCLA senior Jonathan Floyd got the opportunity to figure out what he wanted to do after high school over his summer.
"I looked forward to having to get up and be at work by 6:45 everyday. This summer I got the job offer of a lifetime. I was asked to work at a family friend's car shop," Floyd said. "And it actually made me decide what I wanted to do after high school, which is to go to school to become a mechanic. And I learned a ton while working in the shop and on the farm, things that will be with me the rest of my life."
Lots of other students went vacationing all across the state and some even traveled around the country! Brannan said she went on lots of adventures with friends, went to Oregon for her brother's college graduation/commission into the Navy, along with his wedding. She also got to try Dutch Bros coffee for the first time!
"Got to see some amazing sights while road tripping," NCLA senior Abby Brannan said. "My favorite was getting to see the west coast ocean. The water comes from the Arctic so the water is pretty cold. The shore has white sand and big rocks. Whereas on the East Coast, I feel like we have shorter banks, tan sand/dunes, and more grass."
NCLA junior Ellie Gibhardt actually went out of the country to visit Turks and Caicos!
"I really enjoyed this past summer!! For the most part I was either traveling or spending time with my friends," Gibhardt said. "I went to Turks and Caicos in June, Kiawah Island in July, and spent a lot of time at the lake. Other than that, I would drive around with my friends since this was our first summer having our licenses. It was really good!"
COVID restrictions eased up over the summer, so many students took advantage of the time and spent it traveling with their friends.
"This summer I spent a lot of time with my friends," Fleak said. "I went to Charleston with my friend Ellie and the Outer Banks with Jenna and Lexi. It was really fun. I enjoyed my summer as much as possible even though I had to worry about COVID."
NCLA junior Camryn Earnhardt also went to Charleston with her family. She said they went sightseeing and shopping while they were there.
Lots of students also went to visit the Outer Banks this summer, including NCLA senior Nora Wood.
"I went to the Outer Banks this summer with my family. We stayed in Avon and had a great time going to the sand dunes and Ocracoke," Wood said.
Despite COVID, NCLA students found a way to make their summers fun and worthwhile. This past summer worked as a great time to relax, rejuvenate, and get excited for the new year!
Fresh Start for the NCLA
Kylie Jackson
The NCLA, along with the rest of the world, has gone through many changes throughout 2020 and 2021. Many differences can be seen between last school year and the current one.
Last school year students were split into two groups, red and blue. Half of the school was going on Mondays and Tuesdays while the other half was going on Tuesdays and Fridays. All students would be at home learning remotely on Wednesdays.
Students would stay six feet apart from each other while every other desk remained empty.
Teachers would wipe down desks after every period before the next group of students arrived. The hallways were also one-way. Upstairs would move towards the front of the school while downstairs traffic would move towards the gym.
This year, things are a lot different. All students are learning in person five days a week. Students can sit next to each other and teachers no longer have to sanitize desks. Students can also walk both ways in the halls making it easier to get to class.
After quarantining for so long, students have become more independent and feel assured in their abilities.
Senior Callie Foust, previously all online stated, "The biggest change is the attitude, mostly. I feel like because everyone was off by themselves for so long, they seem more confident. They went through a whole pandemic."
One thing is for sure, the school as a whole feels more connected.
"Before there was no relationship. I was just words on a page and doing assignments they were posting," Foust said.
Instead of staring at a screen all-day students have the opportunity to be in the classroom interacting with their teachers and classmates. It's all more personable. The 2021-22 school year is looking a lot brighter than last and is off to a great start.
News 09/03
Who Gets the Vote?
Monica Truhe
Student Council- the heart of the North Carolina Leadership Academy's student body. Anticipation rises as students wait for election day to be held on Wednesday, Sept.1.
The process began Monday, Aug. 23, as prospective candidates met to outline and understand the mission of the student council. In summary, the council will strive to up student morale and help the climate of the school. According to NCLA high school English teacher Ms. Kerr, they will do this by organizing events like Powder Puff football, spirit weeks, and creating a student section at sporting events.
To be on the council, candidates must first acquire a teacher recommendation and student signatures, confirming their campaign's legitimacy. Students can then choose how they campaign further. Some popular choices are punny posters or candy hand-outs.
When asked what to be looking for in candidates, Kerr answered, "I think the best candidates are the ones who really care about the student body, and want to represent them and their wants. I'm looking for people who value leadership and who are able to make decisions, even in tough situations."
The process may seem as though it will be finished after the election, but the work will continue all year. The council has the ability to make the NCLA a school that students want to come to, with a positive and spirited environment.
To be involved in who has a say, Kerr believes students should "talk to people who you know are running. Voice and express your opinions to those who will be representing you, and vote. That's the most important thing to do."
The Wingman Program
By Lindsey Allen
The Wingman Program is a new program that is offered to students in grades 1-5 and students in grades 9-12.
It is designed to bring the different grade levels at the NCLA together to create a closer knit community like there was before grade levels were separated into different buildings.
NCLA junior Julie Davis, who created the program, said, "We were talking in Leadership about how we used to do the assemblies with the elementary and the high schoolers and do little activities with them, but now that we've moved to the new building we don't spend as much time with them."
To be involved in the program, high school students must fill out an interest form and be approved by administration.
When you are assigned a Wingman (an elementary school student), you are required to write a letter to them at least once every two weeks, have at least one lunch with them per month, and attend any other events planned by the school for the program.
"Since it is a new program, we want to start small. We are hoping to eventually add Kindergarten and Middle School to the program," said Davis.
Students will also receive a small amount of service hours for participating in the program.
"High Schoolers who are part of the program will receive some service hours, but we haven't figured out how many," said Davis. "It's probably not going to be a huge amount because we want the people involved to be involved for the kids and the program, and not for the hours."
Elementary School Interest Form
What's Happening in Afghanistan?
Eliana Cotten
After years of protection from the United States military, Afghanistan is officially under the Taliban's rule. Some Afghans are hiding in their homes, while others are desperate for escape.
"I think it's really sad. I wish there was more I could do," NCLA junior Sylvia Sellmer said.
Most of the violence has taken place in Afghanistan's capital, Kabul. The Taliban has told women to stay home after admitting that the soldiers were not trained to protect women. They have removed the right for girls to go to school, and most women are killed on sight by soldiers.
According to CNN, the Taliban's spokesperson Zabiullah Mujahid has claimed that they are more likely to respect women when they are the least powerful.
Afghans are beginning to storm the airport and climb on the wings of the airplanes. According to Reuters, as many as 20 people have died in and around the Kabul airport in the past week, due to shootings, fires, and falls from the wings of the planes.
According to the Council on Foreign Relations, president Joe Biden sent in thousands of American troops to help evacuate soldiers stationed in Afghanistan and to help settle the chaos at the airport. Thirteen American service members were killed outside of the Kabul airport, being the first United States members killed in Afghanistan since February of 2020.
Biden decided to officially withdraw all American troops by Sept. 11, 2021, rather than the originally planned removal date of May 1, 2021.
While the crisis in Afghanistan has gained sympathy from all Americans, there has been controversy surrounding Biden's decision making. Many people are angry at Biden for withdrawing the troops during a time of need in Afghanistan, and some are thankful for Biden protecting American troops.
During these crucial times, you may feel useless, wondering what you can do to help. The biggest thing you can do is spread awareness and truthful information. Also, donating to organizations working on helping Afghans in need, such as the Islamic Relief U.S.A, or the International Rescue Committee, is a great way to show support and to help save Afghanistan.
Links to Donate:
International Rescue Committee
New, AsKew
Lindsey Allen
This year NCLA is welcoming a new Middle School Assistant Principal, Mrs. Kimberly AsKew.
AsKew went to the University of Georgia and majored in Music Education. She has taught music, English, and has been a Band Director.
"I have taught everything from Kindergarten to College. I found that I love middle school," Askew said.
Within the school, AsKew has a goal of starting a middle school library.
"I really would like to work in a middle school library," AsKew said. "Being an English teacher, I really want everybody to be able to just come in and sit down and grab a book and read. It's really important to me that people find their way to enjoy reading. Sometimes reading is made really hard in school, and we need to find the fun."
Something else that is very important to AsKew is having a good relationship with the middle school students.
"I want them to know that I'm very friendly, I do want them to do their best everyday, and that I'm here to listen," AsKew said.
Outside of school, AsKew enjoys traveling, reading Harry Potter, and spending time with her two black labs.
"I love to travel, my favorite place is Europe," AsKew said. "I absolutely love France and I've been to Poland and Italy and Scotland."
New Faces at the NCLA
By Rebecca Avila
The 2021-2022 school year is off to a great start! There are some new teachers that have joined the high school facility team.
Mrs. Tucker, Chef Don McMillan, Dr. Pisapia, Mr. Heckstall and Mrs. Stanley are all new NCLA teachers this year and are excited to be here.
Tucker is the new high school guidance counselor this year. She achieved her Bachelor's degree and then put all her time and effort into her family. After a couple of years, she went back to grad school to get her M.Ed. in school counseling.
"The number one thing about being a counselor at the NCLA is working with students. Being able to help guide and answer questions is my favorite part," Tucker said. "One of the hardest parts of being a counselor is also one of the most rewarding parts: seeing others going through painful experiences is hard, but also getting to help them in the process of healing is rewarding."
Venturing away from school, Tucker enjoys snow/waterskiing, hiking and rollerblading. She also enjoys traveling, one of her favorite places being Acadia National Park in Maine.
Pisapia is the new civics teacher this year. He studied social and political thought for four years and then studied for another six years to obtain his PhD in political science at the University of Wisconsin in Madison.
Before the NCLA, Pisapia taught American politics and political philosophy at Wake Forest. He still teaches at Wake Forest during the summer, and he also is the academic director for a summer Politics and Policy Institute which he helped create for interested high school students. Last year, he taught seventh grade social studies virtually at the Winston-Salem Forsyth County Virtual Academy.
"Civics is really a political science class, more so than a history class. I love the subject, not politics per se, but I love thinking about freedom, justice and equality. I want to understand who has power and how people become empowered," Pisapia said.
Aside from his love for teaching and his wanting to share big ideas and to learn from his students, Pisapia loves the game of soccer. He also enjoys playing the saxophone as well as being a father of five.
Stanley is the new Spanish teacher and the new high school volleyball coach. Before the NCLA, she was a history teacher in West Virginia. This is her third year of teaching Spanish and she has played volleyball for 11 years.
"I enjoy reading, hanging out with my four doggos and going to concerts," Stanley said.
McMillan is the new culinary teacher. He has been cooking professionally for 66 years. He did not go to culinary school but he learned his trade working with many different chefs and cooks as well as attending many culinary conferences and having wonderful mentors to guide him along the way.
He previously worked at GTCC as their culinary instructor for five semesters. He also owned The Stock Pot Cooking School until 1985, owned two restaurants, and owned a catering service before he retired.
"I have a YouTube Channel called Simple and Delicious Recipes and so far have over 70 cooking videos posted," McMillan said. "I have led an interesting life, serving athletes at two olympics, cooking for many dognitaries, cooking aboard a oceanographic yacht for 27 months as part of The International Indian Ocean Expedition, managing food services for stadiums, arenasm fine dining, restaurants, historic venues, personal chef for Dr. Maya Angelou and so much more."
Heckstall is the new English teacher. He has been teaching for five years. Before the NCLA, he worked at Farmville Central High School. Coming to the NCLA was an easy move for him because his friends and family are in the Greensboro/Winston-Salem area. He also likes to game and catch up on TV shows and movies in his freetime.
"I've always loved reading and have been a strong writer, but I never wanted to teach," Heckstall said. "After spending four years as a writing center tutor in college, I fell in love with helping people and decided to teach high school students the elements (citations, quoting, formatting) that I wished my high school teacher taught me."
Falcons Men Soccer Obliterates Chatham
By Nick Hurst
The NCLA Men's soccer team took on the Chatham Charter Knights last Friday, August 28.
Beating them 10-1, the Falcons started red hot, scoring 7 goals in just the first half of the game.
Early in the second half however, the Falcons conceded their first goal of the season. "I took it personally because their school scored on us and championship teams don't get scored on," Scott Stanley said.
After that goal the attitude of the team changed and they kicked it into high gear and scored 3 goals ending the game 23 minutes early with a mercy rule.
"I feel as if we played well together as a team. We like to have fun because we are all good friends but we also like to play good soccer," left back Kartson Keomalaythong said.
This year's men's soccer team is looking to become the first conference championship team in NCLA history.
"This year our goal is winning our conference and potentially being contenders in states," said Keomalaytohng.
Game Stats:
Goals
David Truhe (3)
Donovan Roberts (2)
Brandon Mendoza (1)
Cade Shoemaker (1)
William Blake (2)
Assists
Troy Shoemaker (1)
Karston Keomalaythong (1)
Anakin Leister (1)
First Year With JV and Varsity Teams
Jackson Faenza
This year, the North Carolina Leadership Academy will have a Junior-Varsity and a Varsity team participating in Volleyball. It is very exciting because it creates more opportunities for more girls to come out and play.
"I am super excited for this volleyball season! It's bittersweet because it is my last season, but I am ready to make the best of it. The team already feels like a family. I'm excited to watch us grow and get better together," said senior player Nora Wood.
Both teams will play until the beginning of October and then conference play will start. With this being the first year the NCLA is in a conference, we will be playing a variety of teams in our 1A conference. We will be hosting and playing away against Bishop McGuinness, Forsyth Country Day, Greensboro Homeschool, Bethany, Triad Baptist, and many others.
This year is also the first year of our new head coach Ms. Stanley. This is Stanley's first year at NCLA and she is a Spanish teacher at the NCLA. "This is my 2nd year coaching volleyball. Yes it is a little different at NCLA, but only at the player's level. I coached middle school before this," Stanley said.
When asked the difference between the JV and Varsity teams Stanley replied, "There is a difference between JV and Varsity. JV is still working on skills and working on being a cohesive team. Varsity is improving known skills and playing to the opponents' levels, not just our own level."
One goal Head Coach Stanley has for both teams is to be able to master and finish the drill in seven minutes by the end of the season, "We have a drill that we do, called the seven minute run. All of the girls on the team are to complete this drill in its entirety by the end of the season."
Currently, the two teams are dealing with some Covid issues amongst the team. Hopefully the team can get back to practicing and playing their games. "Our team motto is, the loudest team wins, we can always improve on our communication on the court and energy. We are doing a great job at it, but it never hurts to keep working at it."
Introducing the New Varsity Cheer Coach
McKenna Porto
The North Carolina Leadership Academy is introducing a new varsity cheer coach for the first time in four years. Courtney Ross, an operations manager for a housing facility in Greensboro, NC is also the mother of a six-year-old who attends first grade at the NCLA.
"I have been cheering since I was six. It was a vital part of my life growing up. It taught me motivation, passion, and perseverance. My coaches were such positive role models for me, so it was always in the back of my mind to one day be able to make an impact for someone else like that through cheerleading," said Ross when questioned on her intentions after taking on the heavy role.
Tryouts were held for the varsity cheer team for the second time on Aug. 25 and Aug. 26 in the high school gym. The first tryouts, which were held in May, had an amazing turnout but the squad was forced to suddenly dissolve due to complications with coaches. Although the second round of tryouts had a smaller turn out, Ross believes the cheer team is still promising.
"I knew going into the season that the athletes were going to be apprehensive about trying out for the team given that I am a new coach and have a high level of expectations. I know that by executing the plan I have in place, the athletes who want to be 'all in' for this program will grow as cheerleaders, student-athletes, and leaders. We're building a fresh team and I'm excited to see what this season and the future holds for the NCLA cheerleading program" Ross said in relation to tryouts.
Building a Football Dynasty
Cade Shoemaker
Former North Carolina Leadership Academy civics teacher and high school golf coach, Christopher Walsh, became the new South Rowan head football coach at the end of last year. Walsh was a devoted teacher in the classroom, having a great sense of humor and genuine desire for his students to succeed.
"I loved Mr. Walsh as a journalism teacher because he was very easy going and allowed us to learn on our own before giving us guidance," Becca Avila said.
Before landing the head job at South Rowan, Walsh has coached at multiple high schools with 15 years of experience. As a result, Walsh was able to bring in a full coaching staff with him to South, composed of coaches he has worked with throughout his career.
"Our coaches have made my life so much easier since coming to South. The atmosphere and excitement is the most it's been over here in a while," Walsh said.
The emotion is definitely bubbling over for the Red Raiders, as both the varsity and jv football teams have had the most athletes come to tryouts in years. To take it a step further, the Raiders will be using lockeroom and weight room additions, as well as rocking new throwback threads all season long.
"We've preached about making everything new," Walsh stated. "The community has donated us a new locker room floor, and our administration has brought in new uniforms and equipment."
Since arriving as head coach, Walsh has wanted to build an attitude/mindset of success. He has been a big fan of the A team, and is getting everyone to reflect their values.
"Our seniors have really bought in and want to see this team succeed in their last season," Walsh mentioned. "We also teach the principles of being the A team: Attitude first, Academics second which leads to Athletics. Athletics are a privilege, not a right."
Since the high school is stationed in the middle of such a small town, there is also a big community atmosphere around the team.
"Everyone from our town knows the players, so we talk a lot about having a big reputation at our school," Walsh explained.
The football season has been underway since early July workouts, but South has brought the intensity since day one.
"If you want to play you have to come out with your helmet strapped up really really tight," Walsh said. "We preach hard hitting, tenacious defense, and our kids have really embraced that energy."
Rowan opened their season at home against the Parkland Mustangs on August 20, and posted the first home shutout victory since 1994. Walsh was extremely satisfied with how his team played, and praised his squad's execution on both sides of the ball.
"We had a tremendous crowd Friday night that really brought the energy," Walsh mentioned. "About five thousand people filled our six thousand seat stadium. It was absolutely packed.
With the new NCHSAA conferences for the next couple of years, South Rowan is looking to claim a conference title in football.
"Our goal is to win the conference," Walsh stated, "But the goal l tell my kids the most is for us to be practicing on Thanksgiving. For a team to have practice on or around thanksgiving, means we are competing in the second and third round of the state playoffs."
Of course it's not all about winning on the gridiron. Walsh has continued his charismatic teaching style in the classroom, and wants to see his team succeed off the field just as much as on it.
"At the end of the day, it's all about love and brotherhood. I hear a lot of "I love you's" from one guy to another in the hallways," Walsh said. "I tell people all the time, I have 1 daughter and 99 sons. So to live my dream of being a head coach, and to give my family the opportunity to be home makes everything even sweeter."
Need for a Student Section
Rebecca Avila
School spirit is very important and with all the craziness that our students have been through because of COVID, school spirit is needed now more than ever.
Our school spirit is sometimes lacking when it comes to support from students at our games. Having a student section and having themes for every game for all the sports would boost morale and increase awareness of games played.
"It would be a good thing. We just need to get people to come out to games," junior Anakin Leister said.
The atmosphere would also lessen the athletes stress to just go out and have a good time.
"I think that a student section would be a good thing for home games. It would help to bring more people to games and help make the environment better," junior Troy Shoemaker said.
Making sure all the sports are recognized is the challenge.
"I feel like people think only basketball has a student section at our school but it can be for any sport. It reminds me of when the volleyball team did neon night and a lot of people came out and it was a lot of fun," junior Jenna Clayton said. "Especially now that more people can come to the games, it's just a really good opportunity to support the school and have a good time."
Making the student section possible would have to be up to the students to come together and make a plan.
"As we continue to grow with athletics, and now in a conference, I think the students getting together and coming up with a student spirit group and having a student section would be an excellent idea. I'd be more than happy to help work out the logistics with that," Coach Mac said.
"I think it really gives the students something to all hold onto for their school years before graduation."
Upcoming Home Games:
Varsity Soccer vs. Triad Baptist – 9/3 7:00pm
Varsity Volleyball vs. Triad Baptist – 9/3 6:00pm
Varsity Volleyball vs. Carver HS – 9/9 6:00pm
Falcon Golfer Makes it to Regionals
Alyssa Pickle
Freshman Dain Crnojevic on the varsity golf team made his way to golf regionals this year to compete in the NCHSAA 1A Midwest regional.
He was the lowest independent golfer in the state of North Carolina, and finished 35th on the leaderboard for the Piney Point Golf Club on Monday, May 3.
"It was a great experience and I'm happy that I qualified for regionals this year and was able to compete," Crnojevic said. "I think I played really well under pressure at the competition, but I'm going to keep working and strive to make top-10 in state by my senior year."
Sadly, the day of the meet there was rainy and unfavorable conditions but Crnojevic was able to shoot a 94.
"I was really impressed with the work he put in for the competition, especially with the bad weather," said Mr. Walsh, the golf coach. "Competing as a freshman is tough and if he keeps going he's going to be really good, I'm really proud of all of his hard work that he's put in this season."
"I don't think the rain was that much of a downside, really, I think it helped to put me in my element and focus on golfing," Crnojevic said.
This is the golf team's second time qualifying for the regional since two years ago. Dain is also the lowest score the team's had at regionals.
"It was a great way to end the season, making regionals was a great accomplishment and I definitely want to work hard to be able to qualify again next year.", Crnojevic said. "If I had any advice for other players it would be to keep your composure and don't get mad, be a good sport, be humble, and play your game."
Laura Richie: Softball Superhero
Jackson Faenza
Laura Richie, sophomore at the NCLA, is an avid softball player and led the softball team in many places this season.
"I started playing tee ball when I was about four years old. I have grown up watching my brother playing baseball and then my mom played softball in college at UNC- Greensboro. My dad also played a little slowpitch in high school also," Laura Richie said.
She has played for the school ever since middle school and is also involved in a travel ball team. She plays second base and right field usually, but in school ball, she pitches.
"I only pitch in school ball, when I was younger I learned how to pitch and then I did that in rec ball also. So when they asked if anyone could pitch I said I could do it because then we would not be able to have a team if I didn't do it. But for travel ball I play second base and right field."
During this NCLA falcon season, Richie had a batting average of .850 and an on base average of .933. She batted 20 times and had 17 runs and 12 hits. She hit three doubles and had 7 RBI's. During her phenomenal season, she threw 78 strike outs and walked 59.
"This season I was really surprised by it because we came out and won our first five games and we had very little experience. We had two girls including me who have ever played before. So I would say it was a good season overall, a lot of the girls were able to learn and did better throughout the season."
One of the biggest struggles from this season was the lack of experience on the team and for Richie having to adjust to playing a new position every game. One sport Richie said she would play if not softball, would be Cross Country.
"I think I could be a double sport athlete in College. I really enjoy Cross Country and it helps keep me in shape for softball. But I would love to play softball in college. I have shown interest in Appalachian State and then playing at Indiana University at some point also," Richie explained.
Falcon Fun Run
Sports Year in Review
Laura Richie
What a crazy year most people will say for our NCLA Sports world, but it is now complete with very few upsetting situations. Having to adjust to many changes throughout the year, it was hard as many students and coaches have said.
The Pandemic really did put a change to all of the student-athletes, especially the seniors, having some seasons cancelled, senior nights cancelled, condensed seasons all because of COVID.
Athletic Director Coach Mac says, "There where probably two things that were truly just hard this year due to our pandemic, the first one being the rest of the High School Basketball season being canceled not being able to finish their season nor be able to have a senior night and then the second one being that because of COVID circumstances one of our Highschool girls seniors was not allowed to play nor attend her senior night. Yea we were still able to do a whole celebration for the basketball team to make up for their cancelled season, but for the one girl who missed her senior night we couldn't do anything for her and it was one of the hardest things this year."
But this year wasn't all that bad, The HS Boys Soccer team had a really good season this year going 7-3 and tying once. The team ended up being number one in their independent Conference this year.
Head Coach, Coach Shoemaker says, "There was not just a single person who helped the team, it's tough because we were better as a group than individuals. But because our top 11 guys were really important and losing one of them changed how we play."
David Truhe ended the season off being the leading scorer, William Lee being the best defender and Scott Stanley the goalkeeper.
Also having a very impressive and great season was the HS girls Volleyball team going 7-4, finishing number one in their independent conference and fifth in the Central Carolina-West Conference.
Our Seniors go out with a bang
Christine Parker
Many 2021 graduates got the short of the stick this year with their sports seasons. Although they were cut our seniors made the most out of their last season playing.
Senior Jackson Shaw played basketball and soccer. He rated the basketball season a 5/10. "It was tough because we had to end early," Shaw said. Jackson's soccer season went better than his basketball season with a rating of 9/10. The only thing he would change is being able to participate in state playoffs.
"Masks on the field and court, and games getting canceled all the time got pretty old. But I still had a great time," Shaw said.
Even though this year wasn't ideal, the seniors still had good parts of their season. "My favorite thing this year was the same as my entire high school athletic career, which is eating and hanging out with the team at restaurants and on the bus," Shaw said.
Ally Mattingly plays golf and she would rate her season a 9/10. "It was a lot shorter than I wanted but it was just amazing to be playing with everyone," Mattingly said.
Seniors also had to not only get adjusted to their season being shortened but as well as wearing masks while playing their sports."The masks were definitely new and our season was squished into three weeks which is so much different," Mattingly said.
Ally's favorite thing about this season was meeting people from different schools and learning about what they're doing after high school.
Upcoming Games:
HS Baseball:
5/17 @ Bethany
5/19 against Cornerstone
5/24 against Chatham
News May 2021:
The Class of '21 Reflects on the Year
Brooke Bandy
The Class of 2021 has had quite a historic senior year. It definitely is not one that was expected or particularly fantastic, but it had its moments of normalcy.
"Overall senior year was definitely one to remember. It wasn't what I was expecting, but it was certainly unique," said Megan Queen.
"Senior year is what I had dreamed of for as long as I could remember … Senior Nights, Senior Skip Day, senior prank, cap and gown pictures, and many more things. Obviously my dream did not become my reality. But, because of that, my senior year taught me many more things that I would have not learned if it was a "normal year," said Mollie Lomax.
This year has taught the seniors so many lessons about patience, discipline, and the importance of friendship.
"It taught me to cherish friendships and every moment spent with my friends. It taught me to be thankful for my school and the importance of an education. It taught me to appreciate the small things and give thanks to those who go out of their way. It taught me to focus on what's important," said Lomax.
---
Though there were many lessons learned, the school year still had its rollercoaster of emotions.
"I had been training hard for soccer season all summer just to find out they had moved the season to January. Then, it becomes stressful because of college applications, even though I only applied to four. After college applications, it was alright. I was pretty tired from four applications and two Forsyth Tech classes … And then all of the sudden soccer season started. It started off okay, but then it went downhill. I had lost all of my preparation from before and some things happened so the season didn't go the way I wanted it to go. It was still fun for the most part. Then, I got accepted into every school other than Duke, so that was pretty good, but then I had to start prepping for AP exams so it became stressful again. Now I got two more tests left before I'm out, so it's exciting," said senior Wen-Shin Lee.
---
With these lessons comes a lot of newfound wisdom within yourself. Even though this year was extremely challenging, the seniors are grateful for what they were able to have this year, especially the little things.
"I'm thankful for everything we have had the opportunity to do from playing an actual volleyball season to going in person to school. It was very hard, very challenging. Senioritis is no joke. But if I had to sum it all up in one word, it would be grateful. For every little thing that was a small bit of what I wanted to do senior year. Road trips with friends, getting in and deciding my dream school, and getting a senior night to say goodbye to my years of volleyball. I'm grateful," said Queen.
"I am extremely grateful that I got two months of a "normal" senior year. Although crazy, I will never forget my senior year and all of the people that made it memorable," said Lomax.
Graduation Looks Different Again
by Lexi Antieau
As this school year comes to a close, seniors are faced with another obstacle: their graduation ceremony.
Rumors have been circulating as to what the NCLA graduation ceremony will look like this year. I was given the chance to talk to NCLA Assistant Principal Wood and a couple of NCLA seniors, who all gave me some insight into what this year's ceremony will look like.
The ceremony will take place in the high school gym, just like it did last year. Each graduate's family is allotted three tickets for floor seating, and if they need more, they are allowed to purchase up to three more tickets for bleacher seating. The main concern among parents and senior students is that their family will not be able to be together during the ceremony.
"Families may not be able to sit together in large groups if students are bringing more than 3 people," assistant principal Wood said.
Senior Levi Antieau explains that he's sad that he won't have a large group of family members there as he walks across the stage. A lot of other NCLA seniors feel this way too and wish that the school would live stream the event for the family members who have to stay home.
Another concern among the NCLA community is whether or not the ceremony will be live-streamed. Wood explained that this year's ceremony will not be live-streamed because the school feels it is not necessary. It was live-streamed last year because the school felt it was a necessity since they weren't permitted many people in the gym. However, this year they are allowed more people, hence why the live stream will not occur.
"I do wish we were allowed a few more tickets. Many of us are having to choose family members and that is difficult when you love them all the same. I believe if we can have 800+ kids attend school for 8 hours, 300 people can come to our graduation for 2 hours. Because that is not happening, I wish they could simply live stream the graduation for our family members that were left at home," senior Mollie Lomax said.
"This year we will do like we have in the past. We will create and edit a nice version of the graduation ceremony and share it with the graduates a few days later," Wood said.
Wood later explained that there are no alternative plans for the ceremony and that it will definitely take place in the high school gym. Some families have suggested the ceremony take place on the high school soccer field so that it's outside and families can sit closer together, but it doesn't look like that option is being considered.
As of right now, there are no other special surprises planned for the seniors this year. However, seniors do have the option to go on the camping trip to Hanging Rock, and be adopted by an NCLA family. They were also given a prom and they will all be receiving a class t-shirt.
"I feel like they've walked all over us this year and not lived up to any of the promises they made at the beginning of the year," Antieau said.
A few NCLA parents have been putting together a special book for the class of 2021. This book will most likely include cap and gown pictures taken by NCLA parents, senior pictures sent in by each senior, and some senior quotes that are typically included in a traditional yearbook.
"At first I was disappointed with no yearbook or senior pictures but I am so grateful for the parents for doing all that they can for us," Lomax said.
"To our seniors, if you could make it through these last two years of school, you will be able to make it through ANYTHING that this life throws at you," Wood said.
Our Year In Review
Tyler Haynes
It is hard to believe that this historic school year is almost over. The 2020-21 school year has had many ups and downs, but there have been many good parts. Through all the bad that has happened in the last year the school has done its best to make life feel more normal again.
The year started with two groups. One group went on Mondays and Tuesdays while the other group went to school on Thursday and Friday. In the first week of school, there was a Covid scare and it caused the school to close for two weeks. With the school closing on the first day of school many people thought the in-school learning would be a flop, but the school prevailed.
"My favorite part of this school year is that the teachers seem to be much more understanding if you have late work," said Calvin Zoelinger, a Junior.
The school stayed stable for many months after that with a few Covid scares here and there. As a school, we had the privilege to play sports against other schools this year with a few different rules.
"I am glad our coaches and everyone involved did what they could to get us the seasons we wanted. I automatically thought it was a win based on the fact we were able to play at all in this crazy year," said junior Jonathan Floyd, basketball and baseball player.
For the first quarter of the year, online students were not required to join Zoom calls and were only supposed to do the work as it was assigned. This changed after the first quarter. After coming back from fall break we started having Zoom meetings for every class each period. This was a big change to how the school year worked up to that point. I feel it was a great change because I was getting the same education and direction as the in-person students but from the safety of my home.
"I got to work at home instead of only in class, letting me work at my own pace." said junior Hunter Fox.
The group system continued along with the Zoom meetings up until the fourth quarter. Due to new rules and Covid regulations, the state allowed schools to go back to One hundred percent capacity while wearing masks. This was a big change for all of the students, even the ones that decided to stay home. The at-home students changed to only having Zoom classes one day of the week instead of the five days it was before.
Due to the size of The NCLA, we are able to do things other schools are not able to. Our school is one of the only schools able to have been able to keep students in person all year. The small size of our school also lets us still be able to do things like have a prom and other school events.
Lots of schools are not able to host their own proms this year due to Covid. Most schools would have too many people that would go and the crowd would be too large. Thanks to the small size of our school, we are able to have a prom and both juniors and seniors are able to go.
I feel this year has been a success for our school as a whole. Things will always go wrong, especially in the midst of a global pandemic but I feel we turned it around and made it a pretty good year.
May is Mental Health Awareness Month!
Elaina Pascavage
One in five Americans, live with a mental health condition. 50% of all lifetime cases begin by the age of 14.
"Taking care of our mental health is so important," said NCLA's on-site counselor, Mrs. Tucker.
This year the NFL has launched a series of videos, started by Michael Robinson, to address players, fans, and the general public about prioritizing mental health and wellness. Active players have branched out of their comfort zone by making videos to be posted, talking about their personal experiences with mental illnesses.
Las Vegas Raiders defensive tackle, Solomon Thomas, shared his personal struggle with depression after losing his sister to suicide in 2018. Other players like Joey Bosa and Ali Marpet, have also shared their experiences in order to try and "Kick the Stigma." Aside from the release of this series, NFL teams, like the Indianapolis Colts, have launched their own fundraisers to raise awareness.
"Just like physical ailments can affect anyone, so can mental challenges," continued Tucker.
Mental challenges can affect anyone no matter race, age, where they live, family, or faith. When one faces mental challenges, there is nothing to be ashamed of. An important part of personal mental health is being able to look at ourselves realistically.
Everyone has days where they do not feel themselves, and it is normal. But, if those feelings go one for a few weeks it is important to seek help. Also, if the feelings you're having begin to impact your daily life it is important to try and talk to someone about the way you are feeling. NCLA has on-site school counselors who are more than happy to help in any way.
"This year has impacted my mental health more than any other year," said senior Becca Nordstrom.
---
If you are questioning some activities that can contribute to a positive mental health, here are a few daily things you can do!
Deep Breathing- deep breathing helps send a message to your brain to help it calm down and relax especially when you may feel out of control or in a chaotic situation.
Spending more time in nature- walking in sunshine and soaking up Vitamin D are great for your mood.
Gratitude- turning our focus away from what we don't have to what we do have helps us refocus and energizes us.
Monitoring technology and social media- having a healthy relationship with technology usage and social media can have a huge affect on our mental health. The endless feed of fun, filtered photos can often leave us feeling isolated and empty.
Positive affirmations- the way we talk to ourselves has a powerful impact on how we feel. Start by choosing one positive, simple phrase that you can repeat to yourself when you feel negativity creeping in.
---
"Self care is more important than ever! Investing in your mental health is never a waste," continued Tucker.
Pfizer Vaccine Available for Children 12-15 Years Old
Nora Wood
As a crucial step towards COVID-19 recovery, the Food and Drug Administration (FDA) approved the Pfizer vaccine for children ages 12-15. Rumors of this surfaced late last week when a government official announced that the FDA was considering the approval after months of trials.
Late Monday afternoon, the vaccine was approved, and now another wave of individuals are eligible for the vaccine, leading the country one step closer to safety.
During the vaccine trials in children ages 12-15, the vaccine "demonstrated 100% efficacy and robust antibody responses, exceeding those reported in the trial of vaccinated 16-25-year-old participants in an earlier analysis, and was well tolerated," according to the Pfizer-BioNTech website,
While the company continues to research how younger age groups will react to the vaccine, the recent approval is exceptional news for those who are eager to get the shot- including some of our own NCLA Falcons.
"I really want the vaccine," sophomore Lindsey Allen said. "It'll make me feel safer because people in my house are immunocompromised."
"I really want to get [the vaccine] to be safe," freshman Nick Swisher added. "I might feel a little more protected, but I will still wear my mask and take precautions until it is safe again."
Because of mass vaccination, CDC guidelines are shifting for those who are fully vaccinated. However, precautions while indoors still include the usual masking and distancing that we all should be used to by now.
While some families have been more affected by the pandemic than others, it has been challenging to find comfort in normalcy, especially everyday tasks like going to the grocery store.
"I do not go anywhere," Allen said. "I do not like eating in restaurants or going to the grocery store. My family usually picks up our groceries now. I think this will change once I am vaccinated."
"I do not think my life will change any," Swisher said. "I am a little nervous about [the vaccine] though because I do not want to get sick from it. But, I think it will do more good than bad in the long run."
Concerns regarding the vaccines side effects are normal. Make sure to drink plenty of fluids before and after the vaccine, keep your arm moving, and avoid taking pain relievers before getting the shot.
While nationwide progress is looking great, White House pandemic advisor Andy Slavitt warns the country that, "the worst thing we can do right now would be to mistake progress for victory."
Upcoming Senior Feelings
Eliana Cotten
Being a senior is one of the most exciting things teens look forward to. Many juniors at the NCLA that are getting ready for the upcoming school year are mentally preparing for the last year of their high school careers.
"I'm mostly excited about memories. There's a lot of significant stories to tell my children that can come from my senior year, like the senior prank, senior assassins, and proms. I also look forward to having a student council again," said NCLA Junior Abby Brannan.
Many juniors are excited to not have to worry about the next year of high school, and being able to enjoy being a senior.
"I am most excited about graduating, for sure. I can't wait to have so many more options for school and to be able to figure out what I wanna do," said Haley Frias.
Senior year brings many new opportunities and responsibilities for students. They have to juggle their last year of high school, taking the final steps to prepare for college, and sometimes even a job. It is a stressful, but enjoyable time for many teens.
This past school year has brought several changes to school life, and students are looking forward to some possible positive change in the coming year. Some students such as junior Jasmine Cook are hoping for some easier restrictions, like the return of two way hallways..
"I can only hope that the times in which we are living in will change. I know we have done the best we can given the situation, but I hope that sickness is gone, and restrictions are lifted. It has been so hard learning and staying motivated and disciplined this past year, and I think this would make everyone's lives easier, more fruitful, and less stressful," Brannan said.
"Adjusting to school in a pandemic was stressful, but that was to be expected. I do wish that I hadn't been as nervous for the pandemic as I was at the beginning," Frias said.
"So far I have enjoyed my high school experience with great educators, hard classes, and great encouragement from faculty and friends…. but what I do expect to change is when we near the end of senior year, the heartbreak that will come as we all go our separate ways," Brannan said.
Overall, juniors seem pretty hopeful for the future, even if there is some anxiety surrounding leaving home.
"I am nervous, but not about the actual school year. It has more to do with what is to come after that," Cook said.
"The future is a little like diving in the deep end and though I do not have it all figured out, there is no need to. Life is a journey and even once you have a set career, there's more to it," Brannan said. "I have so many facets of my life to explore and many doors of opportunities."